Have an Indoor Snowball Fight!
As an Amazon Associate I earn from qualifying purchases. For more details, please see our disclosure policy.
Kids love it when adults get silly with them. What's sillier than an indoor snowball fight? Your kids will LOVE an indoor snowball fight — especially when you join in on the fun. Learn how to make these inexpensive "snowballs" in this tutorial from Life as MOM Contributor Janel.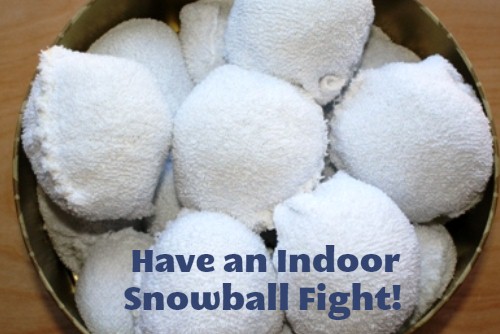 A couple of years ago, my sister Jamie hosted Thanksgiving at her house. She made a wonderful meal and provided us with a fun little craft. She showed me how to make "snowballs" for an indoor snowball fight.
At the time, we were living in California and snow was not something we ever expected. So, indoor snowball fight was just about the only kind of snowball fight we could get. And the girls loved it!
Now that we live in Virginia, we do enjoy real snow a few times a year. But, the girls still love it when we pull out the indoor snowball fight. These "snowballs" are perfect. They're heavy enough to fly through the air — but not heavy enough to cause any damage to people or nearby objects.
If your kids are old enough to make stitches, you can have them help out. The darning needle isn't sharp so it is a great way for them to learn how to sew. I made a set for my nieces this Christmas, and I was able to start and finish the project all while watching a DVD of Emma.
How to Make Snowballs for an Indoor Snowball Fight:
Supplies:
white athletic socks without colored wording, toes, etc (I found "diabetic socks" at the Dollar Tree that were just perfect for $1 per pair)
scissors
polyester fiberfill
white yarn
yarn darner (long, heavy needle with large eye for stitching with yarn)
storage container (I used a large holiday tin that I found on clearance)
Directions:
Turn the socks inside out so that the fuzzier side is facing out. Use the scissors and cut out your snowball pieces like shown below. Use curved cuts to look like the edges of a snowball. I made two snowball pieces out of each sock. Depending on the socks that you use and the size of your snowballs, you may be able to make more. Discard the scraps.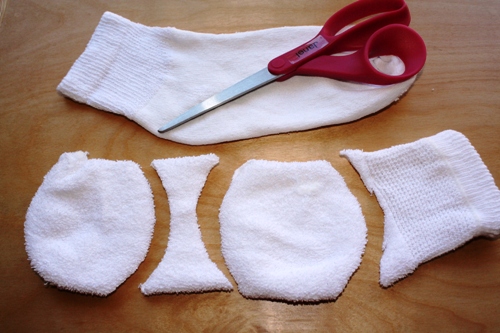 If your snowball piece has two cut edges, use the needle and yarn to stitch up one side. The piece that is cut from the toe portion of the sock will already have a closed edge. Once one edge is closed, stuff the snowball with fiberfill.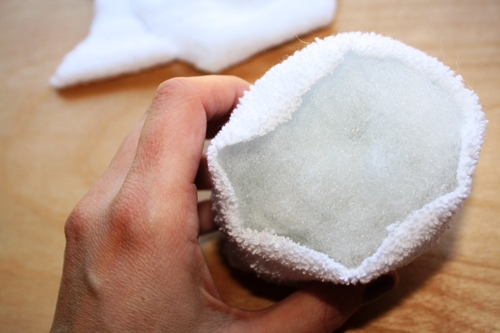 Pull the edges of the snowball together, and use the yarn and needle to stitch the opening closed. Squeeze the snowball to adjust the shape. Now you have an indoor snowball!
Repeat as many times as necessary. Put your finished snowballs in a storage container of your choice. (We have a set of 16 that fit inside a large holiday tin.)
Pull out your snowballs when the kids least expect it…and let the fun begin!

–Janel is a stay-at-home mom of two daughters and a "law school wife" in Virginia. Raised in a budget-conscious and DIY-minded family, she blogs about motherhood, crafts, and living on a law school budget at Life with Lucie and Ella.
More Fun DIY