DIY on a Dime: Make a Button Ornament
As an Amazon Associate I earn from qualifying purchases. For more details, please see our disclosure policy.
Add to your ornament collection or that of a loved one this year by crafting these easy and frugal button ornaments.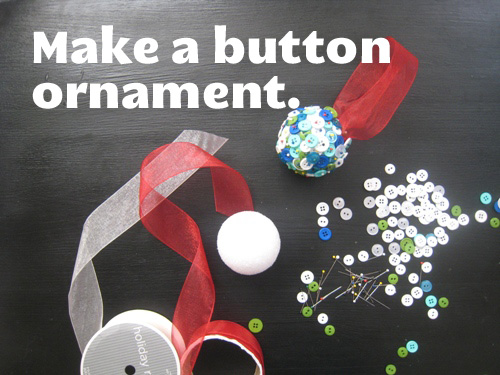 I saw these cute button ornaments on Facebook via Andrea, a friend since junior high. I don't know how she and her friends put them together, but I figured it couldn't be too difficult, so I experimented.
Boy! Was it easy!
The girls and I made a pair of them this week in less than an hour. The FishChicks, ages 4 and 6, were absolutely giddy over the prospect of helping. While I helped the younger, the elder was able to do most of hers on her own. I filled in some of the spaces for a second layer of overlapping buttons.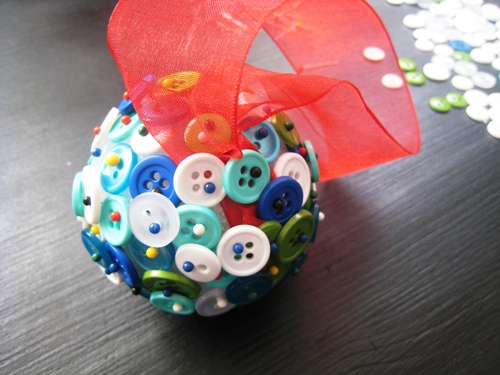 Both of them are thrilled to add these ornaments to the tree and to their personal ornament collections as well.
This is a fairly frugal craft depending on what you already have at home. I am sure these would be gorgeous if you have an eclectic button collection. That is at my mom's house. I will have to steal it next time I'm there. Instead I bought two packs of 130 buttons each for $1.97 a package at Walmart. Styrofoam balls ran me 60 cents a piece. I already had the ribbon and the color ball pins.
If you have to buy all the materials, I'm guessing it would cost you about $3 – $4 per ornament.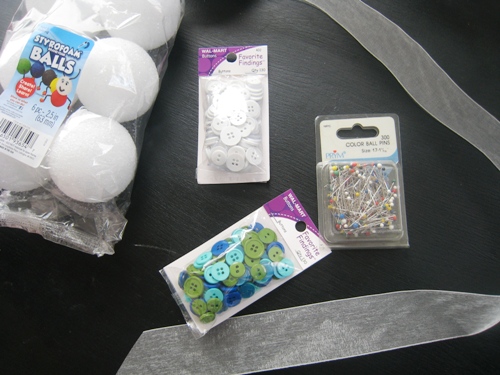 What you'll need to create button ornaments:
buttons
ball pins
styrofoam balls
ribbon for hanging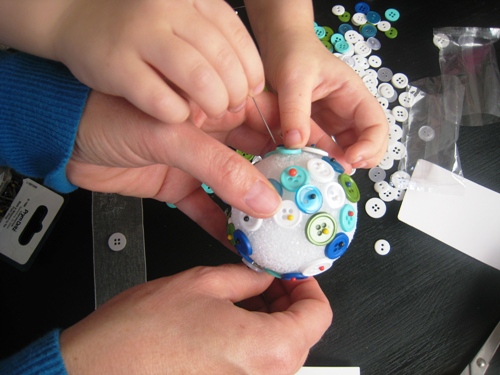 I'm lucky I didn't become a pin cushion, my four-year old was so eager to be pinning. Oh my!
To make the ornament:
Lay a button flat on the styrofoam ball and secure it with a straight pin.
Continue adhering buttons around the surface of the ball until the ball is covered. There will be some spaces.
Add a second layer of buttons to cover those spaces.
Pin a ribbon to the ball for hanging on the tree.
This is a super easy craft to do with your kids. They can be creative with the colors of buttons and pins. The combinations and designs are endless. And you can do it on a dime.

DIY on a Dime
This is part of the DIY on a Dime: Great Gifts series. For more easy and frugal gift ideas, check out the list.