How to Move without Going Crazy or Broke
As an Amazon Associate I earn from qualifying purchases. For more details, please see our disclosure policy.
In the past three years, Life as MOM contributor Janel has moved house three times and just completed move #4. Today she shares some tips on how to make the moving process a bit easier.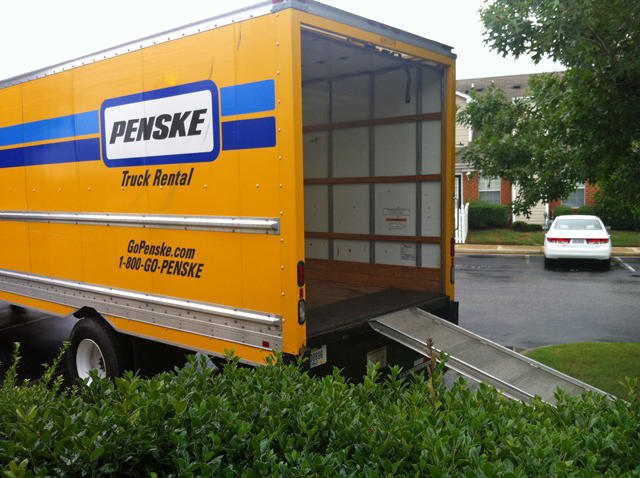 Moving can be the start of a great adventure. Or it can make you feel as if you're going crazy. Since our family embarked on a law school experience for my husband three years ago, we've moved many times, from home to rental to temporary housing with friends to rental and now back home to California. It's been a whirlwind!
I hope I never have to move ever again. However, since we're in a rental home, the chances of that happening are slim to none.
That said, I hope I'll be better prepared the next time around. I've got a lot of practice under my belt! Here's what I've learned through it all.
Collect your moving supplies as early as possible.
There are a tremendous number of moving supplies for sale to help you protect your worldly possessions. You can drop some serious coin if you were to purchase them all.
Do you need them all? Not really. But there are several that can make the moving process easier and (in my opinion) are worth the expense. Of course, try to collect these for free whenever possible.
How to find moving supplies for free:
Use the internet and social media. Check Craigslist and post a notice on your social media page and any local group pages to which you belong. During our move last summer, a gal from my local Mothers of Preschoolers group was just finishing off a move. I posted my plea on Facebook and she responded that she had TONS of supplies — boxes, packing paper, and bubble wrap for me. It was a win-win for us both — she got it out of her house and I got free moving supplies.
Go to local stores. This move, we had the best success with getting boxes from liquor stores and a bike shop. Liquor boxes are small and sturdy — perfect for books and breakables. We snagged some bike boxes that large and slender — just right for large and unwieldy items like large frames and mirrors. Of course, check the usual grocery stores, photocopy stores, and malls. Talk to the store ahead of time and find out what days they stock their shelves. If they know you're coming, they just might keep the boxes intact for you.

Moving supplies that you need:
Boxes: If I've learned anything in all my moves, I've learned that you can never have too many boxes. Collect, collect, collect. You'll want a vast array of sizes to make the packing process easier. If you have extra at the end (which has NEVER happened to me), you can recycle them or pass them onto someone else.
Tape: Don't use the dollar store stuff…it really doesn't work that well. You don't have to buy the most expensive stuff, but don't go for the cheapest either. It will just cause frustration when it refuses to stick to boxes. A tape gun is a handy thing to have too. If you don't have one, buy one or borrow one from a friend.
Markers and/or Labels: Labeling boxes is essential. You can either use sharpie markers or print off labels on your computer.
Packing Paper: I love using this for my dishes — then I don't have to wash them when you unpack them. You can also use towels as well.
Bubble Wrap: You won't need much of this but if you've got some important breakables, it is nice to have. Save any that you get from packages. If you need to buy some, I found it cheaper at Wal-Mart ($5 for 30 ft roll) than at Home Depot ($7 for 36 foot roll).
Mattress Bags: When I helped Fishmama pack up for her move from their studio to their first home, the first little FishBoy had great fun climbing around in the empty moving truck. Oh my, did he get filthy!!!! The truck may not seem that dirty, but trust me it is. It is so worth it to shell out that $5 for a mattress bag to protect your mattress. The added bonus is that it will keep it dry in the event it rains during your move — which happened to me in Southern California of all places!
Plastic Wrap: You can buy a huge roll of plastic wrap at home improvement stores. We like to use it to protect large furniture pieces. Also, if you disassemble furniture for the move, you can wrap the pieces up together with plastic wrap so they're easier to handle. My husband has done with with our outdoor wooden table set as well as our girls' bunkbed pieces.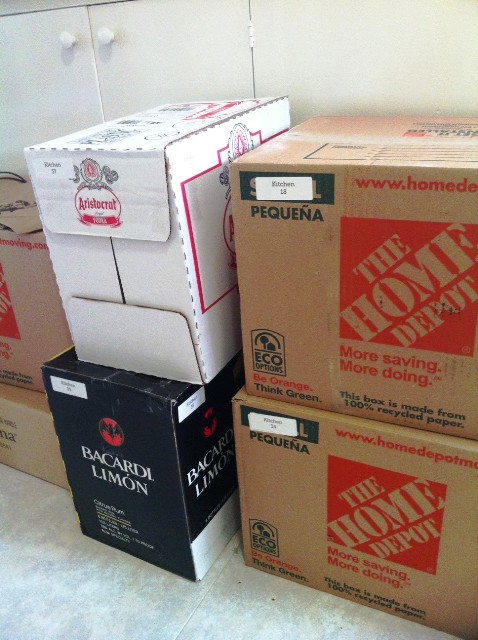 Have an organizational plan.
Use labels. I'm a believer in using labels. On each label, I print the name of the room and the box number (for example, Kitchen 12) and then slap a label on each side of the box so that I don't have to flip the box every which way to find out what's in it.
Keep track of what's in each box. Last year, I had a binder in which I recorded the box name and the contents so that I could use it for reference during the unpacking stage. This year I went high-tech and bought an app for my iphone — Moving Van. As I packed my boxes, I entered the box name, the room, and the contents. As we've unpacked boxes, I've used the search feature numerous times to locate an item quickly and easily. When my daughter wanted to know where her CD player was, I was able to tell her within seconds that she'd find it in the box labeled Girls Room 12.
Prep essential boxes. Think through what you'll need immediately upon arrival and prep those boxes before the last-minute craziness ensues. You'll want to have items like bedding, towels, hand soap, toilet paper, cleaning supplies, and coffee (or wine?) all easily accessible.
Use colored duct tape to mark important boxes. For the stuff you'll need immediately on arrival at your new home, slap a piece of colored duct tape on them to make them easily identifiable so they can be loaded near the back of your moving truck for easy access.
Communicate your organization plan to your helpers. All the organization in the world doesn't matter if you don't communicate it to others who are helping you. Last year, I marked the boxes that were NOT for temporary garage storage with pink duct tape. I knew what it meant. My husband knew what it meant. But one of our helpers did NOT. So, guess who ended up climbing over piles of boxes in the garage looking for the pink labeled boxes that I needed? This girl. Not fun…especially in Virginia humidity.
Pack it up.
Start packing as early as possible. Really. I'm the queen of underestimation when it comes to how long it takes to pack a box…or how many boxes there are to be packed. My kitchen alone took about 45 boxes this go around. Granted, many of them were smaller liquor boxes, but that is a lot of boxes! Set the essentials aside and pack up the rest as soon as you can.
Analyze what you put in each box. Do you really need it? Is it something you really want to find a place for a the other end of the move? If not, sell it, give it to a friend, or donate it to charity.
Put (nearly) everything in a box. This was my husband's edict this time around. It's much easier to load a moving truck when you're dealing with boxes rather than an assortment of oddly shaped items. If you can fit it in a box, do it.
Fill each box completely. If your contents aren't full to the top, your boxes might get crushed during the move. You can use packing paper and newspaper to do this, but odds-and-ends that you have to move anyway work too. Blankets, throw pillows, towels, and even stuffed animals all make great fillers for boxes.
The tips above helped me stay (mostly) sane through this last move. No matter how much you plan, moving is hard. Just remember that it won't last forever. If you've got a move coming up, good luck!
Other Random Take-aways
Don't pack all the toilet paper, paper towels, and soap that you bought for pennies so that you have to pay through the nose ($1 for a bar of soap?!) to buy those necessities while you wait for the moving truck to arrive.
If you have laundry baskets that you want to keep, (which you do) pack stuff in them early and load them on the truck, rather than leaving them empty at the end with no room on the truck to transport them.
Never pack your coffee aparatus – cart it with you. In this way you don't have to pay for Starbucks every morning until the truck arrives. (OK, I didn't mind this one so much, but I felt guilty doing it.)
Likewise, don't pack up every pot, pan, and utensil. Instead keep out a few basics so that you can do rudimentary food prep before the truck arrives — and thus save yourself many trips through the dollar menu at El Pollo Loco.
No matter how much more efficient and economical it is to have the stuff shipped by a freight company, try to truck it yourself. Inconvenience has its costs.