How to Get Things in Order When Chaos Reigns
As an Amazon Associate I earn from qualifying purchases. For more details, please see our disclosure policy.
Is your home and the disorder of your life about to pull you under? No fear. There's a way to climb out. Get things in order though chaos reigns.
I have lived through many seasons of crazy. New babies, illness, home remodeling, injured husband, longterm houseguests, busy seasons, just everyday life can get out of control at times. Chaos can creep up on you so slyly that all of a sudden you look around and your house has been overtaken by clutter, fast food dinners, late bedtimes, and mountains of dirty clothes.
If you've been there, believe me when I say, I feel your pain. Though I know WHAT to do, I don't always do it. The seemingly urgent takes control of my mind, prompting me to let everything else fall by the wayside.
I know what it is to have messes in every room, closet, and cupboard, but I also know the process to dig myself out of the hole. Here's how it works for me:
Know what you want.
All too often, we live with discontented hearts or crab at our families when what we really need to do is narrow down what is bothering us and determine what we really want.
I have this list, dated November 13, 2013, that helps me focus on the vision I have for my life and what I want our family to experience together. Knowing where I want to be helps my steps today in prioritizing and putting order to our life. The list is taped to the wall by my desk to remind of the goal.
Find a planning system that works for you — in this season of life.
There are a myriad of ways to plan and schedule your day, but they are not one-size-fits-all. In fact, what worked for you last year may not work for you today. I know this because for a time I invested in every personal planner under the sun. Creating my own personal system is finally what saved me.
Think about what has worked in the past, what's working today, and tweak that planner, app, or to-do list to better serve you. Check out these four different planning systems that can help you order your day and feel a little bit more organized.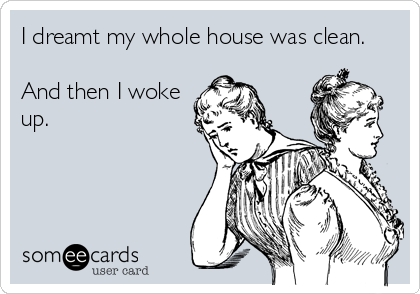 Enlist your family to help you.
Kids can do chores. So can husbands. However, they can't read your mind, nor would they want to. You do need to ask, nicely and specifically. Consider these tips for getting help with the housework and don't be afraid to insist that your children participate in the workings of the household. You are doing them a favor by teaching them life skills.
I realize that some husbands out there simply won't help. I'm really sorry to hear that. Every woman knows that cleaning and helping with housework are sexy qualities. He is missing out!
I know that there are seasons in every marriage. If you really need the help and he really won't give it, PRAY. God will be a hedge of protection to you, either prompting your husband to step up, or giving you wisdom on how best to act.
Get that meal plan going!
One hundred years ago, folks spent the majority of their time figuring out how to get food on the table, whether growing it, earning the money to buy it, or preparing it. In our modern technological society, we've been freed up, but we still gotta eat!
A lack of planning, shopping, or cooking can wreak havoc on your day and your home life, not to mention your budget. A meal plan can save the day.
Learn how to create a meal plan that works for you or grab one of the free meal plans here on Life as MOM. You'll eat well, your family will be contentedly full, and you won't be racing around like a chicken with its head cut off.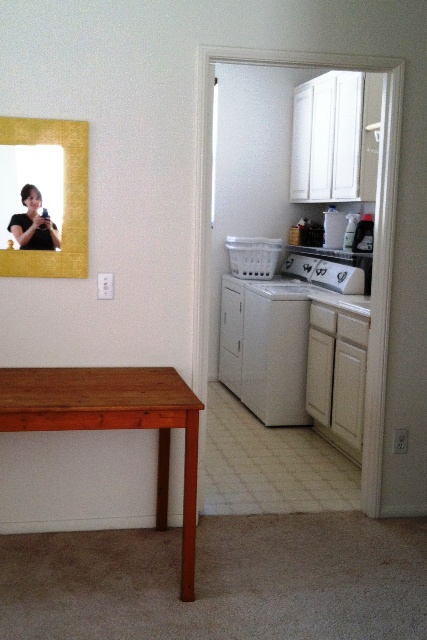 Start chipping away at the chaos.
Rome wasn't built in a day; your home won't magically transform itself into the clean and refreshing haven of your dreams. You'll have to work at it.
If you need a guide, follow the Zone Defense plan of attack. It walks you step-by-step through your home, helping you to declutter and customize each space to suit the life you live.
Give yourself a break.
Are you being too hard on yourself? Have you had a rough season? Are your expectations too grand for the reality of your day-to-day? Give yourself a break.
It's okay that you find yourself in chaos. Just don't set up camp and live here. Ask for help from friends and family. Pray for wisdom and then take baby steps toward getting it together. Just make sure that your definition of "together" fits the personality of you and your family.
What do YOU do get things in order?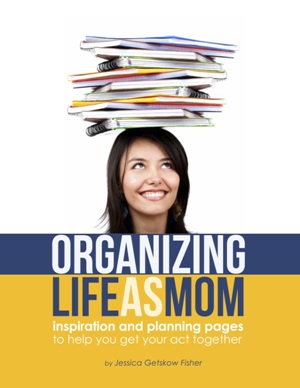 Get your copy of Organizing Life as MOM. With real life examples and a boatload of planning pages, it's designed to help you get your act together.