How to Plan a Budget Wedding
As an Amazon Associate I earn from qualifying purchases. For more details, please see our disclosure policy.
It is possible to host a beautiful wedding without spending a million dollars. Here's how we did it on a "smaller" budget.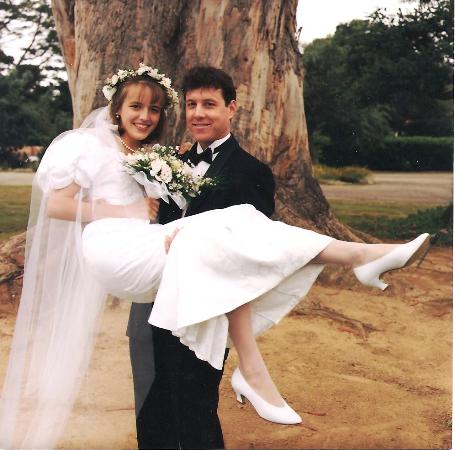 Eighteen years ago this weekend we got hitched after only four months' engagement. Yes, it was short. We had dated for two years, though, and once you find the person that you want to spend the rest of your life with, well, you want the rest of your life to start as soon as possible. (Name that movie.)
In that 3.5 months', pre-internet, pre-pinterest time period, we planned a beautiful wedding. It was by far, the best day of my life, featuring the best wedding food I think I've ever eaten, and definitely the best cake.
And we did it on a budget.
Weddings are expensive.
My dad was willing to pay for a wedding for his eldest of three daughters, but he wasn't going to be extravagant. I groaned with dismay when he set the limit at $5000.
To give you perspective on that number, the average wedding expenditure today is $27,000. The average wedding cost in 1990 was $15,000. So, even though plenty of people have tied the knot for less than $5K, Dad's number was still pretty low for the time, 1994.
Quite honestly, I was fit to be tied, but there was little I could do about it — unless I wanted to wait and save up more cash. Which I didn't. Hehe.
Instead, a few years later I lobbied for my youngest sister to get a COLA on her wedding budget. Her budget was $8000 in 2001. And my sister Jamie spent only $3000 on her recent wedding reception. Dad got like three weddings for the price of one!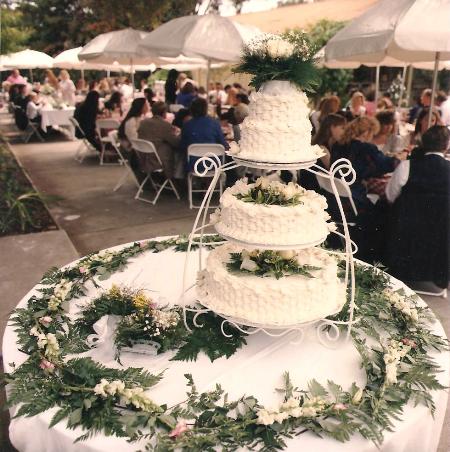 That said…. today I'm thankful that I wasn't allowed free reign to spend more than we needed to on a beautiful wedding day. Here are some of my thoughts on the subject, almost twenty years later.
You might already be married, but chances are you have siblings, children, or nieces and nephews that aren't.
How to plan a budget wedding:
1. Keep perspective.
One thing that I wish I had remembered and am now passing on to others is that this shindig is not all about you. This is a hard thing for brides to come to terms with. We imagine the day all our lives as the day we get to shine like a princess. And while I've been there, I also think it's important to keep things in perspective.
A wedding is a celebration of a new life, a blending of two families, and a transition of roles. While the bride is a princess, she is also not the only who cares about this special day.
So, brides, don't be a spoiled brat. Be prepared to compromise and consider the needs, wants, and personalities of both families. Keep in mind the sheer amount of money that's at stake, also. My sister Janel now says she'd rather have that cash to spend on a really nice vacation!
Enough is as good as a feast.
2. Enlist friends to help.
Canvas your friends to find out who is willing and able to help with your wedding event. Guess what? You don't need a wedding planner. Really. Instead draw from the wealth of skills and talents among those close to you. An older, married friend served as my coordinator. Since I lived with her and her family, she was right there to make me get things done, too.
We were blessed by friends who baked and decorated the cake, arranged the flowers, acted as DJ, served as shuttle drivers, as well as those who set tables and cleaned house in preparation of the Big Day. Our landlords even provided their home and garden as the reception location.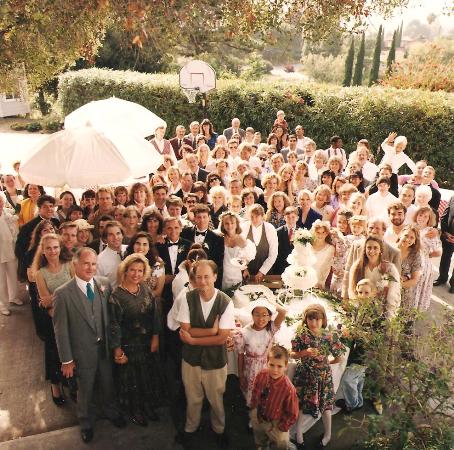 3. Do it yourself.
There are an amazing number of things that you can do and make yourself, even moreso now than there were 18 years ago. The trick is not to overdo. (See tips 1 & 2.)
From invitations to party favors to place settings, you can pull together pretty things simply and affordably. Don't go overboard, but consider what special touches are just fine homemade. Instead of a bar, bartender, etc, we went to Costco and bought cases of bottled water, pop, beer, and champagne and made our own serve-yourself bar.
4. Splurge on the things that matter.
I really wanted good food, nice invitations and quality photographs so we splurged on those items. Today I have friends who would have done those things for me. But, I was content to fill the gap, knowing I was getting my druthers in a few key areas.
As it was, we priced things out and still bargain shopped. We chose the same caterers I had worked for in college and since they knew me, they gave us a great deal and superb service. (It pays to know people, sometimes!) The food was absolutely fantastic!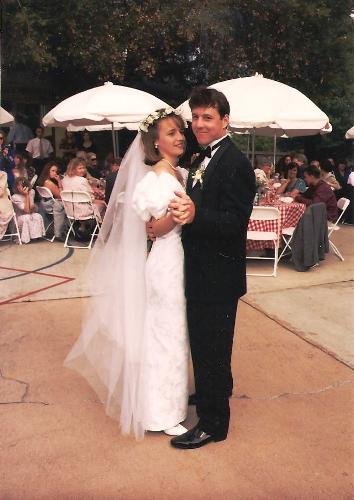 5. Let go of the things you don't care about.
We didn't have a wedding planner, a videographer, or professional hair and make-up people. It didn't bother me in the slightest that a driveway was our dance floor. I only just now noticed the basketball hoop in the photographs!
Our "live music" was a wanna-be jazz singer who literally crashed the party! He wasn't even invited to the wedding, but wrote a song for us spontaneously at the reception.
None of this bothered me. They just didn't matter that much in light of the big picture and small budget.
6. Just smile.
What makes a wedding a beautiful one is the happy couple. Keep smiling — even if things don't go the way you expect them to. In fact, be ready to laugh — at losing the rings right before the ceremony, at the party-crashing jazz singer, at the dead altar flowers from a previous event catching fire during your vows. (True stories.)
There will be plenty of things to go "wrong".
A wedding doesn't make a marriage. A good attitude and a lot of love and grace do. 
You can have a beautiful wedding on a budget — just remember what's important.
Today's Frugal Friday!
Time to swap ideas and inspiration for saving money.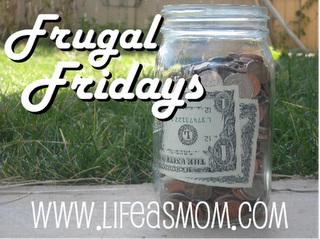 How do YOU save money?
Please remember to follow the Frugal Friday Guidelines or be deleted.
Post a money saving idea and explain how it is helpful in your post.
No giveaways or deals posts.
Recipes are allowed, but you must explain how it saves people money.
Please include a link back to Life as MOM.