Booking It (May Update: Miss Pettigrew Lives for a Day)
As an Amazon Associate I earn from qualifying purchases. For more details, please see our disclosure policy.
Booking It is an online book club where we discuss what we've read over the past month as well as review a monthly assigned book. This month's book is  Miss Pettigrew Lives for a Day by Winifred Watson. 
Heads up: if you make a purchase through any Amazon links in this post, I do receive a small percentage of the sale.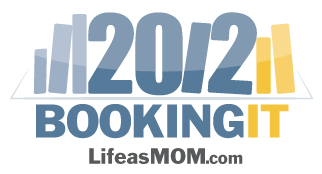 Here we are, another month come and gone. And if it weren't for you, I might not have read a real book with real pages. Thank you for  keeping me "in the real world".
I'm coming off the heels of a fabulous cross-country visit to meet one of my favorite authors — in real life! Susan Wise Bauer made us coffee in her very own living room. Kinda wild and crazy.
When I leave the cave, I really know how to do it up. I'll be telling you about all kinds of great books from that trip another time. But, today, it's Miss Pettigrew's turn.
A few months ago, I consulted Anne, Carrie, and Janel to create a reading list for this year. While I get to share the credit and the blame for whatever books we delve into together, the credit really goes to Anne for suggesting this book. It was a winner!
Miss Pettigrew Lives for a Day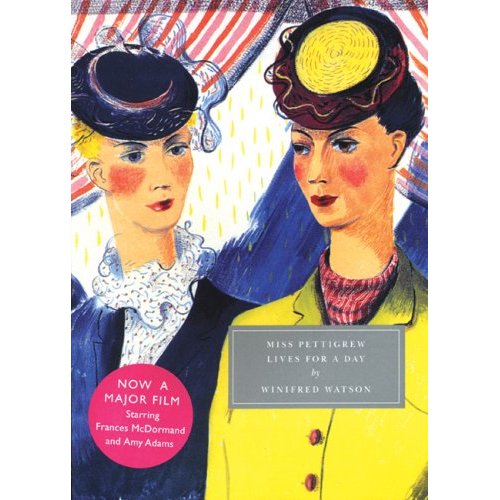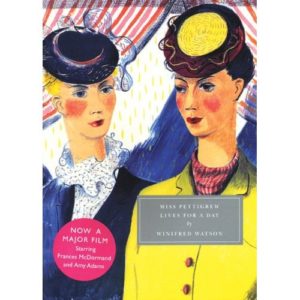 I loves this book! I read it last month, actually, and couldn't put it down. Oh what a fun, fun ride. Think Bing Crosby musical goes abroad.
(I had a childhood crush on Bing. What a tragedy to find out he was as old as my grandfather!)
Miss Pettigrew is an aging, penniless, not-very-good governess stomping the London sidewalks for a job. She has no family and no hope. She was brought up in an ultra-conservative vicar's home — and thus has certain set opinions about what she can and cannot do. In a few words, her fences are pretty close.
(I'm a firm believer in respecting boundaries — fences — but I think we often make them closer in than may need to be. Sometimes we make the fences closer, sometimes other people do it to us.)
A movie was made of this book a few years ago, but I'm gonna guess that the book is better. 'Cuz the book was great! I had a lovely escape from reality one weekend, following Miss Pettigrew's "one day" of adventure outside her comfort zone, outside the fences that have been built around her.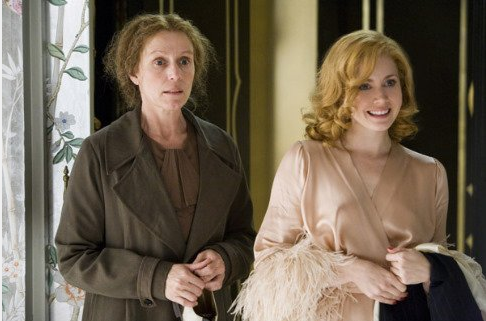 Warning: there's drinking and a fair degree of fornication by different characters in the book. These didn't bother me in the context of the story. If there was "bad language," I don't remember it. It must not have shocked me too terribly. I was more distressed by the elements of anti-semitism in the book. This was disappointing, but also a very real (and unfortunate) characteristic of the time period.
As Carrie pointed out, other great books, like The Guernsey Literary and Potato Peel Pie Society and The Help, contain objectionable behavior in real life. But that doesn't necessarily detract from their value as novels.
Miss Pettigrew Lives for a Day by Winifred Watson is a story of redemption, of love, of daring. And it's a good example of loving the sinner, but not the sin. I give it two thumbs up.
What else I read
In addition to Miss P. I read a few other things over the last month. It seems that between work and homeschool, it is hard to fit in as much reading as I would like. It's been a busy couple weeks.
I've been reading through The Story of the World with the boys as well as The Betsy-Tacy Treasury with the girls. The boys and I also just started reading The Bronze Bow which we hope to finish by the end of the school year. I've read all three of these before and highly recommend them, especially as family read alouds.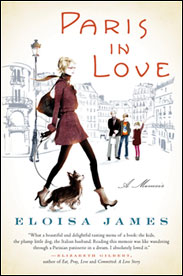 Surprisingly, I also got sucked into a memoir that I was sent for review. I'm always skeptical when I am sent books randomly. And Paris in Love sounds kind of random. It's based on the author's Facebook updates from the year sabbatical she and her family spent living in Paris. I was surprised, but I liked it a lot! The author is a Shakespeare professor as well as a romance novelist. I can't vouch for her other books; I gave those up in college.
But, this book was fascinating to me, especially as I hope to take the fam to Paris in a few years. I was sad when the year was over. Not only was it an exploration of life in another country and culture, but an introspective look at family life and what's most important. Two thumbs up!
Have you been Booking It?
Tell us about the books you've read! If you read Miss Pettigrew Lives for a Day by Winifred Watson be sure to tell us what you thought of it.
Check out the list of 12 books that we'll be reading together this year. Next up in June – All in Good Time by Tara Kuczykowski and Mandi Ehman.
Disclosure: if you make a purchase through any Amazon links up there, I do receive a small percentage of the sale.