How to Survive a Shopping Trip with Children in Tow
As an Amazon Associate I earn from qualifying purchases. For more details, please see our disclosure policy.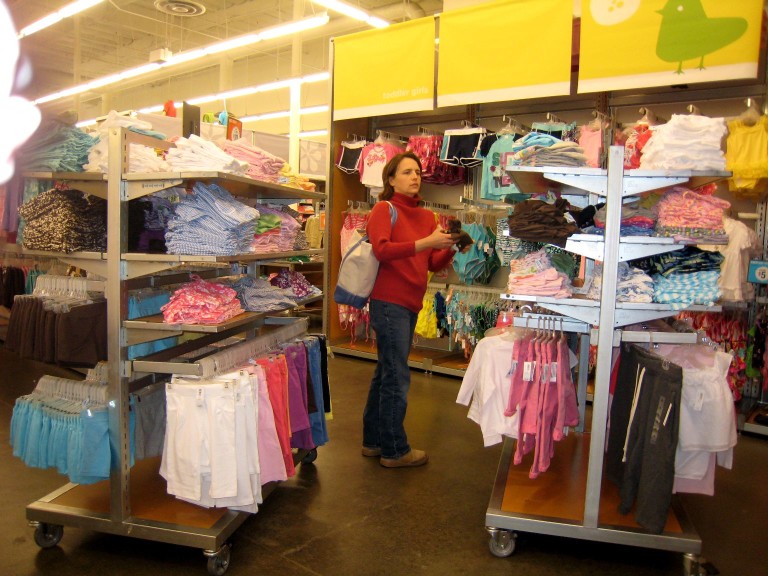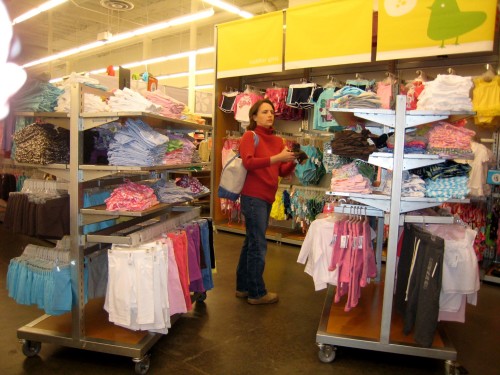 Last week I decided that we needed to get out of the house — all of us. Normally I go shopping by myself. But, it had been off and on raining, and I, personally, was suffering from cabin fever.
Plus, I had quizzed everyone on the way to church one Sunday about all the clothes they were missing. It had been one of those mornings when everything appeared stained and worn. Needless to say, I had a list that needed to be shopped.
Rather than go on the weekend when everyone else was off shopping, we went early on Friday when the crowds were non-existent. We were back home in time for lunch and to finish schoolwork.
We caused more than a few raised eyebrows in Old Navy as me and my six little ducklings trooped through the store.
Yes, yes, we did.
But, honestly, it really wasn't that hard. It helps to have older kids, but even if you don't, here are some things that I do to survive shopping trips with children in tow.
1. Have a list.
And keep it handy! You will have enough to do to keep a smile on your face, don't try to remember what you need. Write it down.
2. Pack snacks, water, books, and small toys.
This will definitely buy you some time when littles start to get fussy. And a mocha for you wouldn't hurt, either.
3. Give a kid the timer.
I love the timer on shopping trips. I usually use it when we're in the Lego aisle, since I want to know that the end is in sight.
Last week I gave it to my oldest and let him set the timer on me. I know, I'm the one in charge.
But at the same time, I don't want to exasperate my children. Our trip through Old Navy was only ten minutes. I let him time me and the kids knew there was an end. Our venture through Target, however, was 1 1/2 hours.
4. Give them the camera.
Truly, I did. The camera was in my bag, and I figured that was a great opportunity for them to entertain themselves. I am not sure I would have used this trick if the store were crowded, but on a slow day, it worked like a charm.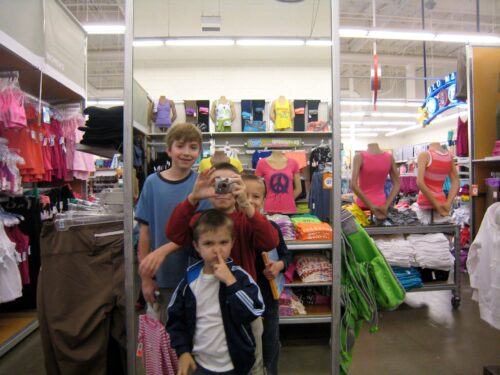 5. Take lots of deep breaths.
There are moments when your patience is tried. Practice those relaxation techniques you learned in childbirth class. You never knew they were to be used for a lifetime, did you?
6. Give each child a job.
Kids do best with positive occupation. Since I had my list and we were choosing mostly clothing, it made it easy to assign small tasks and choices to each child.
Go find the ___________.
Help me choose the ____________.
7. Be on the alert for benches, particularly near the checkout.
Older children can be sent to the bench with a younger child. This gives their feet a rest and their eyes a new perspective. We do this often to stave off the impatience that is catching while standing in line.
Keep your eye on them, but know that for the moment, it's quiet where you are, and you can focus on the prices being rung up, the change the checker gives you, redeeming coupons, etc.
8. Smile often.
One day you'll be one of those little, old ladies smiling at the young mom tearing her hair out. Childhood passes and you will miss it — even those crazy, crazy shopping daze.
This is what works for me. What works for YOU?