Traveling in Europe with a Nut Allergy
As an Amazon Associate I earn from qualifying purchases. For more details, please see our disclosure policy.
Traveling in Europe can be an amazing experience for your family. If someone has a nut allergy, there are some things you need to do to make sure he or she is safe.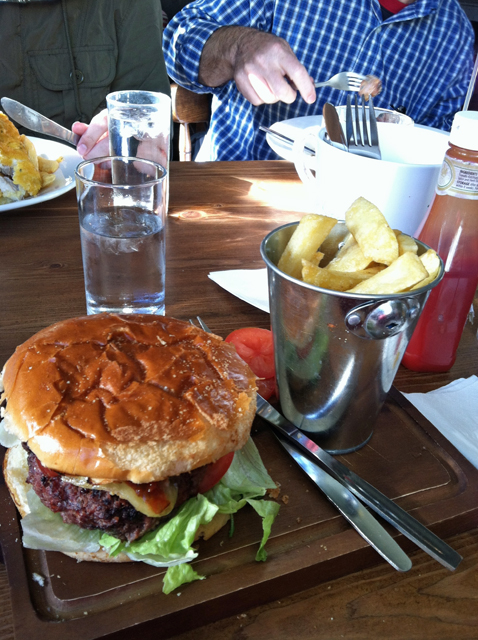 Since my daughter was about two years old, we've dealt with a food allergy in some capacity. Her first pediatricians weren't very thorough so we played a guessing game for awhile, but after a serious reaction and a referral to an allergist, we know more of what we're dealing with. FishChick6 is allergic to peanuts and walnuts.
As we planned our trip to France, this caused me a fair amount of concern. I did lots of reading online, plagued Delphine and Michele incessantly with my questions, and did as much research as possible so that I could ensure my daughter's safety.
Even though our allergist is no longer part of our new pediatrician's referral system, I paid cold hard cash so we could go back to see her and review everything before we hit the road. (Yes, I could have seen a new allergist, but we love Dr. V!)
Here are some of the things that we did to travel safely in Europe with a nut allergy:
1. Go armed to the teeth with meds.
We got a new Auvi-Q prescription from the allergist as well as an epi-pen prescription from the pediatrician. I packed them all, some in my bag, some in the med kit, some in my carry-on. We also had a filled prescription for the steroids that are needed after a reaction as well as a plentiful supply of Benadryl which is our first line of defense. I'm very thankful that we've never had to use the epi-pens, but I was prepared in case we needed to.
I also had several copies of the allergist's instructions packed with all the meds in different locations so there would never be any doubt what to do.
2. Order a safe meal on the plane.
As you know, we flew Virgin Atlantic without the bells and whistles of the high class ticket. I'd had trouble with their online system, but was able to call and order a safe meal for my daughter.
To her dismay, it was very different — and not as fun — as her siblings' kids meals. Their meal would have been just fine for her, but I think Virgin Atlantic had used extreme caution in her safe, but boring meal.
3. Pack snacks you know are safe.
We were packing light for a month abroad, but I still made it a point to pack some snacks I knew she could have. Her allergy is tricky because she can have some tree nuts, but not walnuts. Most allergy warnings do not differentiate between types of tree nuts, so we have to avoid them all, particularly away from home.
4. Identify safe products.
I read every label I encountered while grocery shopping to make sure what I was buying was safe for my daughter to eat. Often times I found foods whose ingredients lists were fine, but were manufactured "in a facility with" or "on shared equipment with" nuts. At home our allergist is fine with this, however, she advised against our trying these products overseas. It just wasn't worth the risk.
So I read labels every time and found foods our daughter could enjoy safely. Fresh fruit is nut-free as were most yogurts, so she always had some easy foods to eat. Breads and baked goods are where things got tricky.
5. Ask, ask, and ask again.
Twenty years ago peanuts were hard to come by in Europe. Today that is not the case. We found peanuts every where. Unfortunately. Walnuts are prevalent throughout, even walnut oil being used in salad dressings.
It was imperative that I ask about nuts and peanuts anywhere we bought food.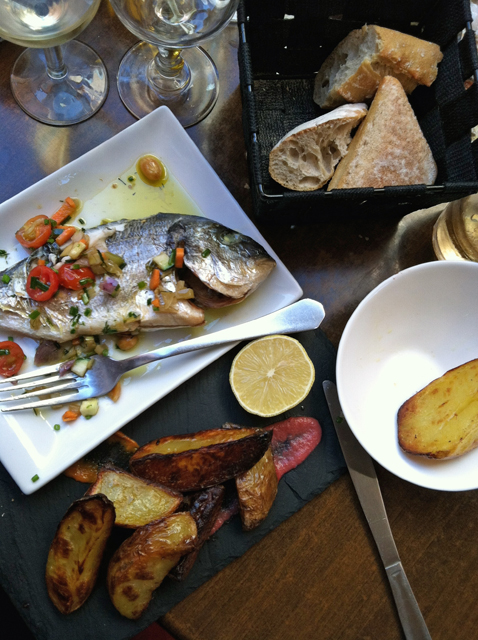 I asked often and warned repeatedly to make sure there was no mistake about her food. Most places were extremely accommodating and careful.
Zizzi has a great allergen-friendly menu. Marks and Spencer, unfortunately, has a CYA warning on every item in the store, so that place is a no-go. With a lot of research we found places that were safe or items on a menu that would be safe.
We never had an allergic reaction, but I was a little surprised when my fish came with peanuts on it! In France. That was weird. I never thought to ask about nuts on my own dish, but I generally try to avoid them for her safety. Since it wasn't on the menu, it surprised me.
It was a good lesson/reminder to ALWAYS ASK.
At a bakery, the French girl scoffed at me when I asked about nuts in the croissant so I entered into a lecture about cross-contamination. Then as she handed me the baguettes, she said, "Oh yeah, these might have peanuts." Whatever. Sigh.
6. Read, read, and read again.
We bought a fair amount of snack food and ready-to-go items at grocery stores. We also traveled a fair distance, from London to Paris to almost the Spanish border. Packaging varied from country to country and region to region. A product that was safe in London was not deemed to be safe in Paris, thanks to different manufacturing plants.
We enjoyed a great vacation in Europe. It wasn't without its challenges. Managing a food allergy, particularly nuts, was definitely inconvenient at times.
Overall, though, I am so pleased that we were able to make the trip without an allergic reaction, opening up more of the world to my daughter — even though she can't have a bite of my fish.
Have you traveled with a food allergy?
What was your experience?