Make 24-Hour Go Bags for Your Kids
As an Amazon Associate I earn from qualifying purchases. For more details, please see our disclosure policy.
Make Go Bags for your kids so that you are prepared for an evacuation in the case of an emergency.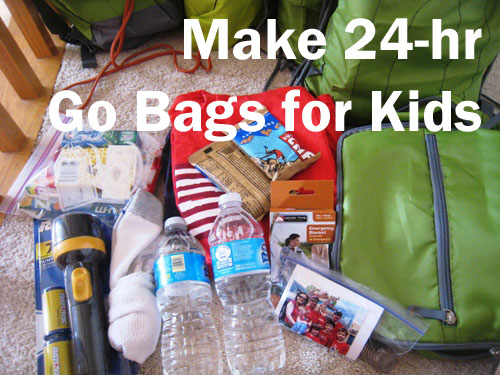 I've been meaning to "get better prepared for emergencies" for awhile now. Last year I did some small things like stock more water and store our important papers in a fireproof box.
We never "think" that a natural disaster or other emergency can happen to us. However, I've heard that folks who are prepared when the never actually happened fare much better. It can't hurt to be prepared.
Where we live the most likely disasters would be earthquake or fire. Our home is more than a mile from the shore, so we're not high risk for tsunami. I suppose other natural disasters could strike, but those are the major ones in San Diego county.
After Lauren wrote about her kids' emergency bags, I started buying some of the supplies to put together Go Bags for my kids. I found clearance backpacks at Target after "back to school" and scooped them up. Then they sat in my closet with a few random supplies and I never got them assembled.
The purpose of a Go Bag is to provide the bare necessities for a certain amount of time, typically 72-hours. I made ours to be good for 24 since I don't have the "extra" to stash 3 days' worth at this time. But, it's a start!
This past weekend I finally put feet to my good intentions! The Go Bags are ready to go. Heaven forbid that we should ever need them.
Here's how to make 24-hour Go Bags:
1. Buy back packs in the same color for all the kids.
My theory on matching colors is this: Using these bags is no vacation. It doesn't really matter to me that they are stylish or that the kids can tell them apart easily. (But, the opposite rationale, making each kid responsible for his own color is valid as well.)
The situation where my kids might need these bags would be an emergency where we must evacuate quickly. I wanted bright colors and all the same color. I want to be able to look for green backpacks in a crowd and count heads.
I was able to find five in the same green and had a sixth similarly colored bag at home to use for my littlest one. Shopping now at Back to School clearance is ideal. I got these bags for $2 a piece. You're likely to find a similar deal at this time.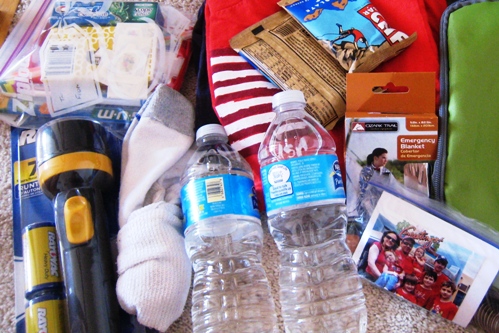 2. Collect supplies.
Lauren offered a great list of supplies necessary for a 3-day evacuation. Due to the expense and weight of 3-day supplies, I decided to prepare a 24-kit for their Go Bags. As I am preparing a 3-day family emergency kit separately, I figure this is sufficient in the instance where we need to leave the house quickly and there might be a chance of us splitting the family up for transport or some other reason.
Go Bags for kids are mostly to provide them with comfort and provisions for a short amount of time. These are in no way luxurious. Here's what I included in them:
Emergency Contact Information: I found this great Emergency Card for Kids from Ready.gov. However, I decided to create my own because there were superfluous fields on the government card.
Here's mine (with fillable fields) in case you want to try this one instead. I filled out one for each kid, including our health insurance information at the very bottom in "additional information". I printed each form, folded it in quarters and placed it in a snack bag to protect it from water.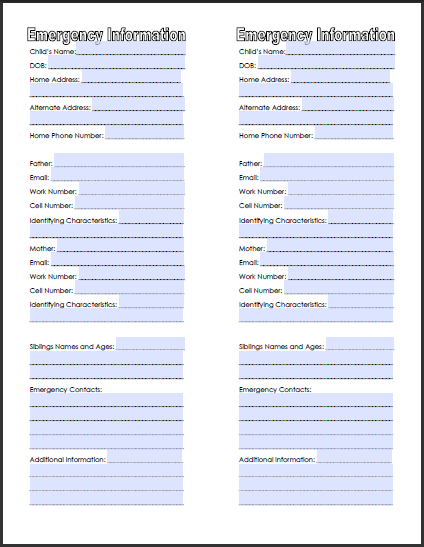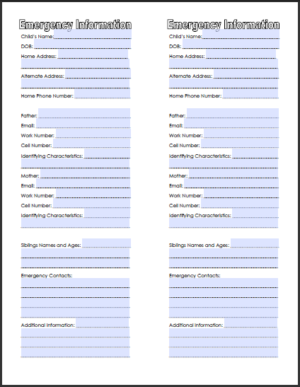 $5 in small bills and coins: Again, this is not luxury. As I'm able to add more money, I will. For now, five dollars can help with incidentals if my kids are separated from me. It can help them buy a drink or make a phone call. The money is in the same bag as the emergency info.
A family photo: I printed wallet-sized photos of our family from Walmart's website. They were about a quarter a piece. If the kids need help finding us or someone else, they'll have a photograph to help the process along. This went in the plastic bag with the money and info card.
An extra change of clothes: I didn't store "nice clothes". I know there are varying philosophies on this. But, each bag has a red shirt, shorts, socks, and underwear. Again with the matching. I want to find my kids easily.
Toiletries: I used a quart size bag to hold toothbrush, toothpaste, antibacterial wipes, kleenex, bandaids, and a few light sticks. These things got kinda pricey since I didn't already have them. Look for sales and save those complimentary toiletries from the hotels!
Flashlight and batteries: I didn't splurge on these, so hopefully they'll work in the event of an emergency. If you see a good sale on flashlights and batteries, stock up.
Bottled water and granola bars: I packed two of each. Again, this is not a long time supply. But, if we're separated for a few hours, the kids will have something.
I'm going to be watching for sales on this kind of thing so I can make their emergency supplies a little more substantial.
An emergency blanket: These are thin foil-type blankets found in the camping section. They are lightweight and fold into an itty-bitty storage space. They cost me $1. But, I bet you might find them cheaper if you keep your eyes peeled.
Things that I'll add as I'm able (hopefully): extra shoes, more money, travel-sized toiletries, sweatshirts, dried fruit and other non-perishable snacks to expand the bag to a three-day supply.
Some of these (sweatshirts, shoes) are things that we use all the time, so I don't want them tied up in a bag. But, as new items come in for birthdays and Christmas, I'll stash the old ones in the Go Bags.
3. Store the bags near the door.
The point of these bags is to have them at the ready at a moment's notice, so they need to be stored close to your path out the door. I've placed ours inside a foyer closet in a sweater stacking-thingamabob. They are behind closed doors but right at the foot of the stairs to grab quickly.
4. Plan to check your bags in a year.
We may not use these bags for five years, if ever. But, it certainly won't help my 9-year old in 2017 if she's trying to squeeze into 4T clothes. You need to change out the clothing as well as the food and water yearly. I've marked it on my google calendar to check the bags in about 9 months' time.
The granola bars that I added to our bags have a "best by" date of June 2013. My kids are counting the days until they can break into the bags as granola bars are something I rarely buy. Hehe.
Do you have your Go Bags ready?