An Easy (Disney) Princess Cake You Can Make
As an Amazon Associate I earn from qualifying purchases. For more details, please see our disclosure policy.
A Princess cake, Disney or otherwise, is easy to pull off with some purple frosting, a sugar cone, and a few princess toys.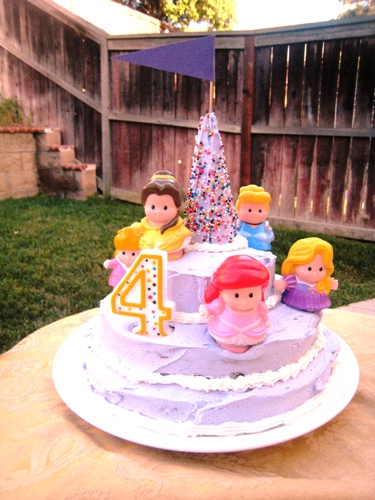 A few weeks ago, my baby celebrated her 4th birthday. While we didn't have a big party, we did do a few things to make her day special.
1. Birthday Kid chooses the menu.
Our family's tradition is to let the Birthday Kid choose the menu for the entire day. At the prompting of her older siblings, she changed her original pancake breakfast to one of Lucky Charms. I"m thankful that birthdays only come around 6 times a year — at least those that might require Lucky Charms.
I got to sleep in while the big kids poured cereal and milk, so I can't really complain.
2. Birthday Girl gets a new dress.
A few years ago I realized how much I LOVE it when my mom takes me clothes shopping for Christmas and birthdays. So, I instituted this tradition with my girls. It's an All-Girl shopping trip and the birthday girl is the one to choose her own dress.
This year's selection was a pink tulle and knit dream. She wore it all weekend in between a number of wardrobe changes.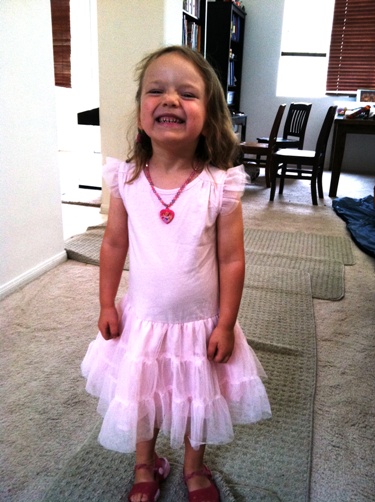 3. Birthday Kid chooses the cake theme.
I've made and decorated quite a few cakes in my time. I still use a mix because I find that everyone likes it so much better. And how healthy do you want a cake to be, anyway? It's cake!
This year I subbed yogurt for the oil and it was a perfect texture. Plus, I added some protein.
We've had some very cute, over the top cakes, and some that were so-so. This year fell somewhere in the middle. The girl was ecstatic, though, when she saw what we could do with her princess-castle request. It's so easy. Anyone can do this. Promise.
An Easy (Disney) Princess Cake You Can Make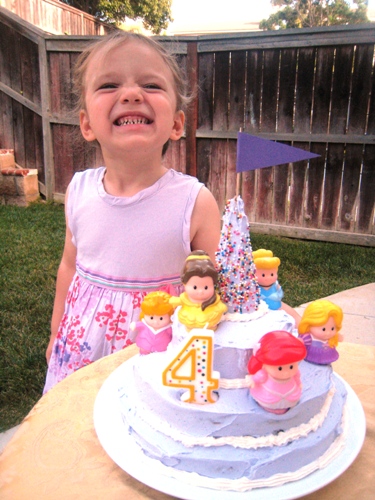 Here's how to make a super easy Disney Princess cake:
You'll need:
cake mix, prepared according to package directions
3 round, greased cake pans in varying sizes (I used 4-, 8-, and 9-inch pans)
1 batch Homemade Buttercream
purple paste food coloring
pastry bag fitted with star tip
1 sugar cone
sprinkles
toothpicks
1 paper flag
scotch tape
any princess doll or dolls of your choosing (I used the Fisher-Price Little People Disney Princesses – affiliate link, there)
1. Divide the prepared cake batter among the three pans. Bake for 15-25 minutes, depending on the size of the cake. Once a toothpick comes out with a few crumbs, it's done. Cool on a rack for 10 minutes. Remove from pans and cool completely.
2. Remove 3/4 cup white buttercream and place in the pastry bag fitted with the star tip.
3. Tint the rest of the frosting purple. Frost the layer cakes, stacking into tiers, starting from largest to smallest.
4. Pipe white icing around the base of each cake.
5. Frost the cone and coat with colored sprinkles. Place on top of smallest cake, with the point of the cone pointing to the sky.
6. Attach the paper flag to a toothpick with tape and insert into inverted sugar cone.
7. Place princess dolls around the castle. We started with five princesses, but Cinderella fell off looking for her shoe. So, don't expect room for too many princesses. One can only have so many princesses in a castle, anyway.
Variations: You can easily change the color of the frosting to suit the child's preferences. Boys and girls can both enjoy the castle cake, just change the toys to suit the occasion. Lego or Playmobil knights can stand in for Disney princesses anyday. 😉