Organizing Tips for a Home Office
As an Amazon Associate I earn from qualifying purchases. For more details, please see our disclosure policy.
Is your home office a disaster? I can relate. I've gathered some organizing tips to help us both keep the home office neat and tidy.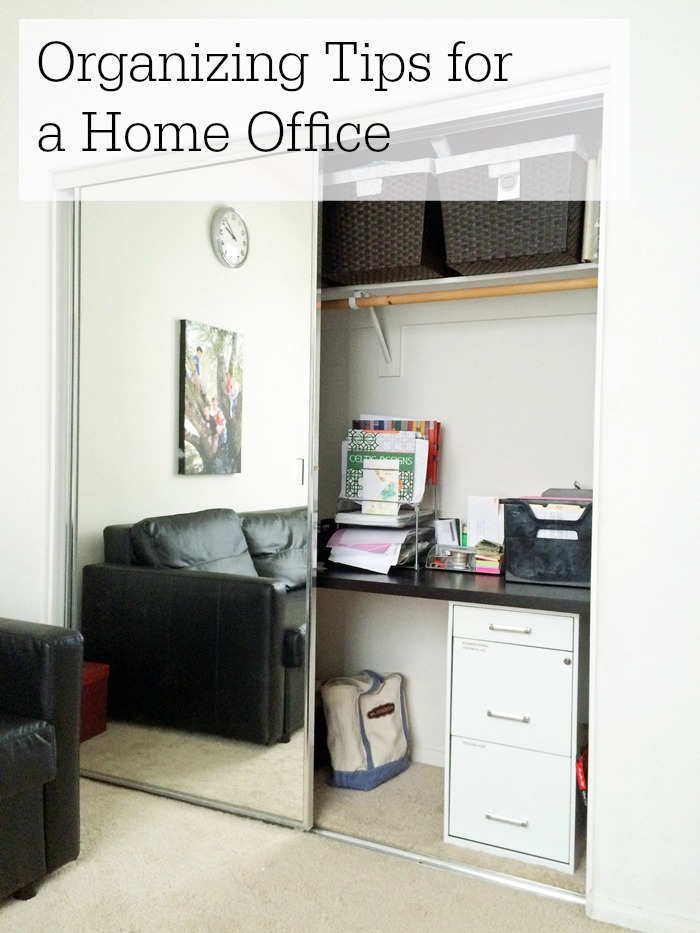 I started writing cookbooks in 2010. It became a full time job in many ways. At that time we had a bonus bedroom. (Yes, ours is a 5-bedroom home.) While that bonus room was a music/exercise room at the time, FishPapa graciously bestowed its jurisdiction on me as an office. It's like I have my own room in the house in addition to the bedroom.
Sadly, it became my own messy room over the last five years. While I could get the rest of the house ship-shape, this home office became the catch-all for all my messes. And other people's, too.
It looked like this far too often: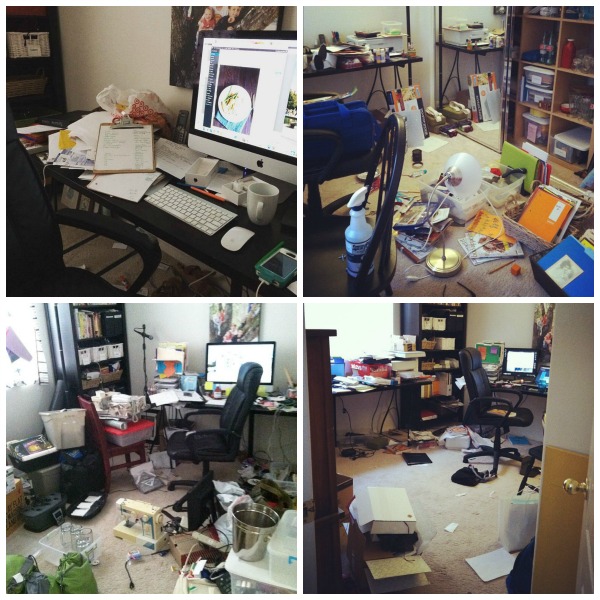 Earlier this summer I decided that that nonsense needed to end. Once and for all. I wanted the room to be a haven not a hovel. And I wanted there to be a place for guests to rest instead of having to evict kids from their beds to make way for company.
What you can't see in the picture is that the entire side wall was a huge metal storage shelf full of craft supplies, photography props, and all kids of things that had gathered over the years.
While I would get things cleaned up, things would drift toward chaos, especially in busy times. Enough was enough. I needed a new groove.
It doesn't hurt that I found a sofa bed at IKEA that I really liked. I confess that that was added motivation to get my rear in gear.
I took some drastic action. I ditched some stuff. I did some googling, pinteresting, and other research. I came upon some organizing tips that are serving me well in my new, improved office.
Organizing Tips for a Home Office
1. Purge ruthlessly.
Get rid of everything that is unnecessary. This was hard. I don't want to rebuy craft supplies. What about these mugs that look like coconuts that might look good in a food photo someday? What if I'll need that thingamabob? What if?
My husband was firm/encouraging to pare down. While I'll admit that I could probably ditch some more craft stuff, I chose done over perfect. I got rid of boxes of unwanted and unused items to clear space. I kept some craft stuff and some favorite dishes, but let the rest go.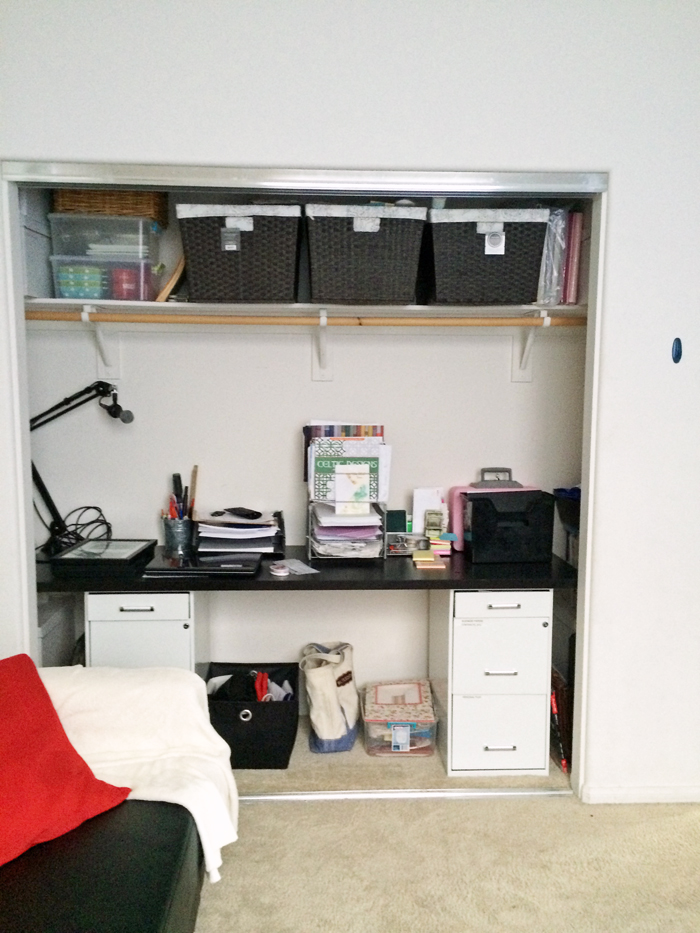 2. Build a cloffice.
I found lots of closet offices on Pinterest. The technical term is cloffice, in case you were wondering. We took the sliding closet doors off and installed a desk and storage in the closet. I contemplated leaving it that way, but I know myself. Clutter will happen. So the doors are back on to hide the mess that might come our way.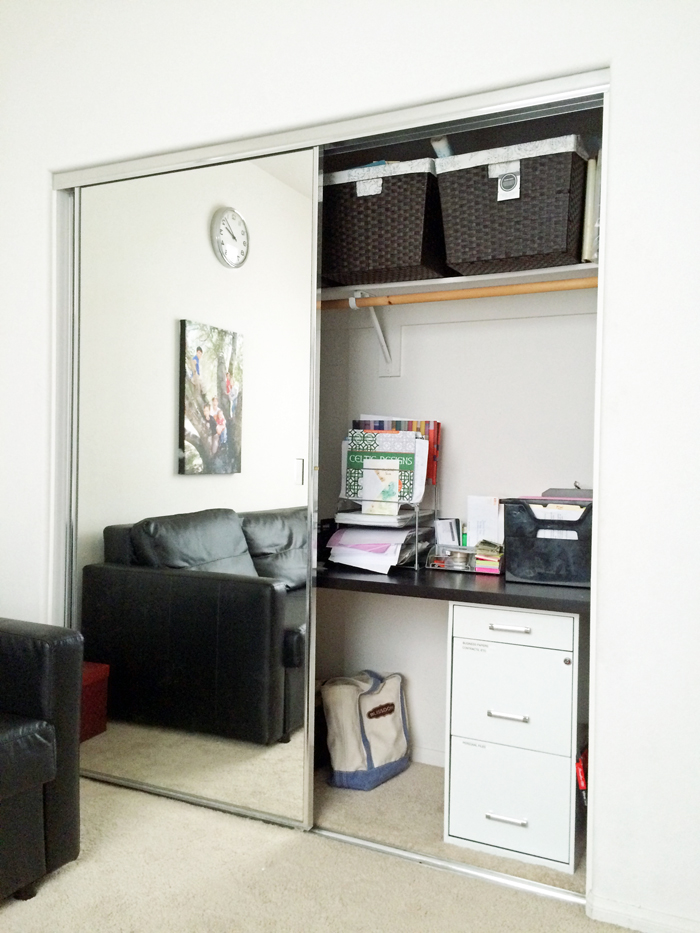 3. File appropriately.
Under my old system, I relied on several small file boxes to store our tax records, personal records, and financial papers. Three different boxes that I rarely filed into. I corralled all that into two file cabinets that serve double-duty as desk supports. I labeled the drawers so I know where things are.
I'm also enacting the "Touch it once" rule. Once I get a paper in my hand, I'm filing it. It seems like too much work. Why not wait until I have a stack to file?! Ha. That answers my questions. I want to do away with stacks and piles.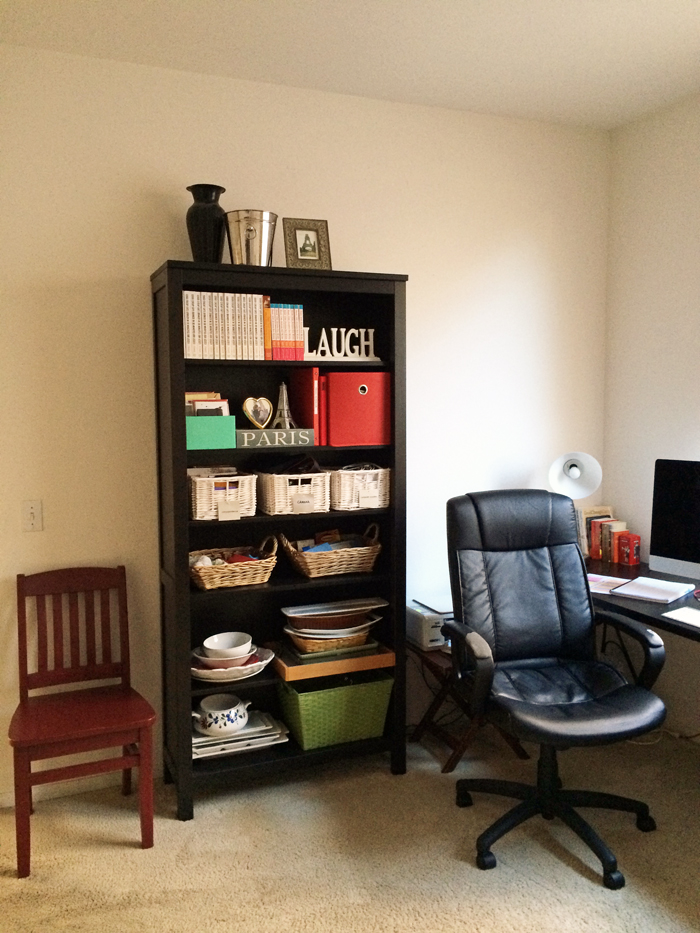 4. Make it functional.
I decided that working from the closet with or without doors just wouldn't be comfortable. There is a desk by the window with plenty of work space and a printer nearby. The shelves hold things that I want to access regularly, including the prop dishes that I kept.
My work space is compact, but very functional and clean. I love blank space.
We added a second purpose to this room. That sofa (Friheten from IKEA) pulls out into a very comfortable bed. There's even storage for extra pillows and bedding in the back. I can rest and read in here. The kids and I can do school in here. Guests can sleep in here.
The office now has multiple functions that serve our family well. It served as an extra sitting room this past weekend when we had company. Nice!
5. Tidy up every night.
Despite the fact that the girls are wanting to play in here everyday, this is still my personal space. (I know, what a blessing!) I'm trying to be a better steward of the space, tidying up every night, filing papers, and otherwise taming the beast that wants to reappear.
I loved Prerna's advice about a clean desk, and now I'm aiming to follow it.
What organizing tips do you have for the home office?