12 Ways to Save on Household Expenses
As an Amazon Associate I earn from qualifying purchases. For more details, please see our disclosure policy.
Household expenses like cleaners, soaps, furniture, maintenance, and energy costs are all things that you can adjust with a little creative thinking.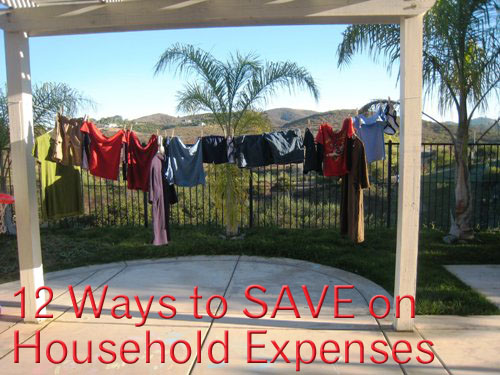 Want to save this post?
Enter your email below and get it sent straight to your inbox. Plus, I'll send you time- and money-saving tips every week!
Five years ago, our lives were turned upside down. We finally faced the music of the consumer debt we had piled up. It amounted to over $16,000. We decided to get serious about the debt.
It was hard.
We looked at our expenses and combed through them with a fine tooth comb. We did things that previously we wouldn't have dreamed of doing. We literally sweated away our debts.
There are some expenses like mortgages and car payments that are static. You can't really change them. But other costs, like household expenses, can be finessed and massaged. You can reduce them if you think creatively and are willing to be weird.
Here are twelve ways to save on household expenses:
1. Make your own cleaners or get them cheap with coupons.
There is no reason for you to pay exorbitant prices on household cleaners. Years ago I found that I could combine coupons and sales and get everything we needed for very, very cheap. I still do this for laundry detergent, rarely paying over ten cents a load.
In recent years, I've gone green with many of our cleaning products. I buy a ginormous bottle of vinegar at Costco for about $3. We use that to wash windows and clean countertops and other surfaces. We pay virtually pennies for all-purpose cleaner.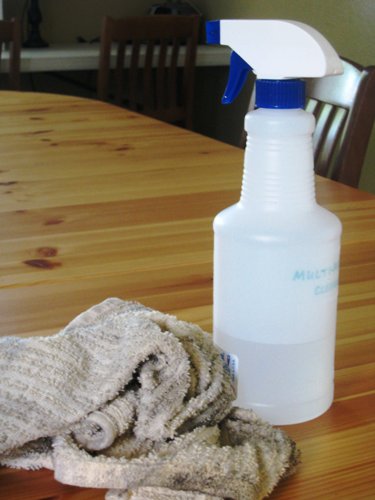 2. Use less soap.
Years ago in an interview with dishwasher manufacturers and repair specialists, I read that most "detergent cups" in automatic dishwashers hold more soap than you really need to use. In fact, they said don't fill the prewash cup at all and only fill the wash cup halfway full!
We've been doing this for ten years and have had great success with using less soap, not to mention saving at least 75% on our dishwashing detergent.
3. Go 'poo free.
I didn't think it was possible, but my boys really prefer Tsh's method of hair washing over traditional shampoo. I don't buy them any shampoo at all which saves us a tremendous amount in toiletries expenses.
This is a good thing because on a recent trip away from home, I explained to one of them that he only needed to use a dime sized amount of hotel shampoo. Apparently, he was using A LOT more than that previously.
(Full disclosure: Over the last year I've splurged on my hair care. Age is catching up with me. 'Nuf said. So, this isn't a method I personally use. I don't  impose it on my kids, though. It's been their choice — and hey, it saves us money.)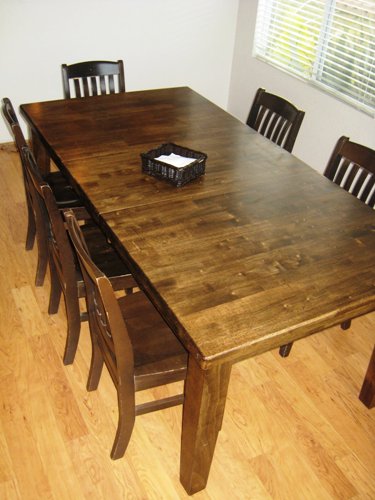 4. Look for used appliances, furniture, equipment, etc.
I love IKEA with the best of them. And when our budget allows, we go there for what we really want at a fair price. However, we've also had great success shopping off Craigslist. We've even found practically new IKEA pieces to match the ones that we currently have.
We've find some great deals on Craigslist over the years, like this grill and these chairs that are still going strong three years later.
5. Look for coupons or deals on maintenance services.
If there are regular repairs and maintenance that you need done, write up a list of those things and keep your eyes open for coupons and deals. If you have a list of yearly jobs that need to be done, you're more likely to be mindful of those things than when you need to get it done on the spur of the moment.
6. Do it yourself.
But, if it's a job that you can do well and have the time to do, consider doing it yourself. You'd be surprised at what you're capable of doing — without a "professional".
For instance, years ago when we lived in Kansas City, we need to run the sprinkler lines clear every fall so that we didn't have water in the lines that would then freeze and bust pipes. Guys would drive down the street with big compressors, offering their services for a fairly steep fee. Hubs researched the procedure and found out he could do it himself — for FREE.
If you know how to fix things, you can save a lot of money.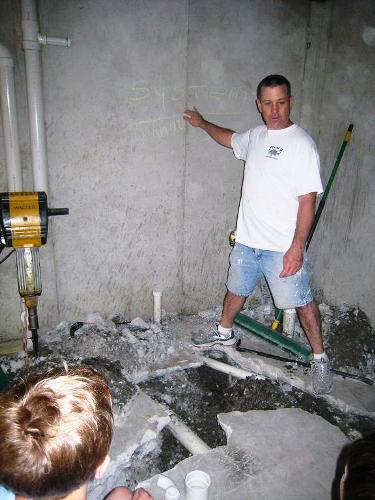 7. Keep a record of your household possessions.
We talked about this last year; having a record of your household possessions can save you much stress, heartache, and expense in the event of a theft or natural disaster. It doesn't cost you more than a few hours to make this record, but it can pay off big time if the unexpected happens.
8. Set your thermostat for money-saving temps.
We sweated it out in extreme summer heat years ago. Setting our thermostat at 82 in the summer was one way that we could cut our costs. Yes, it was miserable — Crystal remembers how much so — but debt was worse. Likewise, in the winter we set it at 62 and wore lots of sweaters.
A programmable thermostat is invaluable in helping you shave off some big dollars in heating and cooling costs. Check out Rachel's tips for AC maintenance to make your home cooler and save you money.
9. Weatherize your home.
Weatherizing your home for the heat of summer and the cool of winter is another way to offset your energy costs. Consider window stripping, storm windows, and other energy-saving tweaks to keep the cold air where it should be, depending on the season.
10. Recycle to reduce trash service costs.
Depending on how your city manages waste, you may be able to reduce the costs of your trash pickup by recycling more. We found this to be true in the past. By sorting our recyclables out of the trash, we were able to use only one trash can and reduce our pick up costs.
11. Dejunk and organize.
When I clean out closets and storage areas, I'm always surprised by the treasure I find. It usually does one of two things:
Convinces me that I never need to buy another thing for the rest of my life.
or
Reveals some household items that we could put to better use, thereby avoiding expenses in other areas.
Cleaning out your "stuff" can help you spend less or make better use of what you have. Plus, you can sell your discards and put some coin in your pocket.
12. Don't compare.
This is probably the hardes t thing when money's tight. Or even when it's not. When we compare ourselves and our situations to other people, we can often think that we're lacking.
Keeping up with the Joneses rarely pays off – in our pocketbooks or in our hearts. Be content with what you have – and try hard to do the best you can with it.
Certainly these aren't the only ways to save on household expenses. But, they're a start. Depending on your family's goals, preferences, and lifestyle, you can put these to work for you and help you save money.
This post was originally posted on July 20, 2012.
Today's Frugal Friday!
Time to swap ideas and inspiration for saving money.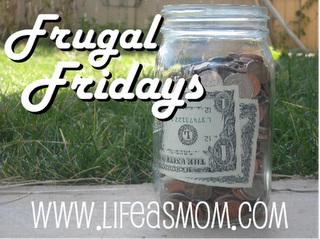 How do YOU save money?
Please remember to follow the Frugal Friday Guidelines or be deleted.
Post a money saving idea and explain how it is helpful in your post.
No giveaways or deals posts.
Recipes are allowed, but you must explain how it saves people money.
Please include a link back to Life as MOM.