Our European Vacation: Normandy with Kids
As an Amazon Associate I earn from qualifying purchases. For more details, please see our disclosure policy.
We just got back from a month abroad where we visited London, Paris, and a handful of cities in Western France. We explored, rested, and learned a ton about ourselves and the world. This is the third installment of our European adventure. Go to the beginning here.

Years ago, FishPapa and I traveled through western France. We retraced our steps this October when we took our six kids to France. Here's how it went down:
Momdate: Normandy, France, October 5-6, 2014
As you know already, we started this big adventure in London and proceeded to Paris. When we left Paris, we were happy to kiss it goodbye. The kids had been sick with colds and overwhelmed by the faster pace. It was a disappointment for us parents since we had such wonderful memories of Paris in the 90's.
Anyway, while I nursed sick kids and packed up all our stuff, FishPapa and FishBoy17 navigated their way back to the Gare du Nord to pick up the car. I will review the car service in another post. Just know that we were extremely disappointed. Stay tuned for the gory details. 🙂
The kids and I waited for HOURS at the hotel, with all our stuff. Check out all that stuff! Not bad for eight people for a month, eh? Pack light, baby.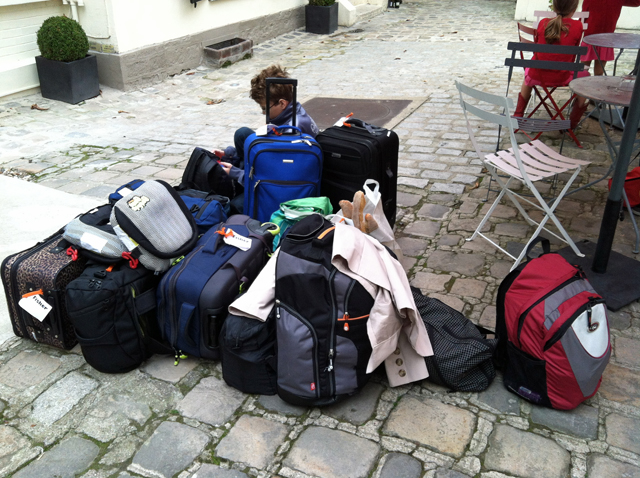 I honestly was starting to get a bit worried about my husband and first born. Where were they?! This is one of those moments when it would have been really nice to have a working phone or at least a data plan so that we could communicate and I could know they weren't dead or injured in a Paris hospital.
J'exagere.
Due to some issues at the car rental office and then weird navigation systems, it took several hours for them to get back to the hotel. We loaded up and headed out.
On the road
Our first stop out of Paris was Normandy, Bayeux specifically. I didn't really have a lot of time to extensively research the region. And even though I begged and pleaded with the big boys to do some research, they didn't either.
So, taking a stab in the dark, I said, let's go to Bayeux. I wanted to see the Bayeux tapestry and I knew it was near the landing beaches of D-Day. The night before we left California, I got an email, however, that my mother-in-law (aka curator of the Reagan Ranch) was able to set us up with a tour of the Airborne Museum in Sainte-Mere-Eglise.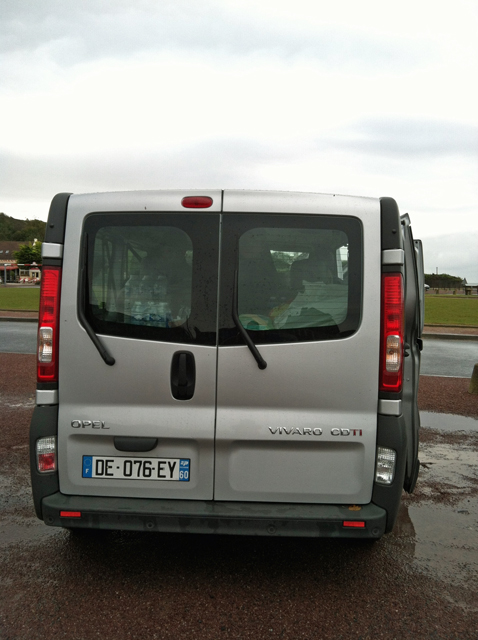 The road through Normandy is absolutely beautiful. It reminded me a lot of Minnesota where I spent childhood summers. The similarities between the two regions should come as no surprise. The Vikings conquered Normandy and their descendants settled the Land of 10,000 Lakes; both are presumably similar to Norway.
(I've never been to Norway, so I can't say for sure.)
In Bayeux
With the late start and several hours on the road, we didn't get to Bayeux quite as early as we had hoped. We hopped over to the Bayeux Tapestry museum right away. At the moment I was feeling rather ambitious that we'd be able to do two museums in Bayeux, see the beaches, and visit the Airborne Museum — all in 24 hours. Ha!
We bought 2-for-1 tickets for the two Bayeux museums and only ended up using one.The tickets are good for a year, though, so we can always go back. 😉
The Bayeux Tapestry tells the story of how William the conqueror took over England. The museum is very well done, with free audio guides supplied for adults and children. The audio guides gave tons of interesting information and kept folks moving through the exhibit easily.
The movie on the upper floor reinforced the history of the tapestry in another audio/visual way. Films are shown in both English and French just as most of the exhibits are available in both languages. (Not all the grammar is spot on, but we got the gist of it.)
Especially poignant was the end of the film that shows the British cemetery and the Latin epitaph inscribed there on the Bayeux Memorial: "We, once conquered by William, have now set free the Conqueror's native land."
Unfortunately, we didn't have time to go to the Battle of Normandy Museum or see the Bayeux Memorial.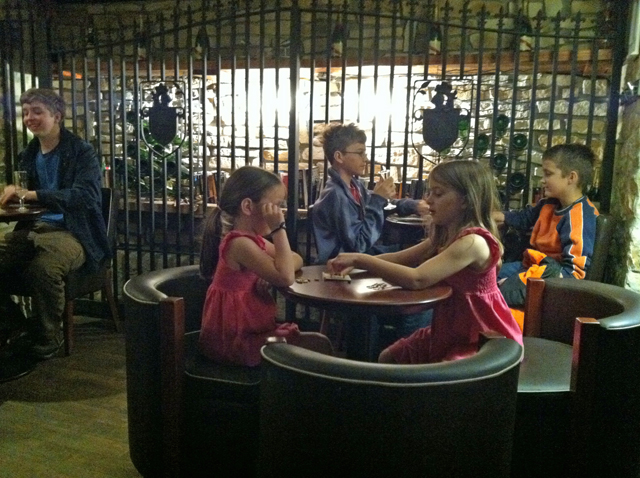 It was Sunday when French grocery stores are closed, and many of the restaurants. I did a quick search on Trip Advisor that led us to a little cafe/bar/pub near the museums. Since Bayeux plays such a role in English history, the attractions and restaurants are marketed more toward the English. The cafe was flanked by British and American flags, something that normally would have told me to run far, far away. Tourist trap, right?
It started out fine. The waitress opened up an area just for us, the kids paired off and played games while we waited for the food to arrive.
The food, though cheap and simple, was extremely disappointing. All I can think is that it was geared for tastes other than French — or American. (You can read my full review on Trip Advisor.) But we went back to the hotel fed and ready for bed.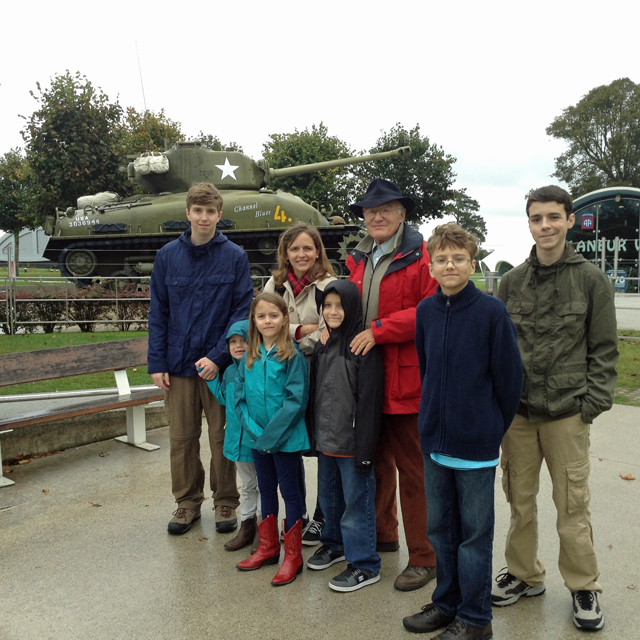 In Sainte-Mere-Eglise
The next morning after stopping at a grocery store for snacks, we headed to Sainte-Mere-Eglise. This little village was one of the first villages liberated on D-Day with units of American paratroopers descending from the skies to take control back from the Germans and block any counterattack on the landing beaches.
Honestly, it was a mind-blowing day. Thanks to Gramma Marilyn's reaching out to folks she knew at the Airborne Museum we were able to meet Monsieur Renaud, a octogenarian who was there in Sainte-Mere-Eglise on that day.
He was ten. His dad was the mayor. His mother came to be known as the Mother of Normandy. They had lived under German occupation for four years until the Americans came in to liberate the village.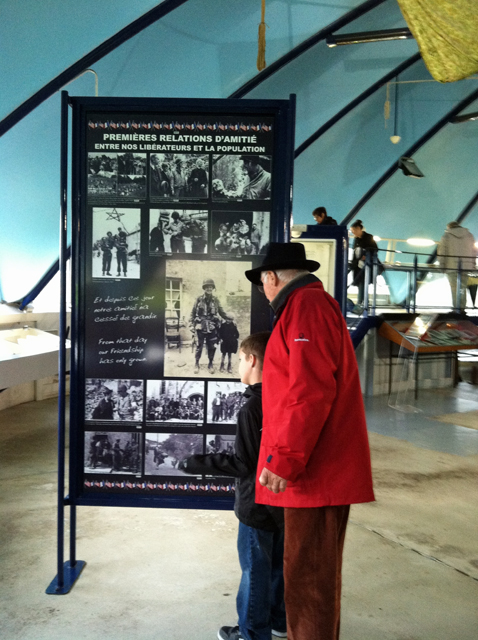 We had an amazing day, listening to his stories, touring the museum, asking questions of someone who lived that experience, and otherwise, being mesmerized by a piece of living history.
The Airborne Museum is amazingly well-done. I was extremely impressed with their audio-visual display in the most recent addition. They do a great job of helping you sense what the soldiers must have experienced that day. Having Monsieur Renaud at our side was just remarkable.
Monsieur Renaud was at our disposal. He truly would have spent a week with us, telling us stories and showing us parts of his village and where history was made. We went out to lunch together and even went back to his house to meet his wife and drink coffee.
Unfortunately, we had no idea when we made our travel plans that we would have such an amazing, rich experience, so we didn't have extra days to spend. Oh for lack of spontaneity! I cried when we drove away. Partly because I wanted to stay, but also because I was so taken with this man who has spent his lifetime loving on Americans and welcoming them to his country.
Many, if not most, of those American soldiers that he befriended so many years ago have passed away. We are at risk of forgetting the price that's been paid for freedom.
Many thanks to Magali Mallett of the Airborne Museum, Jay Hoffman of the Reagan Legacy Foundation, Monsieur Renaud, and Gramma Marilyn for making our incredible day possible!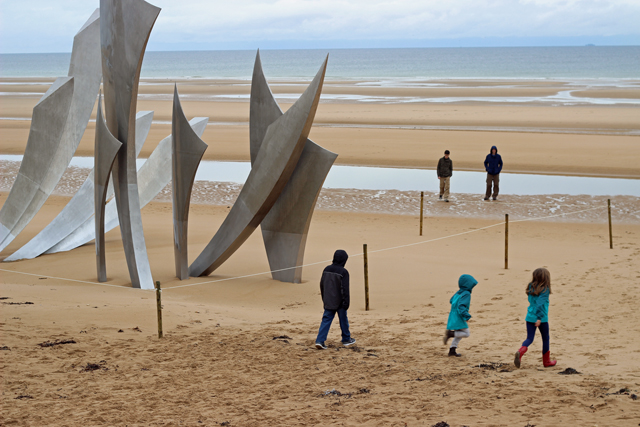 At Omaha Beach
There was just too little time to fit in all the things that we wanted to do. At Monsieur Renaud's urging, we headed out to Omaha Beach and the American cemetery. Unfortunately, the cemetery closed at 5 and we missed seeing it.
Instead we walked along Omaha Beach, deserted in the cold chill wind.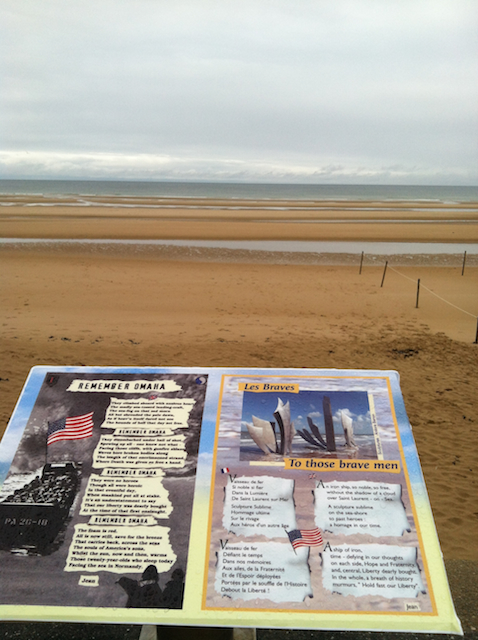 It was an amazing day. Our only regret is that we hadn't allowed more time in Normandy. There is much to learn about what transpired there 70 years ago. There's is much we need to learn and remember.
The nitty gritty details of Normandy with kids
Accommodations in Bayeux
We stayed in the Premiere Classe Hotel in Bayeux. It is the budget of the budget hotels. We paid $60 for each room which was the lowest price hotel we found all month. It's a no-frills, budget hotel chain; quad rooms had simple furnishings and a stinky paint smell in the hallway. The bathroom in each room was similar to an insert bathroom for a motor home.
It was fine for our purposes.
Total spent: $120
Transportation
We drove a nine-seater Opel Vivaro. I don't remember if we paid a toll fee on this leg of the journey, but I know we didn't get gas.
Total spent (for two week rental): $960
Food
Dinner at Le Conquerant = $64 (51 Euros)
Groceries at Le Clerc for the road = $40
Lunch at Le Biscuterie Sainte-Mere-Eglise with Monsieur Renaud = $124 (for 9 people)
Total spent for two days: $228
Amusements
Tickets for the Tapestry museum = $57 (45 Euros)
Books and souvenirs at Airborne museum = $38
Total spent: $95