Our European Vacation: Paris with Kids
As an Amazon Associate I earn from qualifying purchases. For more details, please see our disclosure policy.
We just got back from a month abroad where we visited London, Paris, and a handful of cities in Western France. We explored, rested, and learned a ton about ourselves and the world. This is the second installment of our European adventure. Go to the beginning here.

One of the beautiful things about traveling for a month is that it's okay to have some days devoted just to travel or resting. Due to a number of different circumstances, we had a few of those throughout the month. If we'd been traveling for a shorter amount of time, I might have mourned the loss of those days that "could have been better spent" doing sightseeing things. As it was, a break in those activities is good.
Here's the next section in our travel report:
Momdate: Paris, October 2-5, 2014
After our first three days in London we spent three nights in Paris. In order to get there, we took the tube to St Pancras International Station where we grabbed lunch (Pret a Manger and Fine Burger with the former being a better way to spend our money) and eventually our train through the Chunnel.
(Note: we are really glad we chose the train over another airplane. Train travel is so much more fun than being squeezed into an itty bitty storage space. I mean, airplane. The cost difference was negligible and we can say we traveled under the English channel. Next time, we'll book sooner and save some cash.)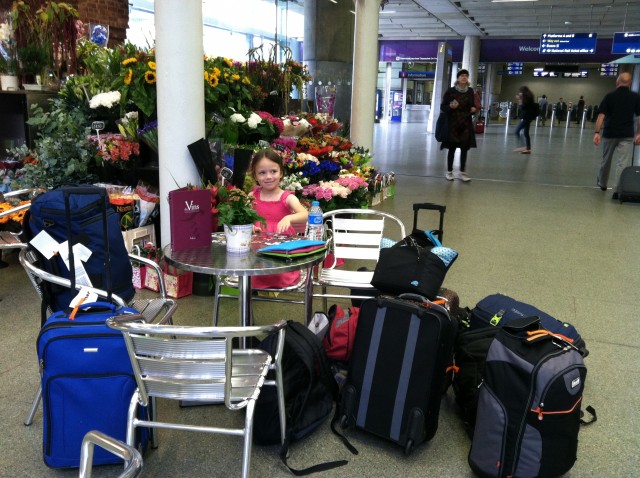 We were early — one of the downsides to late planning is that you don't get your pick of departure times. The cheapest train was several hours after our hotel checkout time. So we had time to kill. As it was we had two sicks kids, so moving slowly worked out okay. We didn't have a ton of time to sit around as it was. And St. Pancras is a lovely, lovely station.
Even if I couldn't get the wifi to work.
We had a lovely time on the Eurostar train through the Chunnel. It's super smooth, and the seats are much more comfortable than other transport.
Now, remember how well I had planned London? Then, I knew exactly which tube passes to buy, which tube to take, where to go, how to get to our hotel, etc. I had walked the path via Google Maps and knew it like the back of my hand.
Apparently, my brain was already on vacation when it came to planning Paris because when we arrived, I had nothing. Nothing. Not even a clue how to proceed.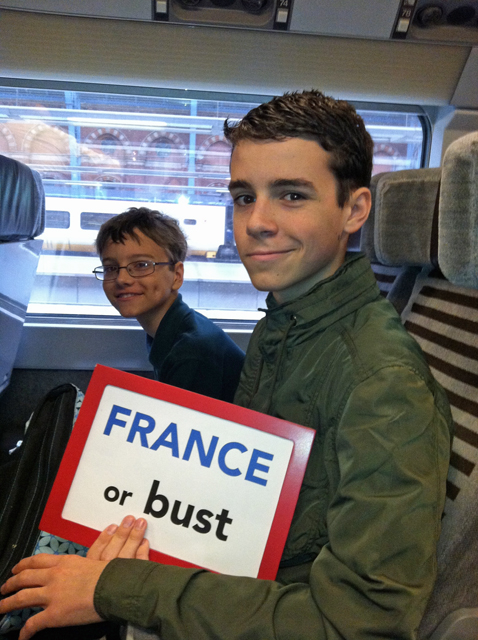 Bust is right! I'm not sure how that happened. All I knew was the train/metro stop to take toward our hotel. Luckily, I wasn't afraid to ask for help in the metro station. I was, however, mortified that the metro guy immediately asked in a grumpy voice, "Do you speak English?"
I let FishPapa take care of things from there.
He couldn't stop talking about how nice the guy was. Ha! It was nice, even if he hurt my pride.
As luck or late planning would have it, we were taking mass transport in Paris at rush hour. Are you seeing a theme here? We got on a very packed subway to the stop closest to our hotel. It was packed. We were eight people, eight suitcases, and 6 backpacks. At our stop, we almost didn't get off quickly enough. A helpful Parisian man, steered FishChick 6 out the door while I hurried to squeeze through.
The metro ate my foot at that point.
That was a sobering moment as the doors did not open. while. my. foot. was. wedged. between. them. I yanked my foot and my suitcase out the door and hobbled across the platform. It didn't bruise too badly, but the experience shook us all up a bit.
After that we were super careful to get in position early and to make sure the kids knew what to do in case we were separated. We later realized that the timing of London's underground stops is longer than those of the Paris metro. We had been getting practice in London, but we needed to speed up the pace in Paris.
So, back to our landing in Paris. We got off at our metro, but had no idea which way to go. I can laugh now. But I felt like such a dork at the time.
Again, I found myself in the middle of Paris with no idea what to do. I knew we were near our apartment and I knew the address, but I didn't know how to find it. I had no map, no wifi, no phone service. Brain storm hit. I saw a newsstand up ahead and went to buy a Paris map. I didn't have cash to buy one, but the elderly men there gave me directions, and I went back the next day to buy the map. We found our apartment pretty quickly after that, but we were all pretty tired and stressed by that point.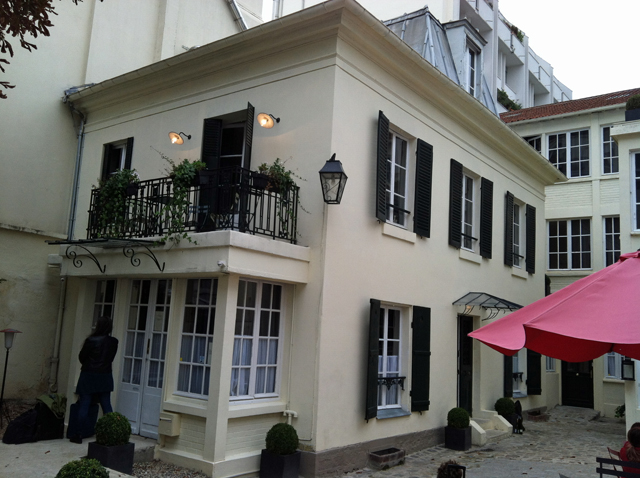 There was some initial confusion over our apartment. The receptionist told us that we had two apartments. That wasn't what we asked for. We were tired of the divide and conquer we'd been doing in London. I wanted to sleep in the same space as my husband.
As it turned out, we were given two apartments, but the entire floor of the building (see the balcony?), so we could lock the door to the stairs and make it one large space. We ended up with two queen beds and three pull-out couches, sleeping for ten people instead of eight. We also had three bathrooms and two kitchenettes.
That night FishPapa and I headed to Monoprix for dinner groceries and came back to make pasta, salad, and a cheese plate. All the produce was fabulous — even from a grocery store.
We had a balcony in a treed courtyard which made it all seem very francais. It was pretty chouette. I mean, I woke up to this and fresh croissants: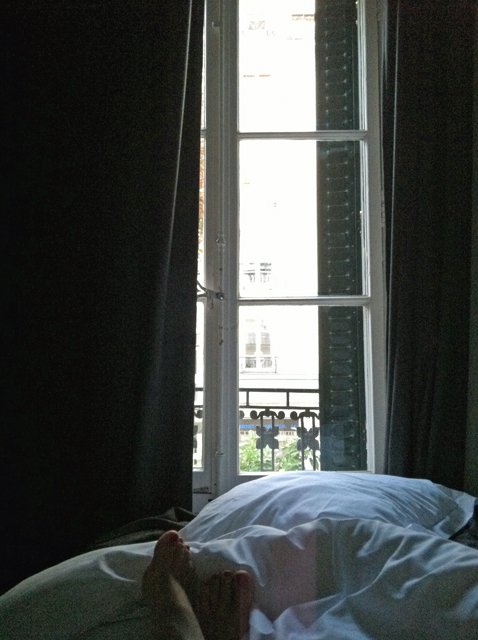 Overall our first leg in Paris was not so chouette. It's a busier city than it was twenty years ago, pricier, too.
Of course Parisians aren't typically known for their manners, though we'd already been helped by several kind strangers and been welcomed graciously at the hotel. But, it was still a shock to the system.
My kids are pretty polite, generally speaking. Parisians typically are too busy to worry about your personal space or to apologize if they invade it. Paris was probably the height of culture shock/homesickness for the two older boys and FishBoy10. I think FishBoy12 got his the first day in London and so by the time he reached Paris, he was acclimating.
The first full day in Paris took us awhile to get situated, to figure out the neighborhood, find the bank, buy some groceries, feed the troops. We headed out to see the Trocadero and the Eiffel Tower. We were not expecting the hoards of tourists or the masses of salesman who want you to buy their little junky eiffel towers. It was a dis-enchanting moment.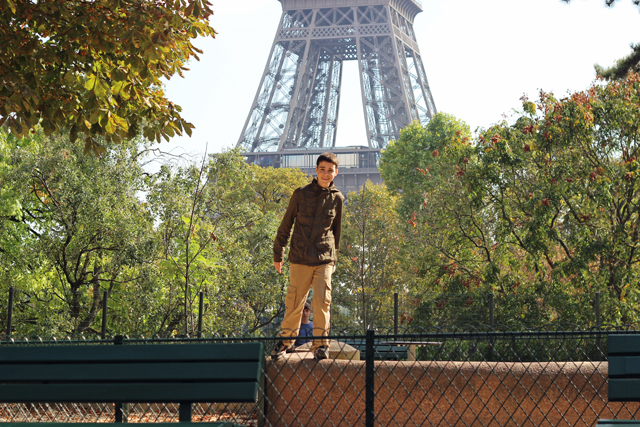 We took the road less traveled by and found a playground off the Trocadero where the kids played.
Only one casualty there when FishChick6 tumbled from a very high play structure, flipped herself around and landed on her belly. I was already struggling with my French, and then I went through the mental exercise of searching for  medical vocabulary in case we had to go to the ER. Thankfully, no, but she told me her neck was broke the next morning. A slight whiplash, I think.
We walked toward the Eiffel Tower and were stunned again by the masses of people buzzing around. We took to the river walk only to find more tourists bustling for their dinner cruises. We walked and walked what seemed like miles, to find we had covered only an inch on the map.
We turned into the Tuileries to find it, yes, packed to the gills with tourists, I can't imagine what it's like during summer!
The weather was so nice, though, and we'd made it that far in one piece, it was nice to walk around.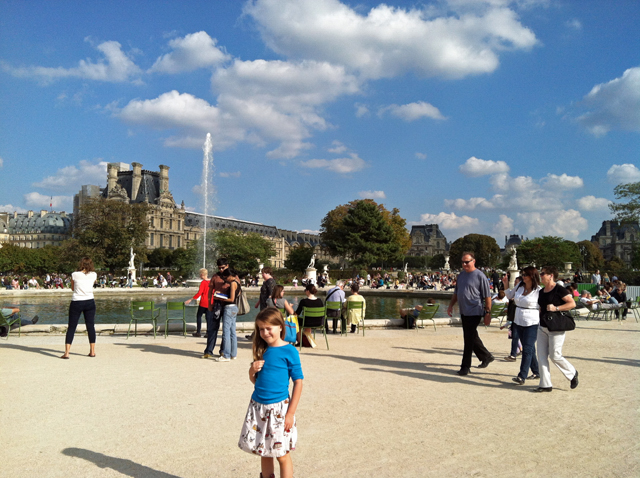 After a rest at our apartment we went to dinner at my French sister's house. That was the highlight of the day — and our first stint in Paris. Delphine's parents "adopted" me when I as a student in Bordeaux. Delphine was just a girl then, so it was wonderful to see her again and pick up where we left off.
We had a lovely time chatting with Delphine and Nicholas and getting to meet their baby Anna.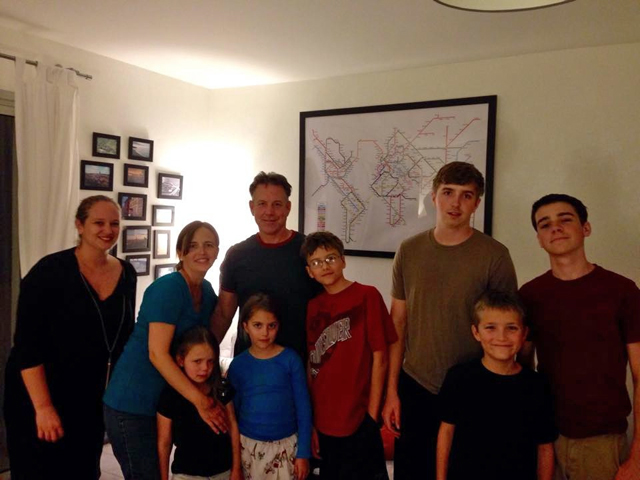 That night, however, was a bad one for one of the littles with nightmares and such that kept him and me both awake until about three am. I ditched our plan to go sightseeing on our last day and let everyone sleep in.
The window covering in France are amazing. You think that it's full night when it's the middle of the day. Everyone slept really late. By this time four kids were sick with colds, so it was good to have a rest day. I washed laundry, bought more groceries, and since the spotty wifi was finally on, tried to do some research for our trip.
Fishpapa and I decided to pack a picnic dinner for the park and then visit the Cite Universitaire. The University of Paris has built all their buildings in the architecture style of other countries. It sounded like a good idea when we started on our 30-minute walk.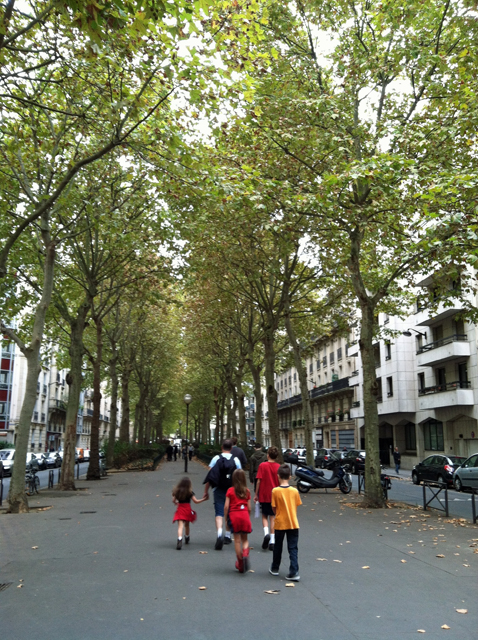 Unfortunately, a special event closed the nearby park so that we had to wait around for its reopening, another comedy of errors. It was supposed to reopen at 5, and folks were crowding around the gate at 5:10, still waiting for the park to reopen. But the sign said it would close for the night at 5:30. Say what?
This is when I shrug my shoulders and say, "It's France." (I have no clue.)
Since it was completely fenced, I was concerned we'd have to spend the night in the park. I needn't have worried. It started to rain. We walked back to the hotel with FishChick7 crying all the way. She had really been counting on a picnic.
We made "lemonade from life's lemons" by picnicking in the courtyard. The receptionist Raul brought candles for the two bitty tables and we ate under the umbrellas. It was a bit reflective of our first stay in Paris: not exactly what we imagined it would be.
I'm sad to say that the FishKids were more than happy to kiss Paris goodbye.
The nitty gritty details of Paris with kids
Accommodations in Paris
I did a lot of searching for lodging in Paris. A lot. I looked at airbnb, vrbo, home away, trip advisor, and booking.com. I actually ended up making all our reservations for the trip through booking.com It was one of the few booking sites that would let me search for such a large family.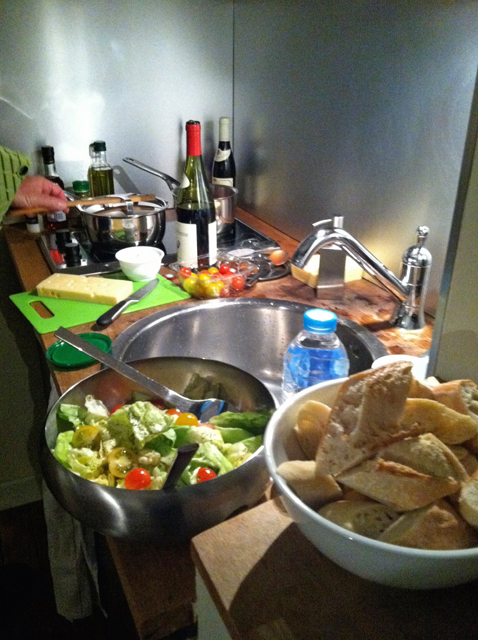 My target price was $500 a night, but we ended up having to spend more than that in Paris. I read 100 reviews if I read one. My biggest concerns were safety and cleanliness, bonus points for a kitchen and being able to stay all in one unit. This last part is a huge challenge for a family of eight.
We were super pleased with the Helzear Rive Gauche Montparnasse Apartments. On this first stay in Paris, we had a three-bedroom apartment. The configuration was such that we had two kitchenettes, three bathrooms, and enough beds for ten people. The location was quiet, the apartment clean, and the amenities adequate. The kitchen areas were pretty tiny and washing dishes for eight without a dish drainer was a bit of a challenge. But, it was certainly nicer than camping.
Since we could cook all our meals, we saved a ton of money. A ton. We didn't eat out during this stay in Paris at all. We were really just getting our bearings, so it was nice to make our own food.
Total spent for lodging for three days: $1674.81
Transportation
As in London, we used the public transport. The same tickets work in Paris for the metro, RER, and bus systems. We bought books of tickets, making sure we got child tickets for the littles. It's possible that we might have saved money getting the Navigo pass, but we weren't sure when we got there how much traveling in the city we would end up doing.
Aside from the metro eating my foot that first day, we did okay. The kids were pros by the time we left.
Eurostar, roundtrip from London to Paris, for eight people: $1486.00
Paris Metro for eight people for three days: $25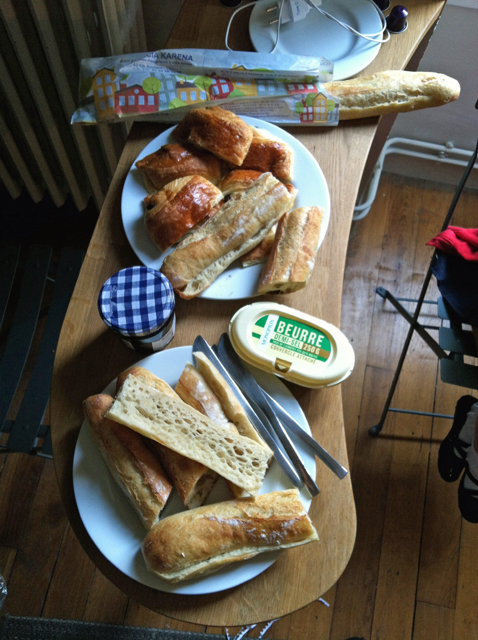 Food
Groceries in Paris are more expensive than here, but definitely cheaper than eating out. Since our apartment was so close to a major shopping street, we had our choice of markets, bakeries, and grocery stores. We had baguette and croissant some mornings, oatmeal on others.
Lunches were sandwiches of cheese, ham, salami, and/or turkey on baguette. Dinners were pasta or more picnic type fare.
Total spent in the London train station: $44
Total spent on groceries: $90 for three days
Amusements
Our first stay in Paris was really about getting our bearings and adjusting to how crowded the city was. Most of the kids were sick or became so by the time we left the city, so it was a rough transition time for them.
We didn't pay to visit any monuments or museums on this first stop though we did walk around and see things. As in London, I left feeling bad that we hadn't "done anything", but since we still had three weeks in the journey, one full week to come back to Paris, I knew we'd have a chance to make the most of it later.