Our European Vacation: Sarlat-la-Caneda to Collioure
As an Amazon Associate I earn from qualifying purchases. For more details, please see our disclosure policy.
This fall we spent a month abroad where we visited London, Paris, and a handful of cities in Western France. We explored, rested, and learned a ton about ourselves and the world. This is the seventh installment of our European adventure. If you missed it, go to the beginning here.

Last I left you in this epic tale, we were driving away from Oradour-sur-Glane, headed into the Dordogne region, specifically Sarlat-la-Caneda. When we got in the car, we scarfed down snacks and passed around water bottles.
Something told me that FishChick6 shouldn't have drank a full bottle of water at the start of a car trip, followed by a long nap. Ninety minutes later she started screaming. Screaming.
She had to pee. Of course we were not on the autoroute, but on a windy, country road. We did what you would do in that situation, pulled off a side lane and let her pee on someone's farmland. Ha! She was absolutely stunned that I asked her to do that, but we really had no choice.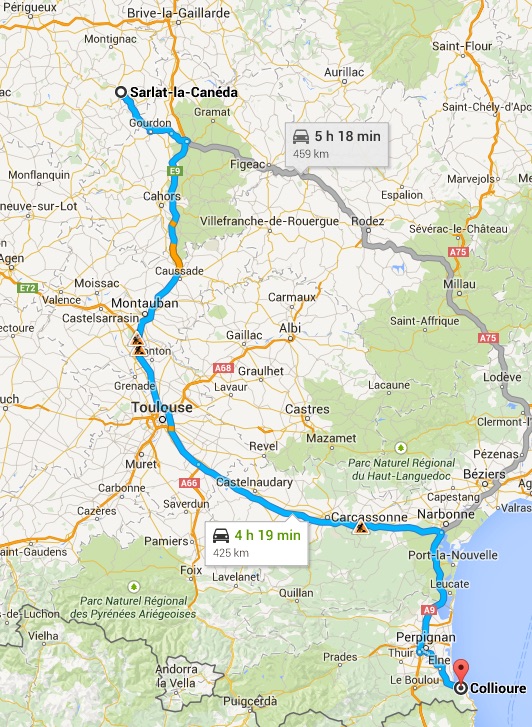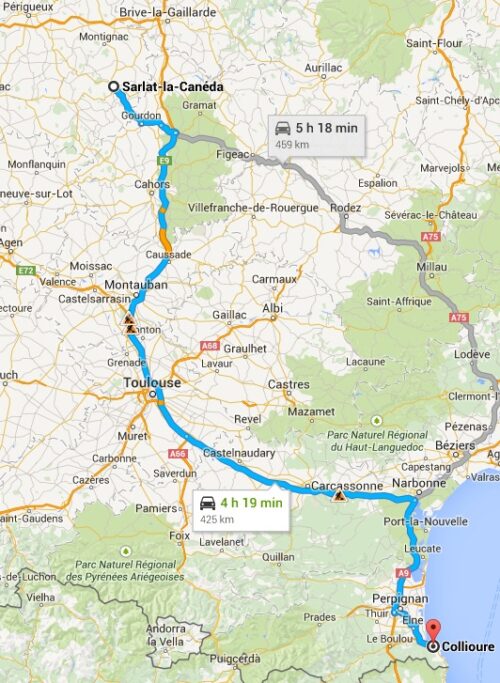 Back in the car, we headed to our motel, the Hotel Albizia in Sarlat-la-Caneda. We arrived after the reception had closed, but luckily they left our room keys and wifi codes at the bowling alley next door. We ended up grabbing some pizzas (very good pizzas!) there and heading back to the room.
A note about French pizza: This is our third stop for pizza. We ate it at least three more times on this trip — Ha! We kind of became French pizza experts by the end. French pizzas are typically smaller and thinner crusted than American pizzas. We never found pepperoni anywhere we ate pizza. Instead, ham is a common topping. My family aren't HUGE ham fans, particularly FishPapa. We ate a lot of meatless meals, so the peeps were craving meat on pizza. Often French pizza has Emmental cheese (a Swiss-style cheese) on it. My kids didn't love this. I had to ask very specific questions at each stop to see if they would do mozzarella instead of Emmental. This bowling alley made good – mozzarella pizzas.
We had planned to do sight seeing in Sarlat-la-Caneda the next day and to visit Rocamadour and Carcassonne along the way to our long-term stopping spot. The continued rain prevented our plans. It was really hard not to be disappointed since those were two spots FishPapa and I had enjoyed when we had visited France in 1992.
Instead we headed south and spent much of the day in the car. The distance is 4 hours plus. We arrived in Collioure, one of the most beautiful places in the world. It is here where my French family brought me often on vacation, where we spent our honeymoon, and now what my kids consider the best part of France.
I can't disagree.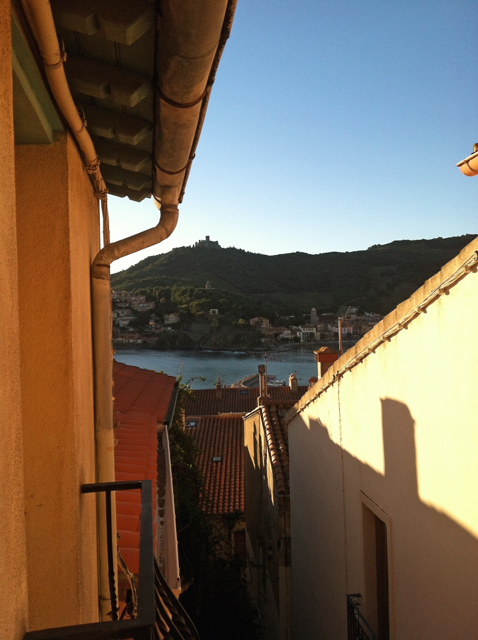 My friends Jean-Marc and Michele loaned us their home in Collioure for ten days within view of the Mediterranean Sea. Collioure is a small fishing port with a rich history of art. Many famous painters of the past got their start in this little cobblestone village.
Collioure deserves a post all its own. Promise I'll tell more next week.