Our European Vacation: London with Kids
As an Amazon Associate I earn from qualifying purchases. For more details, please see our disclosure policy.
We just got back from a month abroad where we visited London, Paris, and a handful of cities in Western France. We explored, rested, and learned a ton about ourselves and the world. This is the first installment of our adventure.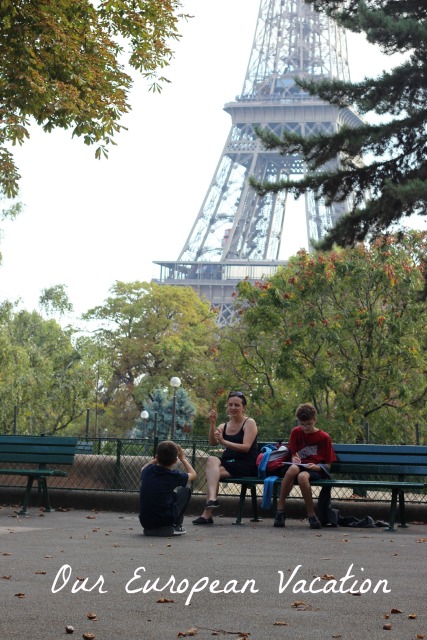 As we traveled through England (just London, actually) and France, I kept notes and tried to record our travels in detail so that we could remember the good, the bad, and the strange. In fact, prior to our departure, I read through our 20+ year old journal that FishPapa and I had recorded on a previous trip to France. It was really helpful in getting my mindset ready for this adventure.
Notes like this came in handy:
When you see a bathroom or a grocery store, make good use of it because you don't know when you'll find another one.
The following series, chronicling our month's stay overseas is meant to be a guide for the curious as well as for those who are planning a similar journey. Travel with kids is good! Even when it's hard.
The installments are written in the time that they happened. Think of this as an excerpt from my journal, like Captain Kirk's log, only I'm not him:
Momdate: London, September 2014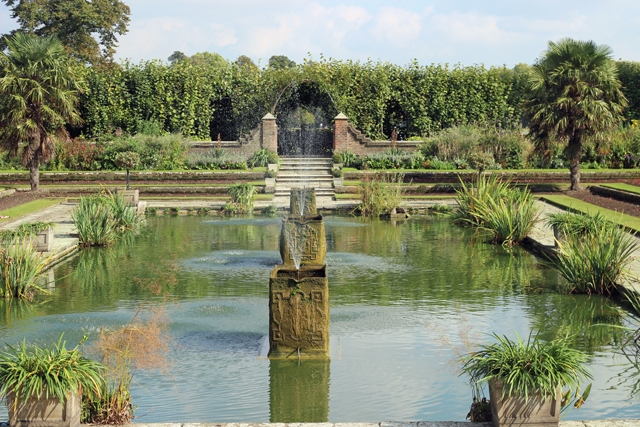 Neither FishPapa nor I had ever been to England, but over the years we've developed a great love for British culture. Most of our favorite tv shows are British. Most of my favorite books are by British authors. I am unabashedly a Kate-watcher, just as I followed Princess Di when I was a young girl.
While we contemplated switching our trip to England instead of France and/or including Scotland into the itinerary, we decided that this first trip would be mostly France, bookended by stays in London.
As it turned out two different British airlines (Virgin and British Airways) both had good rates and nonstop flights from California. A few months before departure, I found a great sale on Virgin Atlantic. Done. LAX to London (and back) for less than $800 per person.
So to London we went. Our first stay was in Kensington and Chelsea at the Premier Inn on Cromwell Road. Premier Inn is a budget hotel chain in the UK. I read lots of hotel reviews on tripadvisor before booking it.
Aside, I wish I had done all my booking earlier than I did. We just weren't sure what our itinerary would be, so I delayed. The saying is true, she who hesitates, wastes a ton of money! If I had been more confident in my choices, I could have booked many of our options earlier or paid in full at the start for discounted rates. Now I know for next time!
Accommodations
As it was, our stay at the Premier Inn was a good one. All the staff were extremely friendly, most from countries other than the UK. The hotel itself was clean and fairly spacious. We were placed in two rooms on the same hall on floor "negative one". It was basically the walk out basement level of a series of row houses, much like you see in the rich man's neighborhood in Oliver Twist.
We ended up paying 718 pounds for two rooms for three days which works out to be about $1256 or $209 per room per night. London is not cheap! This was a "budget hotel". That said, that's about what we could expect to pay for accommodations for our family in some "vacation locations" in California, so it wasn't a horrific price.
It looked a lot like American hotels except for weird quirks like two buttons to flush the toilet (a small button — and low water pressure — for #1 and a large button and more powerful flush for #2). Yes, potty stops prompted much discussion among our children. Another interesting observation of the kids: the bathroom light switches are often outside the bathroom, not in. They found this quite odd.
Unlike American hotels, Premier Inn did not have free wifi. I think it might have been advertised as such but it was only free for 30 minutes a day, and it was as slow as molasses. After that you had to pay. Since the room was already so pricey, I opted not to pay another ten pounds for wifi. That was probably a mistake.
While this was a sabbatical and I didn't mind unplugging, I still wanted to answer emails and share pics with our family. We also found it really lacking since we needed to research the next day's sightseeing and couldn't do so all in 30 minutes.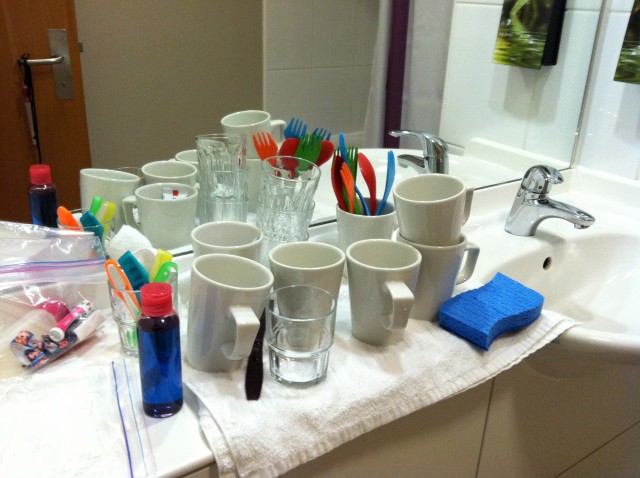 Another amenity that would have made our stay better would have been a small refrigerator and microwave. The hot water pot was great, and we did a fair number of picnic meals from the grocery store, but we ended up wasting small containers of dairy that we couldn't keep cold. I had a small cooler and could have bought ice for  a few pounds at the grocery store, but it didn't seem worth it for the small amounts of food I needed to store. It was hard to adjust my shopping mindset to buy for just one meal at a time.
Next time, I'll consider getting a larger cooler or renting an apartment hotel with an efficiency kitchen. Yes, there will be a next time! I can't wait to come back. I think I'd move here if FishPapa could get a job here.
Transportation
Ours was a comical trip from the airport. We took the tube from Heathrow since it was so much cheaper than a cab or the Heathrow express. Going the budget route is how we roll most times, but with it comes some inconvenience.
Getting our bearings in a new country, finding a cash machine, buying transport cards, and navigating the tube is challenging with eight people along. Add 8 small suitcases and six smaller bags and it's quite the adventure. We survived, but not without some short fuses and hurt feelings.
My kids are used to a pretty chill, California suburb with little to no foot traffic and riding around in a car everywhere. Landing them in busy, busy London was a bit of a shock. The boys had a rougher time with it and we discussed a lot of culture shock and discontent those first few days.
(In retrospect, the fact that this was in an English-speaking country probably softened the blow a bit.)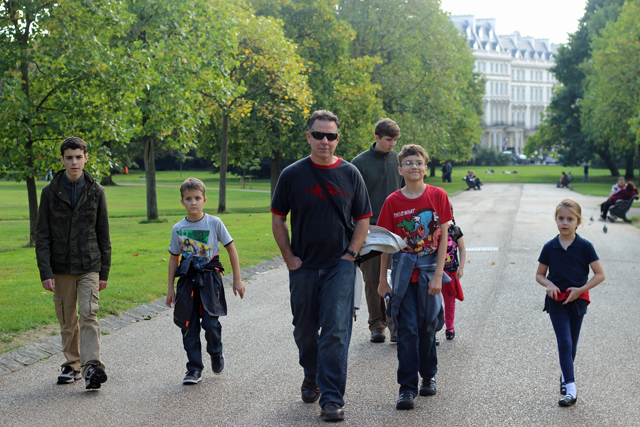 Within the city for three days, we tried out a number of modes of transport. Since I'm cheap, I said let's walk to Kensington Gardens, much to my husband's chagrin. It was a long stroll. Long. Especially when your six year old is tired and has new shoes and a sore foot.
Later that day we got around town via the tube and the bus. Both were really systematic — once you figured out the system.
It took awhile to figure it out.
We bought Oyster cards (prepaid transport cards) for us three adults (anyone over 16) and then were able to buy short-term visitor discounted child cards. This gave FishBoys13 and 12 half off fares. The littles, ages 10, 7, and 6 rode for free.
In addition to the London Underground and the bus system, we also took a regular train the day we went out to Leavesden for the Harry Potter Studio Tour. We actually took two different tube lines to get to the station early that morning. Early. It was an adventure that we pulled off really well.
Food
Right before we left, I spent a fair amount of time researching restaurants and grocery stores, I was incredibly relieved to find that grocery prices were comparable to here. While I had intended to get most food at the store, my best intentions did not always come to fruition. Lack of refrigeration played a big part in that as well as
general fatigue or disorganization.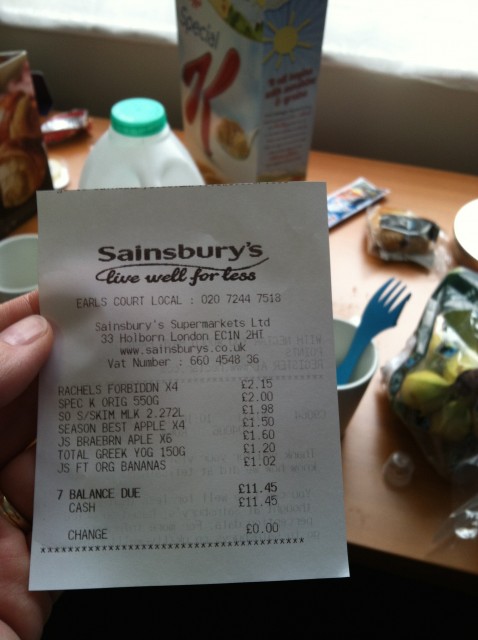 I do love the grocery stores in London, though. There were so many ingredients I would like to try at the stores, especially since they are products I can't buy in the states. I was able to get breakfast foods (cereal, milk, yogurt, fruit) for about $12 pounds for the eight of us.
We did grab sandwiches in some places because it was easier than trying to pull something together at the store when we were all hangry.
A couple restaurant experiences that stood out to us:
Prince of Teck – We ate at this pub/restaurant on our first night in town. We'd walked up and down Earl's Court Road, checking out our different options. Despite the fact that Prince of Teck didn't have super low prices, my husband liked the vibe, so we took a chance.
We were the first to be seated upstairs, and the waitress was great about putting tables together. She basically went out of her way to make us super comfortable. Since we were fighting jet lag and trying to adjust to meals at weird times, we decided to split a few plates. We ordered two fish and chips plates, the pot pie special, and sides of salad and mashed potatoes.
Everything was really great food. The staff was super accommodating about my inquisition about ingredients; especially about the nut allergies. The pot pie was tasty; the fish and chips solid with an awesome house made tartar sauce. The girls gobbled down the salad and potatoes.
The beer and wine list wasn't super extensive, but it could have appeared so to us since where we live great wine and micro brews abound. We collectively gave the food an 8/10, but the experience was a 10, with extra props to our waitress Sharon for making us so comfortable. (She was an Argentine who spoke perfect American English. She sounded like she was from California.)
Total spent, including beer, wine, and tip: 54 pounds
Pret a Manger – This is a chain here in the UK, but I noticed that there are locations in NYC as well. We really enjoyed our sandwiches from this shop. Think Panera, but better and made to be easily portable and ready to grab and go. Super yum.
Total spent for sandwiches for eight and a couple drinks to share: 27 pounds
The Flag – This pub is near the Watford Junction Station where we picked up the shuttle to go to Warner Brothers Studio. The staff was friendly, the food was so-so, but at least the prices matched the food. They were cheap. It was a traditional pub experience where we had meat pies and fish and chips. FishBoy17 had a full English breakfast, something he's been wanting to try for years. He was thrilled to discover that the baked beans weren't really sweet.
Total spent, including one beer and a tip: 36 pounds
Subway – Yes, we had Subway. I don't even like to go to Subway in the States now that I know more about their ingredients, but the kids had seen the sign and kept "casually mentioning it". Since it was the cheapest option on hand one night, we went for it — and were disappointed. The sandwich was fine, but after other, better quality meals of fairly comparable prices, we were disappointed.
Total spent, including a few drinks: 23 pounds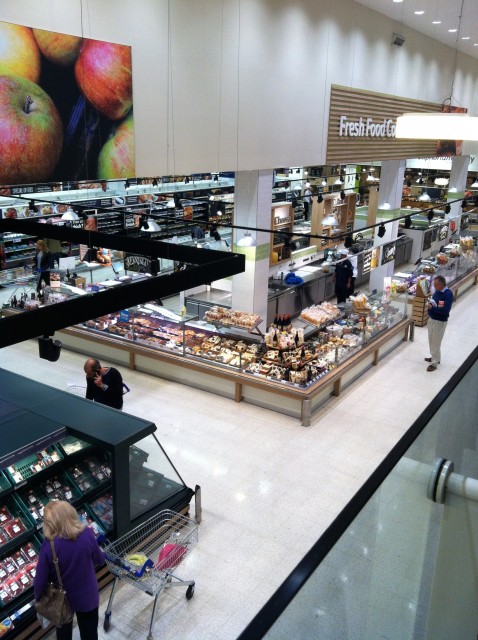 Tesco – Tesco is a large grocery chain that also sells other things like clothing and electronics. At first I thought that meant it was like Walmart, but Mark and Spencer offers the same range of products, so I don't think they are the same animal, necessarily.
Both had good prices on food, but I was extremely disappointed that M&S's food shop, Simply Food, slapped a nut warning on practically everything they sell. Obviously it was a "CYA" disclaimer, but it was disconcerting all the same. Tesco, on the other hand, had lots of nut-safe options.
One of the heartiest meals we bought was at Tesco, grabbing cheese, meat, bread, hummus, carrot "batons", and a selection of pre-made salads. We tried out the string cheese shaped like spaghetti, but it wasn't super chilled, so the kids were a little creeped out.
The hummus and the grilled vegetable couscous salad were amazingly good. AMAZING. We will definitely do a repeat of this on the way home.
Total spent: 39 pounds including a bunch of cheese we chucked because the kids didn't like it and bread, apples, water bottles, and Nutella we saved for the next day.
One of the most frustrating food challenges, besides lack of refrigeration, has been our battle with a food allergy. Many stores here were overly zealous with their "may contain nuts" warnings. See my note about Marc and Spencer's Simply Food above.
Most places were very accommodating to check on the ingredients, but it was definitely a challenge. Some folks knew exactly what I was talking about, but others just looked at me like I was nuts. No pun intended.
Amusements
We spent three days on our first leg in London. That was enough to get our bearings, but not enough to make us want to leave. We only scratched the tip of the iceberg in terms of attractions and amusements. By the start of our third day, however, two kids had sore throats, so we were a bit slowed down. So it's just as well that we didn't go too hard or long.
What we saw: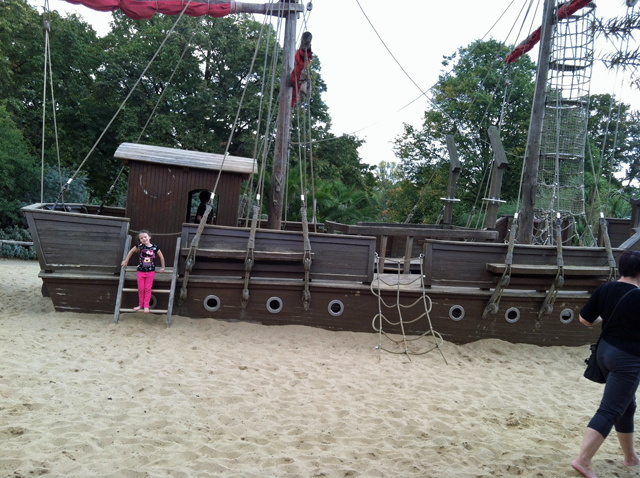 Kensington Gardens and the Princess Diana Memorial Playground – The littles had a great time at the Peter Pan-inspired playground. The larger gardens are immense and we didn't have time to fully explore them. You can rent bikes throughout London, so that is on the list to do in the park on the second round.
We had amazing weather, overdressed in jeans and jackets. London is just beautiful! Particularly when the sun is shining.
The Natural History Museum – I had heard great things about this museum, so my expectations were high. I opted not to pay a pound for a map upon entrance which proved to be a mistake. Since we entered on the east side of the museum, we almost missed the majestic main hall which is AMAZING. Fishpapa said we should buy a map at the start, and cheapskate me should have believed him.
Once we got our bearings — and left the rather boring red zone — we had an amazing time exploring the dinosaur exhibit. It was the best I've seen anywhere. We spent about two hours in the museum and shut the place down. We didn't quite see it all, but since it's free, we can easily go back.
The Warner Brothers – Harry Potter Studio Tour – this was definitely a family highlight of our first stop in London. It took a fair amount of navigation to get out there, and it wasn't cheap to do so, but it was a great outing for our family. See my full review here.
That was it for our first stop in London. We arrived on a Monday night and headed to France on Thursday. That gave us two days to get our bearings, overcome jet lag, and see a few sights.
It was hard to leave London, knowing that we hadn't seen the biggies: Westminster Abbey, the Tower Bridge, the Tower of London, Parliament, or some of the other museums we wanted to see. But, we left optimistic, knowing that we'd have another couple days on our return leg.