Packing Light for Travel with Kids
As an Amazon Associate I earn from qualifying purchases. For more details, please see our disclosure policy.
Traveling with kids requires schlepping more stuff than you would if you were traveling on your own. But, it's still possible to travel light.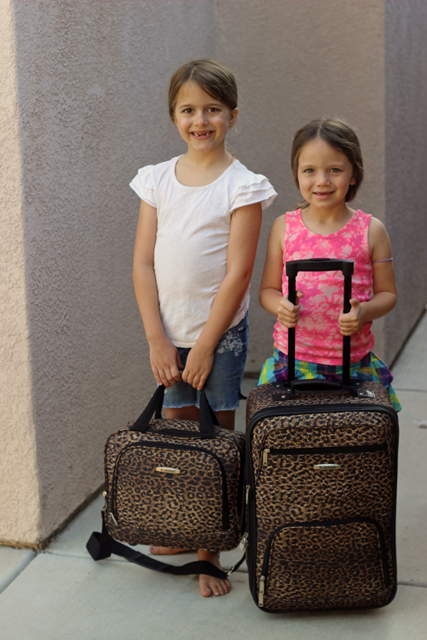 When I moved to France for a year, I thought I was packing light. My high school French teacher had cautioned me to take no more than I could carry on my own strength. Well, you know me, the girl who bites off more than she can chew? Yeah, that.
I had the largest suitcases they made at the time and hit my limit for checked baggage as well as carry-ons. It was 1992, and I was even able to get a rolling suitcase. It must have been hilarious to watch me, tugging and pulling a huge load of stuff, half of which I probably didn't really need.
Coming home was even worse as I brought home all the treasure I acquired over ten months' time. Oh my! I was a wreck when I dragged myself through customs in Newark. And of course I was flagged by a customs officer to check my stuff and interrogate me. Oy!
I didn't learn my lesson, though. A year later for our honeymoon, I again packed a large suitcase plus a garment bag plus large carry-ons — for 12 days.
Six children and twenty years later, I think I now have a clue. Herding cats and schlepping stuff do not a good combo make. Nowadays we try to pack light and make sure each kid really can carry his own weight.
Here's how that goes down:
For weekend trips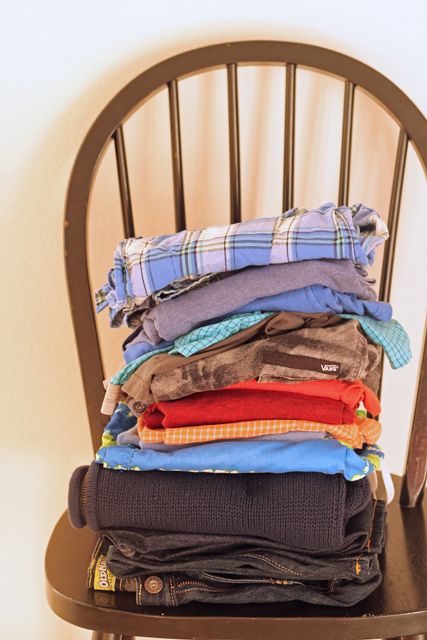 To each his own
When we go to the Grandparents' or friends' houses for the weekend, each kid packs a backpack. These are not fancy backpacks; they are simple school backpacks, the same ones my big kids use for science class or test days. They load them up with the clothes they'll need for as many days as we're gone (usually 1 to 3).
The kids do all the packing themselves. I keep a checklist in with my travel supplies so I never have to remake a list.
Except for toiletries
Last year I got a little fed up with someone inevitably forgetting his toothbrush on our monthly getaways. Sure, I could let them go without, but no. My phobia of sugar bugs is greater than that, and I would make another stop at the drugstore for toothbrushes.
One time I even bought extras (in PINK) and threatened the boys that they'd be stuck with a pink toothbrush if they forgot again. Even that did not work.
I finally clued in and now pack a separate toiletry bag that stays packed, even when we're home. In a black zippered tote, I keep
a dental care bag (toothpaste, travel toothbrushes, and floss/flossers)
a body care bag (shampoo, soap, etc)
a hair care bag for the girls (brush, ponies, clips)
emergency meds (ibuprofen, acetaminophen, allergy meds, eli-pen, cold sore meds)
separate toiletries bags for parents (deodorants, hair gel, make-up, etc) — if the boys forget their deodorant, it's their loss. 😉
This system has worked really well for us over the last year.
For longer trips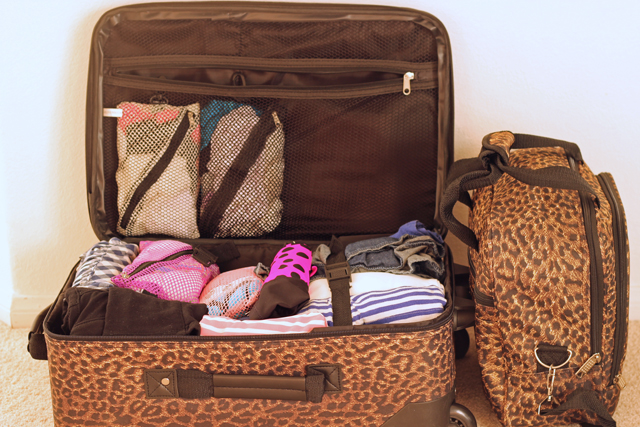 Obviously, one school size backpack of clothes isn't gonna cut it for a month in Europe with unpredictable weather. But, I've done lots of research and even more shopping, trying to whittle down our list to the bare minimums.
Clothes for kids
The bulk of the things we need to pack is clothing. I've worked with each child to make sure he has appropriate clothes for the weather as well as pieces that all mix and match. This was a little easier with the boys than with the girls, but I think I pulled it off.
This has been months in the making since I wanted to take advantage of back to school sales for the items I had to buy. In a California drought, we weren't in the market for rain coats in August and September, but I was able to find them on sale online.
Each of the teen boys has a large convertible backpack; it's a suitcase that can be worn as a backpack. It's much bigger than a school backpack. The younger two boys have rolling carry-on size suitcases. The girls are sharing this 2-piece set I bought off Amazon for less than $30.
Here's what's on the kids' lists:
Boy packing list (ages 17, 13, 12, and 10; plus FishPapa)
2 jeans or pants
1 pair of shorts
1 swim trunk with rash guard
6 shirts (short- and long-sleeved)
1 sweater or lightweight fleece
6 pairs of underwear and socks
2 pairs of shoes
1 raincoat with hood
pajamas
laundry bag
Girl packing list (ages 7 and 6)
3 jeans or leggings
2 shorts
1 skirt
1 swim suit
7 shirts (short- or long-sleeved)
1 cardigan sweater
2 dresses
8 pairs of underwear and socks
1 pair of boots and 1 pair of ballet flats
1 raincoat with hood
pajamas
laundry bag
The girls' clothes are smaller and lighter, so I let them have a larger allowance. I was still able to fit all their clothes in those 2 pieces of luggage, so I think it's fine. My own packing list is very similar. Yesterday I shared my capsule wardrobe for this year's travel to Europe.
The other stuff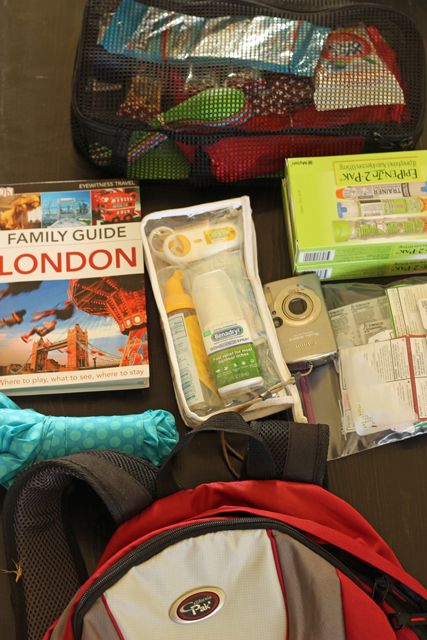 There are still other items that we like to have with us on trips: picnic supplies, entertainment, and emergency meds. For weekend getaways, I have separate tote bags that work for all these purposes. For hauling to Europe, I've got smaller versions packed as well that I will put into our eighth suitcase.
Traveling with kids requires bringing  little more gear than you would for just you, but it doesn't have to involve packing everything but the kitchen sink. You can pack light so that you can focus on herding cats, not schlepping stuff.
How do you pack light for travel with kids?
Travel with Kids
This is part of the Travel with Kids series. Every day in October, I'm posting tips, tricks, and tutorials for making all your travels fun, frugal, and family-friendly. Be sure to read through the archives in case you missed a post.