Our European Vacation: Brittany and Mont Saint Michel
As an Amazon Associate I earn from qualifying purchases. For more details, please see our disclosure policy.
This fall we spent a month abroad where we visited London, Paris, and a handful of cities in Western France. We explored, rested, and learned a ton about ourselves and the world. This is the fourth installment of our European adventure. If you missed it, go to the beginning here.

We come now to a difficult point in the vacation saga. One thing that the kids most enjoyed was the thing that left a sour taste in my mouth.
Momdate: Brittany, France, October 6-7, 2014
Last you heard from the FishFam in France we had left Monsieur Renaud to catch the fading light at Omaha Beach. We weren't able to see the American Cemetery and ended up leaving Normandy before we were ready to do so.
We had a reservation at a bed and breakfast in Brittany, about 20-minutes from Mont St Michel, the most visited tourist attraction in all of France. In retrospect I would have canceled the reservation and stayed another night in Normandy, but hindsight, you know is really good.
The b&b was out in the sticks in an agricultural area. There were no street lights and sketchy directions. The reviews had been great on Booking.com so I was pretty confident it would be fine. The proprietress makes fresh crepes every morning what could be bad?
We checked in late and headed to dinner, a local creperie that almost refused to seat us past 8 pm. The host thought we were going to be there for three hours. He warmed up once he realized we were going to eat dinner crepes quickly and run.
The owners welcomed us warmly and showed us our rooms. They strongly encouraged us to leave the kids in one room and then stay in another room. That made me raise my eyebrows a bit. We thought about it, and almost did split from some of the kids. Until their lock malfunctioned. That made us both ill at ease. Since one kiddo still wasn't sleeping well, we decided that FishPapa would stay in the room with the faulty lock and I would stay with the sleep walker. We split the kids between us.
We didn't let the kids know our concerns, and the night passed without too much incident.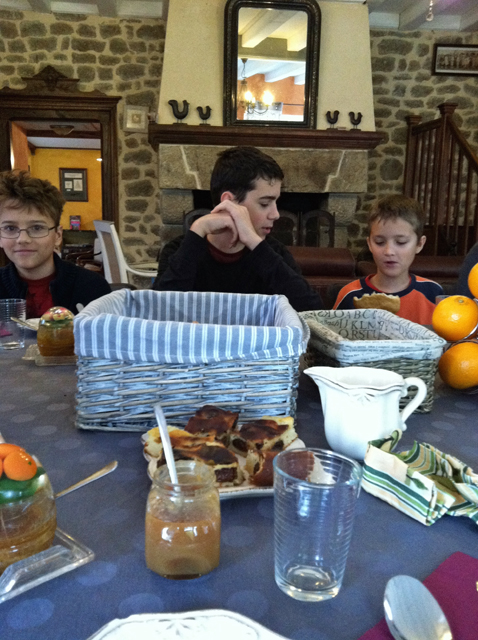 The breakfast in the morning was, indeed, deluxe which thrilled my kids to no end. When asked, they would say that this was the highlight of their trip: all-you-can-eat crepes.
It was fine. The owner was nice, we spoke French. It all seemed fine until we checked out and she insisted I had to pay cash. She claimed that it was marked on Booking.com but that was not the case. I had to give a credit card number in order to reserve the room. We speculated — and our French friends agreed — that this bed and breakfast chose not to claim the income off the rooms we rented and not pay taxes to the state. You know me, Miss Rule Follower.
That, plus the oddness of the night before made me mad. If I hadn't been a little upset over leaving Normandy, maybe I wouldn't have been so much so. But, there we are. I won't be staying at Chambres d'Hôtes Fleur de Sel again.
So, off we went, not entirely at ease, but ready to turn a page. Our planned stops for the day: Mont Saint Michel and the Castle of Fougeres.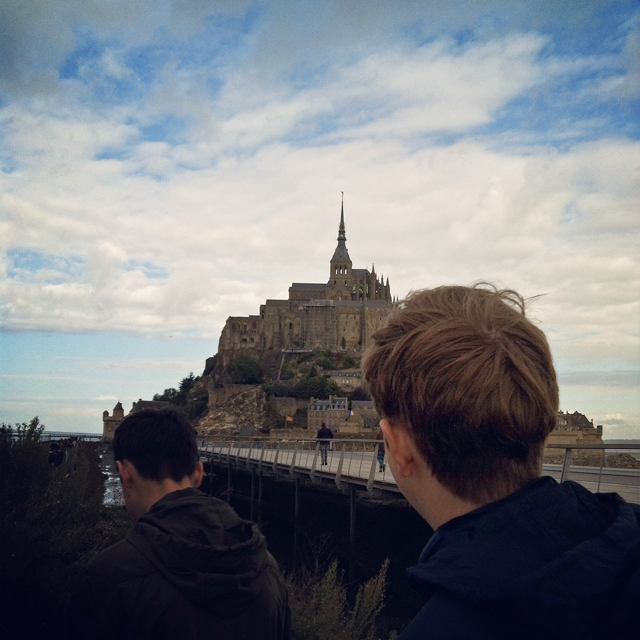 Mont Saint Michel
I don't think we made too many wrong turns on our way to Mont Saint Michel. It's a little of a blur now. It seems like every day was filled with wrong turns. They don't do signage in France the way we do here.
It was a really cold day that day. I was worried that the rest of the month would be as cold. If so, we would have done some major shopping for warmer clothes. We just shivered a bit that day in Brittany.
Mont Saint Michel is a very popular tourist attraction. It used to be that you could park near the causeway and walk up. Nowadays you park miles away and take a free shuttle. You pay for parking when you get back. If you can do it in half an hour, it's free.
There's no way you can do it in half an hour.
Parking is cheaper at night and a lot of people come in the middle of the night since the mont is open 24/7. Who knew?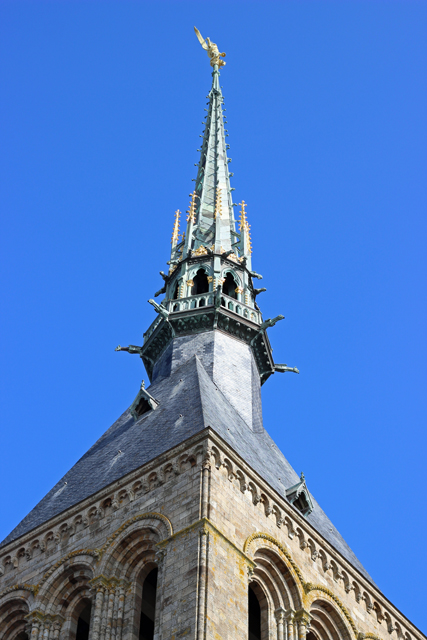 It started out cold and rainy, but God pulled the clouds back and gave us some gorgeous views.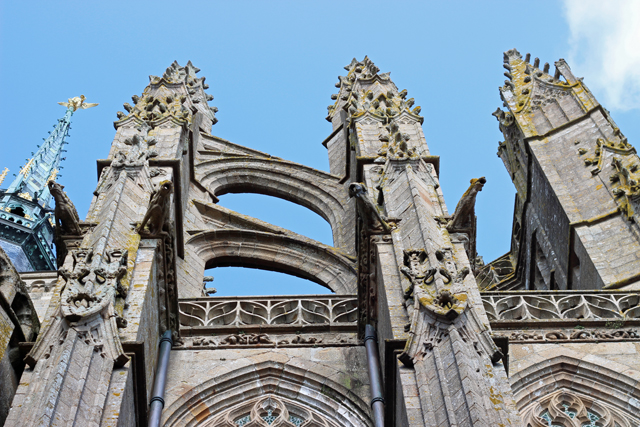 Mont Saint Michel is often completely surrounded by water. The vast expanse of space around it at low tide is breath taking.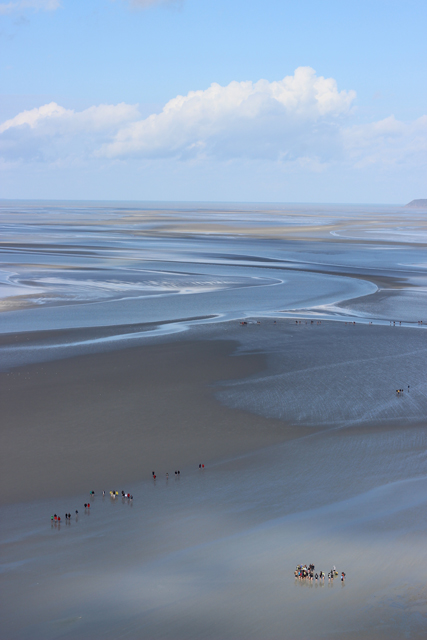 That was from atop the abbey. Look how small those people are!
The countryside that you can see from the mont.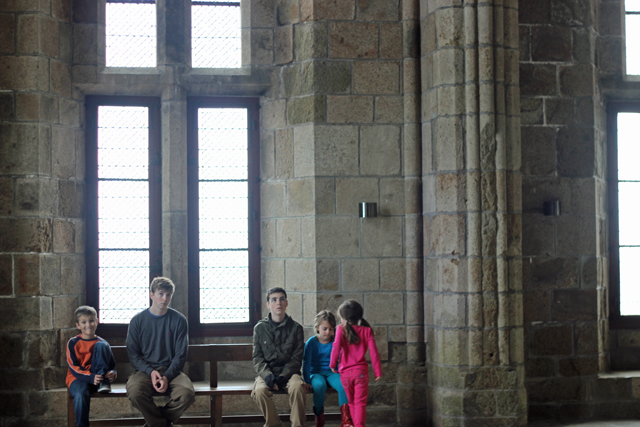 We paid to take a tour through the abbey. Kids are free when they visit with family! The rest of Mont St Michel is mostly ramparts and tourist shops, more of the latter than the former. We let the kids climb all they wanted over the walls and then headed into the abbey.
FishBoy12 loves history, so we made it a habit to get him the audio guides at each museum or attraction. This helped him get as much out of the experience as he could without falling too far behind the group. The other kids weren't quite as interested in all the nitty gritty details.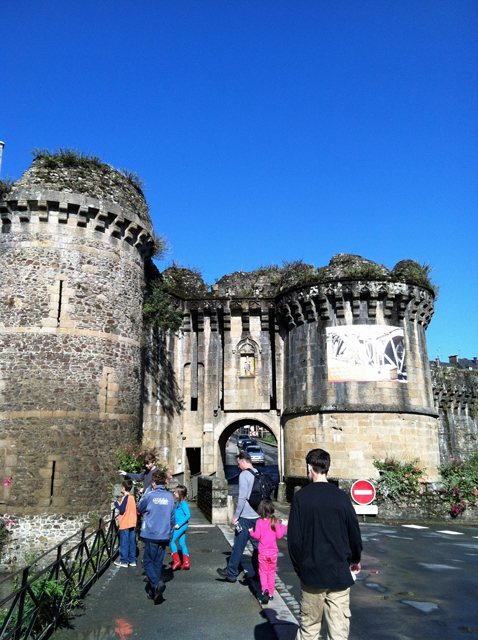 Fougeres
We left Mont St Michel between two and three and headed to Fougeres. We had planned to tour this castle but by this point we were all pretty tired of walking. We still had a couple hour drive ahead of us to get to Le Mans so we made a quick walk around the edges of the castle (which is in the middle of town) and then headed to our next stop.
We also made lots of wrong turns on our way. Oy!
The nitty gritty details of Brittany with kids
Accommodations in Brittany – Total spent for one night/two rooms: 161 euros (about $180)
Transportation – Still working on the first tank of gas.
Food – Still eating groceries from previous day + Dinner at creperie = 50 euros (about $65)
Amusements – parking at Mont Saint Michel [about 20 euros ($27)] + entrance to the abbey [(kids are free) + 18 euros ($24)] + audioguide = about $55 for the outing.
I'm a little fuzzy about costs because we never found out exactly what exchange rate we got when we pulled out cash. We didn't have much control of the exchange because Bank of America is gonna do what BofA is gonna do. These are rough estimates.