Kids Can Play Safe at Chuck E. Cheese's
As an Amazon Associate I earn from qualifying purchases. For more details, please see our disclosure policy.
Got cabin fever? Need a fun place to take the kids that's indoors and where you can just chill? Kids can play safe at Chuck E. Cheese's.
This is a sponsored conversation written by me on behalf of Chuck E. Cheese's. The opinions and text are all mine.
I have very fond childhood memories of playing at Chuck E. Cheese's. Ours was a small community, at least when I was a child. There wasn't that much to do — until Chuck came to town.
During my elementary school years, our family could be seen there almost every Tuesday afternoon for pizza, salad bar, and games. My mom and dad would sit at a table and us kids would run hither and yon, playing games, watching the shows, eating food. Ours included a regular arcade where I learned the ways of Pac-Man and Pole Position.
This was the early 80s when helicopter parenting was pretty non-existent. We ran around all over the place and there was never ever any worry.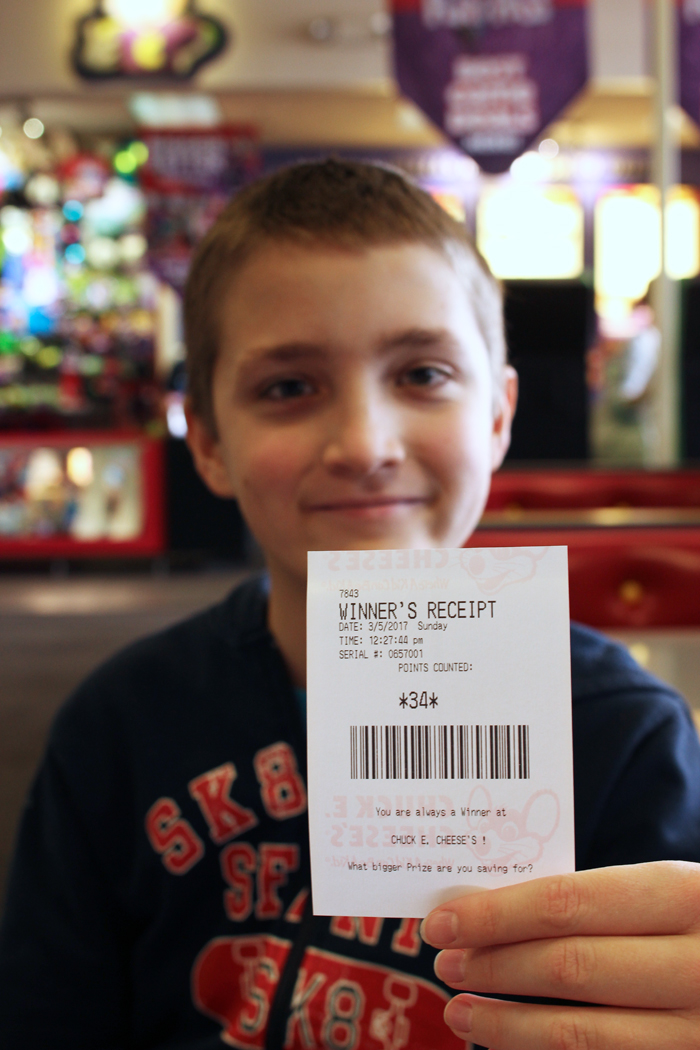 Of course, times have changed. I think our generation of parents worries a lot more than my own did. Or at least we worry about different things.
One thing that doesn't have to change is a child's carefree play at Chuck E. Cheese's.
There's a Chuck E. Cheese's about ten miles from our house. I've taken the littles before and they had a great time. Here in San Diego County we're spoiled by fair weather year-round. Except in a rainy year. Then there aren't too many options for playing since everything is seemingly open air.
Except Chuck E. Cheese's, of course. We returned on a recent rainy day for some more game playing and a little pizza.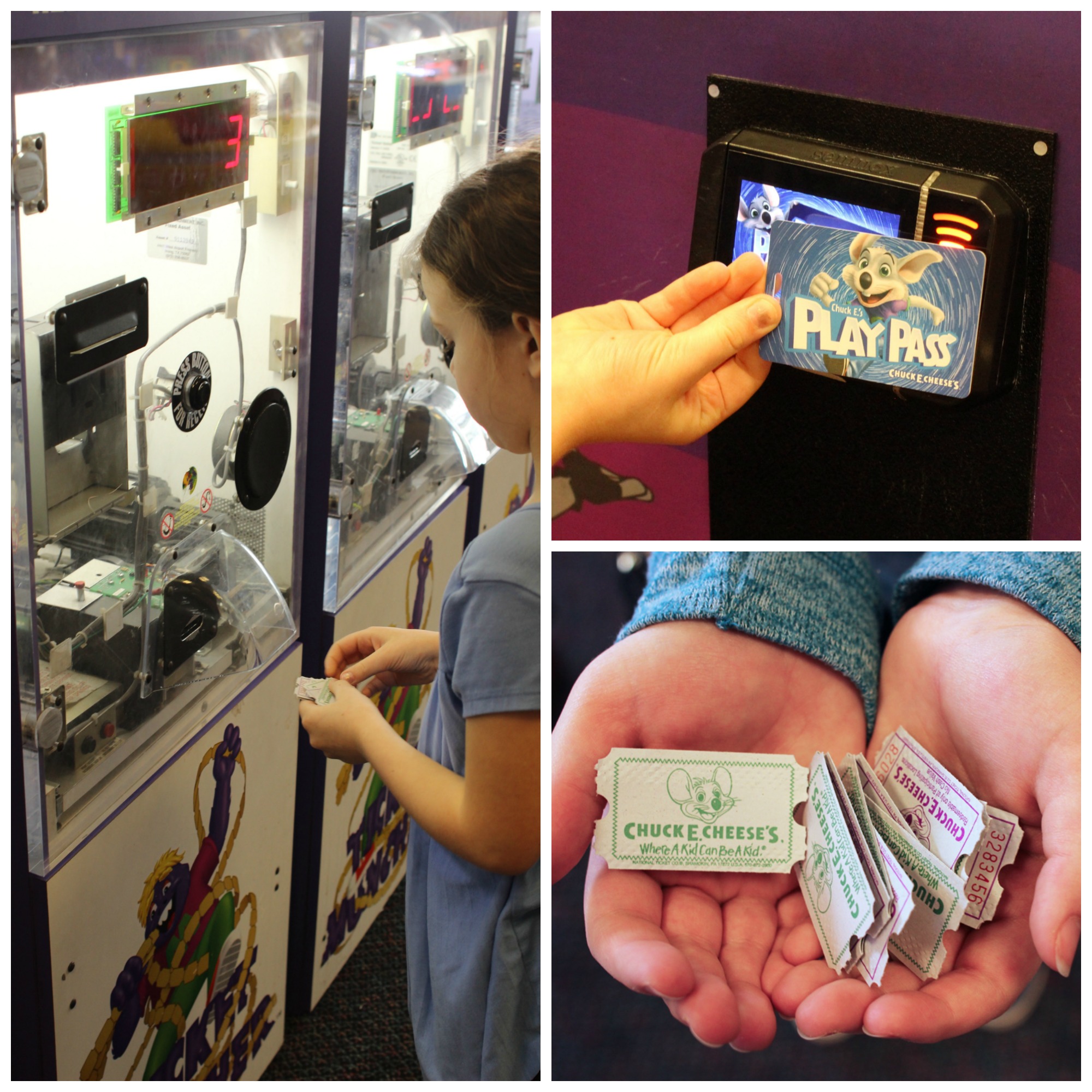 I was surprised to see how things have changed just since our last visit. I knew about the cool ticket counting machine, no more tokens? You no longer have to worry about chasing down tokens. Plastic Play Passes have taken the place of tokens, meaning you can load your child's card, and he can swipe it at every game he plays. Easy peasy.
The menu has been expanded to include sandwiches and dessert as well as pizza and a salad bar. Wine and beer are available in addition to a soda fountain.
There's even free wifi! While things have changed since I was a girl, it's still fun — and safe! — for the kids.
And parents can still chill while their kids play.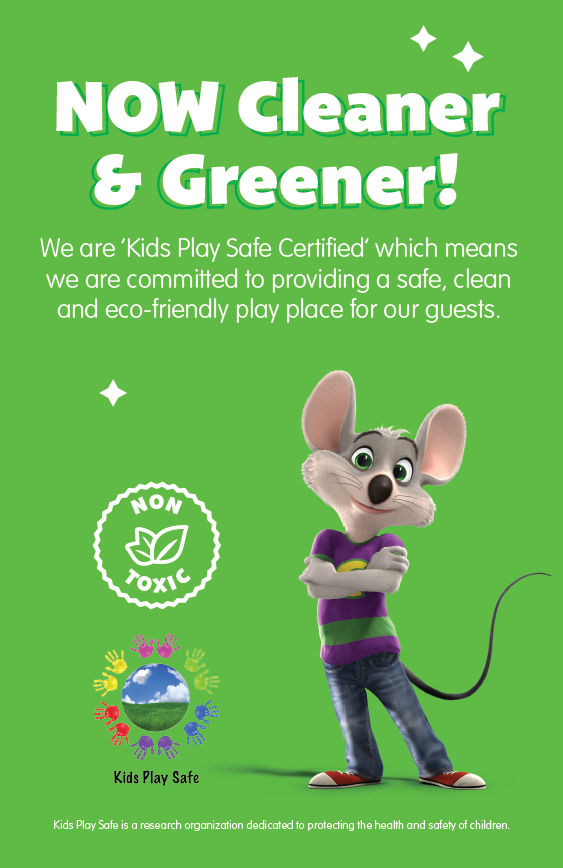 Play Safe at Chuck E. Cheese's
Chuck E. Cheese's has teamed up with Kids Play Safe to implement healthy and safe cleaning practices in stores nationwide. Chuck E. Cheese's received Kids Play Safe certification, which celebrates organizations across a broad spectrum of industries that make green changes to positively impact the health and wellness of their consumers.
In case you didn't know, you don't have to pay to get into Chuck E. Cheese's. There is always free entry. If you want to load your kid's play pass and just play, you can.
I love the safety of letting my kids roam. The kid check program at the entrance requires that everyone in your party receive the same unique hand stamp. Your hands are checked before you're allowed to leave to ensure that you take out only the children you brought with you.
My kids thanked me multiple times for their fun day out. They loved cashing in their tickets for fun little prizes at the door and were so excited to come home laden with loot!
Check out the Chuck E. Cheese website to find out about weekly specials and promotions. You can also follow them on Facebook, Twitter, and Instagram.
This is a sponsored conversation written by me on behalf of Chuck E. Cheese's. The opinions and text are all mine.