Read the Bible in 90 Days?!
As an Amazon Associate I earn from qualifying purchases. For more details, please see our disclosure policy.
Photo Source: kelsey_lovefusionphoto
Reading the Bible has blessed me over the years.
One of the most poignant memories I have of my time in France was a morning I spent just reading the Bible. My friends thought I was nuts that 4 hours of Bible reading would be enjoyable, but it was.
Over the years, my Bible reading has been sporadic. I would guess 1993 was the last time I devoted 4 straight hours to studying scripture. But, I've read through the Bible several times using Robert Murray M'Cheyne's reading plan. And the kids and I have worked through Matthew, Mark, and Luke over the last school year.
But, to be honest, I haven't been in a good groove lately. And I can feel it.
I'm not talking about feeling guilty for neglecting quiet times. I'm not talking about meeting the expectations of those around me that I would be "in the Word." I'm not talking about measuring my success by how many Bible verses I can quote.
Been there, done that. Those aren't sufficient reasons for studying what God has to say to us.
There's a better reason.
I know that I am tired. I know that I feel scattered. I know that there is One who can give me rest, who will lead me through dark places.
And I want to hang out with Him more.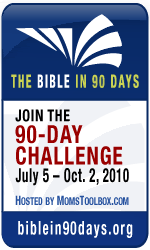 So, I'm tackling something that I was loathe to do back in January when I first heard about it. But, now that my days aren't full of papers, books, and students' dirty looks, I'm going to tackle a big goal: read through the Bible in 90 days.
Crazy, eh? Yeah, that's what I think, too. I'm lucky these days if I read three verses. I may fail miserably at this. And you'll all know it, too!
But, I'm gonna try.
Not because of the brownie points I might earn. But because I want to know Jesus better. And in turn, I think I'll probably learn a lot about myself.
Lord willing.