Sock Matching and the Mystery of the Lost Socks
As an Amazon Associate I earn from qualifying purchases. For more details, please see our disclosure policy.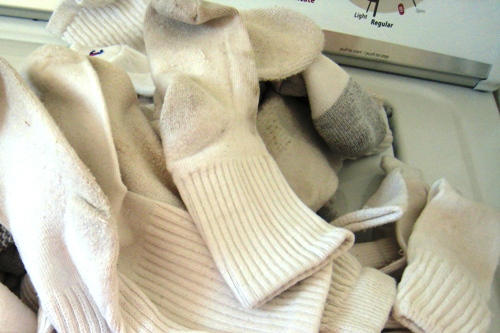 Where, oh where could their socks have gone? Where, oh where can they be?
Singing the Sock Matching Blues
Are you singing this song while you do laundry? I am. It's an occupational hazard in "life as MOM." Socks will go AWOL.
I have this childhood memory of a huge duffle bag bulging with mismatched socks. Obviously, my mom knew this song as well. And every once in awhile I would cringe when she'd call us all to come help sort. Five million socks strewn around the living room? Good times.
It left scars, I tell ya. I told my husband that I wanted it written our wedding vows that I would not have to match socks.
The Sock Matching Code
He came through. As a carpenter, he only needs one color socks – white. So, he bought all the same kind, and I never had to match his socks. I could just toss them into the drawer, and he'd find two each morning.
So, I think I am the one to blame for the above mess. What happened that I have such a pile of mismatched socks?!
Well, to be honest. Some of those I bought when FishBoy13 was a toddler! (And yes, I do use bleach on my whites. Who knew?) Truth be told, the frugal fiend in me has been afraid to part with them. If they've still got wear, I've been hesitant to part with them. But, this weekend I did a sock cleanse. And it felt good.
The sock companies have wisened up to the woes of mothers everywhere. Over the last year as I've bought new socks for the boys, I've noticed that Hanes and Fruit of the Loom have started color coding each size. At my husband's encouragement, I've purchased each boy his own brand, size, and color.
FishChick even has her own brand: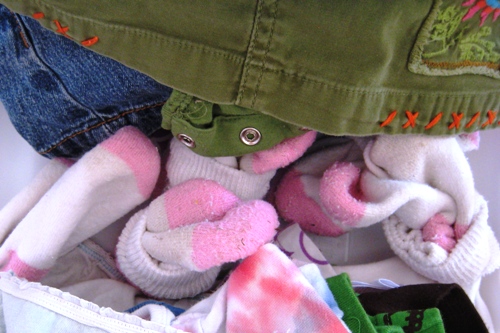 Problem was I still held on to those decade old socks that did not fit the Sock Matching Code. Well, no longer. I ditched them this weekend. Yes, yes, I did. I figure that if five children had worn most of them, surely they'd done their duty. They were released from service. And it feels good.
What do you do to keep socks under control at your house?