Tie-Dye TShirts: Tips for Success
As an Amazon Associate I earn from qualifying purchases. For more details, please see our disclosure policy.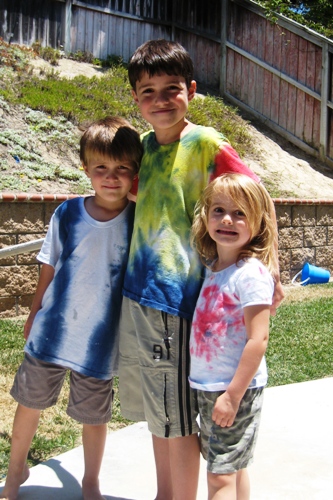 See that little guy on the left, the one who's not sure if he's smiling? Well, the other day we were driving down the road and he said, "Could we paint tshirts today?"
It was one of those moments when I could have said, "Not today." But, I took a moment to think about it. It was on our list of things to do this summer. I only had two kids in the car; a stop at Walmart would be easy. We didn't really have other plans. The girls were ready to take naps. So I said, "Sure."
Yes, I even amazed myself.
In one of my better "Yes Mom" moments, we ran into Walmart and grabbed this tie dye kit. We headed home, searched for white tshirts, put the girls to nap, and got going.
Tie Dye Tips for Success:
Use stained white tshirts. Don't go buy new shirts, just tie dye ones that are no longer good as "white" shirts. Save new ones to wear as new.
Buy a kit. Sure, you can go get individual boxes of Rit dye but I was amazed at how much easier it was to work with the kit. It came with everything we needed, plentiful directions, and the dye came in convenient squirt bottles. No need for plastic tubs or buckets of hot water. Easy peasy.
Read the directions. I am notorious for doing things without reading the directions first. Drive my husband batty. After jumping right into this project, I found myself consulting the directions multiple times anyways. Read the directions first and avoid making unnecessary mistakes. Which brings me to my next point….
Use the plastic gloves that come with the kit. Yes, there's a reason why they included them in the box. Thankfully, blue hands only last about 24 hours. (Ask me how I know.)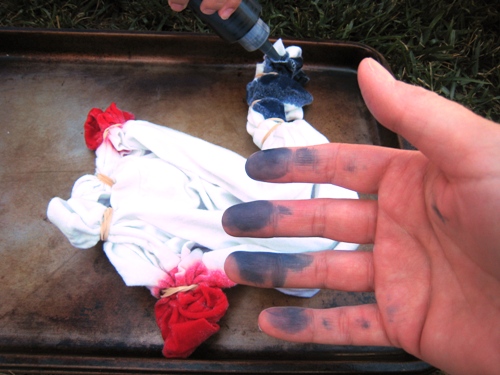 Buy more rubber bands than you think you will need. We tie dye on an almost yearly basis and we never have too many rubber bands. You want your kids to be free to create, so don't be hampered by a lack of supplies.
Do this outside. You could certainly do this craft inside on a newspaper covered surface. However, weather permitting, I recommend outside on the grass as the perfect location. Mom needs to be relaxed during this operation. It will be more fun that way — for everybody. Don't worry needlessly about staining something other than tshirts.
Find entertainment for the toddler. A true SuperMOM might have included the almost 2-year old in the experience. However, I'm just not that super. Naptime was the ideal time to do this craft. But, do what works for you and your family.
Let your kids be creative. This should go without saying. But sometimes Mom (aka me) has a picture in her head of how the craft should go. Let that go; be flexible and roll with the punches. FishBoy6 wanted his shirt to be "like a Clone Trooper's," thus, the blue stripes. He wasn't into swirls or traditional tie dye-ing. And that's okay. He is soooo happy.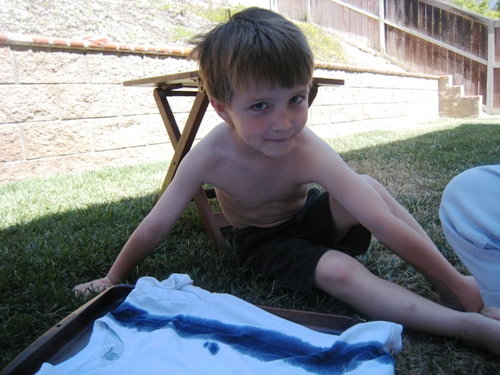 Have you ever tie-dyed? What works for you?