Back to School Traditions to Celebrate
As an Amazon Associate I earn from qualifying purchases. For more details, please see our disclosure policy.
It's important to have ways to mark the passing of the seasons. Practicing back to school traditions can be a great way to celebrate a new school year and transition to a new routine.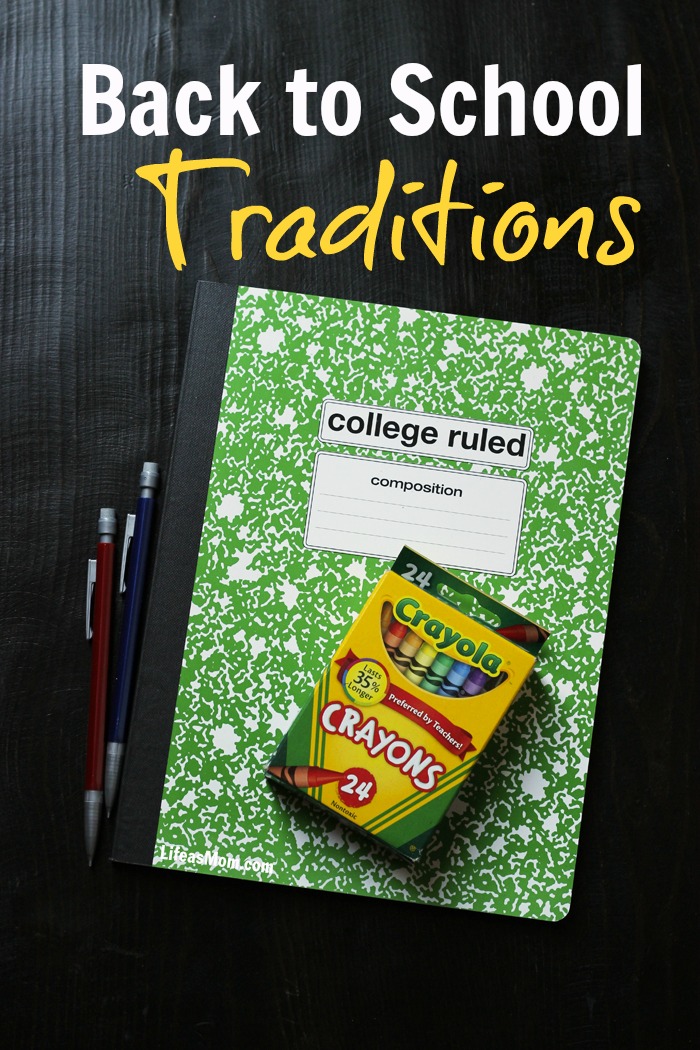 It's hard to say goodbye to the lazy days of summer. I, for one, prefer not to have obligations and schoolwork to do. My kids would agree. However, it's back to school we must go. In fact, our homeschool starts back in full swing on Monday morning.
We moms can soften this change of seasons by creating and maintaining traditions that our families enjoy and look forward to. School isn't a bad thing. It's a blessing and a privilege. Kids don't always see it that way, but it is. By practicing back to school traditions and having a positive attitude about going back to school, we can make it something to look forward to.
Back to School Traditions
At our house, that means apple pie for breakfast. I know that may shock some of you, but it's a special occasion meal that we love. Every year we have Apple Pie for breakfast on the first day of school.
Making a Slab Apple Pie couldn't be easier. Oh my! Just watch this video of me and my helper putting together our Back to School Pie back in 2010. This year, my girls, now 9 and 7 made the pie all by themselves! They made it last week and we froze it so all we need to do on Monday morning is slide it in the oven. We'll have warm apple pie for breakfast!
(And yes, we've all changed a little bit in SIX YEARS!)
You can make your own traditions or be inspired by other people. It doesn't matter what you do, really, as long as it's something that you and your children enjoy together.
Some back to school traditions you can start this year:
Make a Summer Memory Book.
Have an afterschool treat planned, like home-baked cookies or a trip to the yogurt shop.
Take pictures in front of the house on the first day of school. (Psst. It's okay if you forget on the first day of school. Grab these free printable grade level signs that will work for any day of the year.)
Prepare a celebratory dinner.
Bake and decorate a special cake for dessert.
Organize a bus stop breakfast bash.
Pack a special lunch, complete with little love notes and a surprise treat.
Start a journal writing campaign between you and your teen to open lines of communication as the school year begins.
Have your kids fill out the Who Am I? questionnaire. Seal them in a mini time capsule. (You could even include photos and other memorabilia.) Open them at the end of the year or at this time next year and be amazed at how much everyone has changed.
What are YOUR family's special back to school traditions?
Originally published August 22, 2010. Updated August 13, 2016.