Saving My Grandchildren from Choking Hazards (& a Review of Our New Oreck)
As an Amazon Associate I earn from qualifying purchases. For more details, please see our disclosure policy.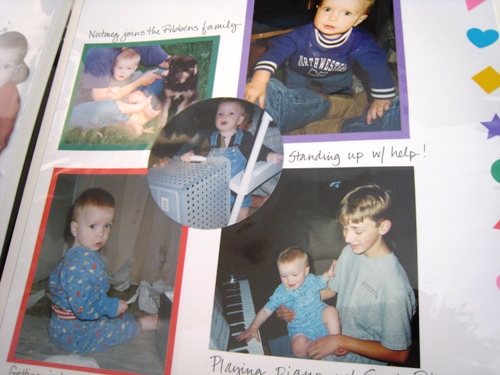 A little over thirteen years ago, we were living in an itty-bitty studio. Itty-bitty = one room, 200 square feet. Me, hubs, and our baby. Yes, itty-bitty.
Our landlords, if we could call them that, were like family to us and they lived less than ten feet away. Theirs was the Big House. Ours was the pool house.
It was a lovely set-up. Karen and Dan had the dogs, the pool, the big kids, the TV, and the washing machine. We had the baby — and perhaps a pot of something yummy cooking on the stove. And we shared.
We got to play with the dogs, swim in the pool, hang out with their teenagers (and mooch some free babysitting), watch their TV, and wash our clothes without having to go to the laundromat. They got to hold a baby. And maybe share a bowl of chili. It's clear who had the better half of the bargain.
He was a really cute baby, after all.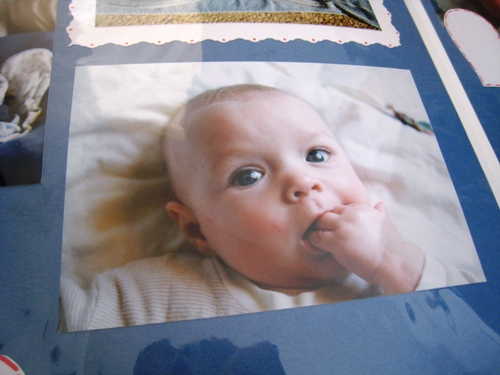 They also very graciously shared their vacuum. About once a month week, I'd borrow their vacuum cleaner. I mean, c'mon, 200 square feet? It really didn't make sense to buy a vacuum, right? No, not at all.
Until the baby was mobile…. and choked on some weird hairball or piece of lint.
I told hubs about it later that day. "That's it. We're getting an Oreck," he declared.
Never one to mess around with the safety of his children, FishPapa picked up the phone — this was long before DSL was ever invented — and ordered the Oreck vacuum cleaner we had heard so much about on the radio. Yes, we listened to the radio back then and ordered things over the phone. Imagine that!
That Oreck, all 7 pounds of it, has traveled halfway across country, vacuuming six homes, and saving six babies from a myriad of choking hazards. My children have schlepped it upstairs and down to tackle their chores. It's sucked up Legos and Cheerios, dirt and grime, sand and pencil shavings — and all manner of small chokable parts.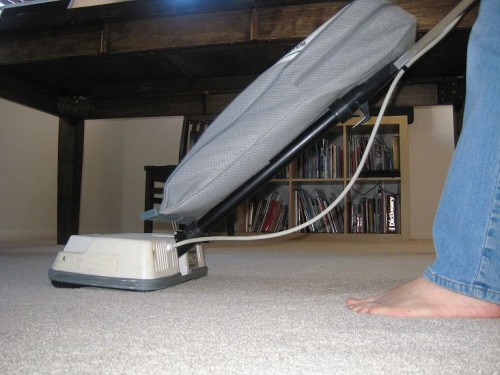 After thirteen years, one motor replacement, two roller transplants, and multiple cord repairs, our faithful servant is showing his age. He doesn't suck things up as well as he used to. He makes a loud groan/shriek when turned on. The toggle switch only works on high. The cord has seen better days.
And while we no longer have any babies to choke on weird hairballs or lint, we'd still like to keep the floors clean.
Last week, our Oreck XL, circa 1998, was replaced. Oreck sent us their newest model, the Forever Series Gold. Here's what they have to say about it:
 The Oreck Forever Series™ Gold gives you amazing power, lightweight maneuverability, and the reliability you expect from an Oreck. The two-speed motor gives you the ultimate flexibility to clean everything from carpet to Oriental and Persian rugs; and HEPA inner bag and a two-speed motor power through dirt and gently clean expensive rugs. Now with a new Limited Lifetime Warranty**, you'll get peace of mind that will last a lifetime.
All the kids were pretty excited when this baby was unwrapped. FishBoy9 and FishPapa did the unpacking and assembly. I believe FishBoy's words were, "I can't wait to vacuum."
Did you hear that? I can't wait to vacuum. Be still my heart.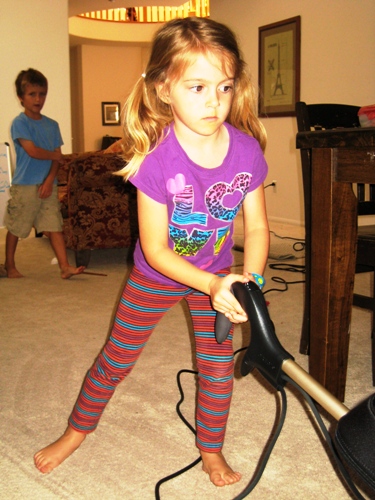 FishChick4 loved running it through its paces.
I was amazed at how quiet this vacuum is. Amazingly quiet. And the suction is fantastic. I feel like the floors are really getting clean. This machine is still 7-pounds like our old Oreck, so kids can continue to schlep it up and down the stairs to their hearts content. But, the quality is a huge improvement as is the performance.
I've used it on the tile, on carpets, and on throw rugs. Depending on the thickness of your flooring, it seems to have a slight self-propulsion thing because I barely had to push it across the rug. Be careful, though, it is powerful. Just like our previous machine, it can suck up the cord.
The HEPA bag helps keep your air cleaner. And the handheld vacuum that accompanies it is great for tackling the stairs, car, or other hard to reach places. I even had a child volunteer to clean the garage so he could use the handheld!
The folks at Oreck were pretty amazed that our old machine was still alive and kicking. Apparently 13 years is a good run on a vacuum. Considering the size of our family and the frequency of use, I think it's paid its dues.
You can see a video of how fast I can clean the living room here.
The new machine, the Forever Series Gold, with its limited lifetime guarantee, is meant to last me for the rest of my life, so I can save my grandbabies from all kinds of choking hazards!
Win an Oreck Forever Series Gold
This week one LifeasMOM reader will win an Oreck Forever Series Gold vacuum cleaner.
To enter:

Visit the Oreck site and check out the features on this new machine. Come back here and leave a comment, telling us some feature that you really like about the vacuum.

For extra entries,
This giveaway will be open until Sunday, September 18, 2011 at 8 pm PST. Winner will be chosen at random and notified via email.
This giveaway is now closed. Congrats to the winner: [email protected]
Disclosure: Oreck has provided the review and giveaway vacuum cleaners. All opinions are my own.