5 Ways to Welcome Your Child Home From School
As an Amazon Associate I earn from qualifying purchases. For more details, please see our disclosure policy.
The following post is written by contributing writer, JessieLeigh: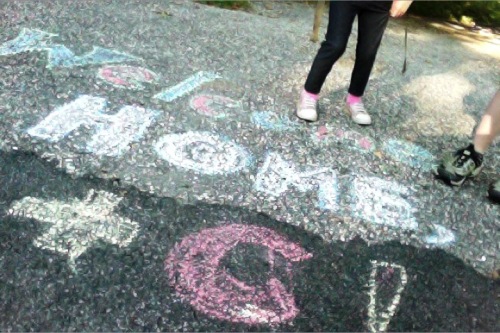 Ah, back to school. It's a bittersweet time. With the excitement of new notebooks and pencils comes the worry about difficult subjects. With the joy of meeting new friends comes the fear of not fitting in. With the fresh new start of a school year comes the end of a glorious summer.
And don't even get me started on my weepy mama heart as I prepare to send TWO off to full-day school this year for the first time ever!
As melancholy as I may feel about the whole thing at times, I want my kids to be upbeat and positive about heading out the door on their first day. I want them to look forward to wonderful new experiences. And I also want them to feel welcomed and cherished upon their arrival back home.
Here are a few simple ways to make your child's homecoming a little extra special for both of you:
1) Write or draw a greeting in the road or driveway where your child is dropped off. You don't have to be an artist– kids LOVE to see their names written out, and the bigger, the better. Whip out his favorite color and let loose with the sidewalk chalk… you may even find it's relaxing for you!
2) Dance it out! Put on an upbeat tune and dance with your kiddo. This will help burn off the wiggles that might build up during the ride home and is sure to inspire lots of giggles and bonding.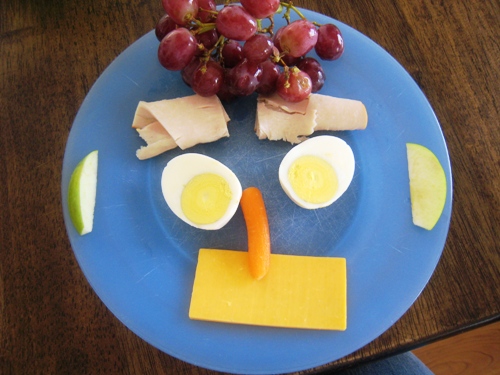 3) Prepare a special snack. A rich coffee cake topped with raspberry sugar might not have the protein power (or ease) of string cheese, but it's a fun treat. Serve up yogurt or applesauce in a pretty glass to make her feel like a queen. Serving a snack that requires actual dishes encourages your child to sit down, loosen up, and perhaps share about her day.
4) Set up a cozy nest. I love to heap pillows all around a bean bag to form a big, comfy landing spot. My little ones and I can easily pile on there and it's a low-key, safe place for them to relax and open up about what all happened over the course of the day. Sometimes it's easier to chat while piled on cushions than it is when someone's looking you directly in the eye.
5) Plan a fun, but relaxing, evening. Those first few weeks of school often pass in a whirlwind. Getting used to a new schedule and routine is a lot of work in and of itself! Prepare a simple supper everyone enjoys, pop in a movie or some great music, and relax together. Unwind. Make sure your "home time" allows your child the opportunity to decompress and, honestly, do nothing for a bit each day. This will go a long way in making sure he's refreshed and ready to start anew when the next day arrives!
How do you like to make your child's homecoming special?
What are your favorite ways for reconnecting?

— JessieLeigh is the mother of a former 24-week micropreemie and two full-term blessings as well. She is a determined advocate for the tiniest of babies, including the unborn, and a firm believer in faith and miracles.