Zone Defense Check-In: Travel & Transportation
As an Amazon Associate I earn from qualifying purchases. For more details, please see our disclosure policy.
Are you ready for travel? Check out these tips to make family travel more fun.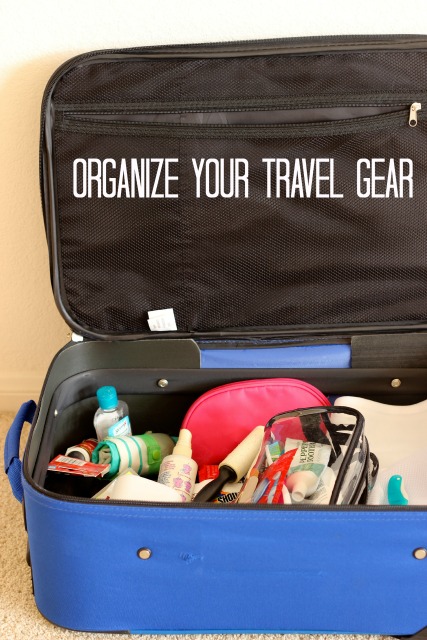 Whether you make a big summer trek this year or choose to travel in the off season, having your travel and transportation gear in order can be super helpful.
I've often felt that packing for a trip with kids took as long (or longer) than the trip itself and the unpacking was such a pain — and took almost as long as packing. This past winter, we made several weekend road trips with our crew of six kids. I found some things that really helped us. I also got some ideas of further improvements to make our travels a little bit saner.
Earlier in the month, I challenged you to get your travel and transportation gear in order. Via Zone Defense, we're aiming to tackle clutter and disorganization this year and maybe too much stuff. This month we are organizing our travel gear so we can hit the road with a smile.
Here are some of my new tricks for travel packing for kids: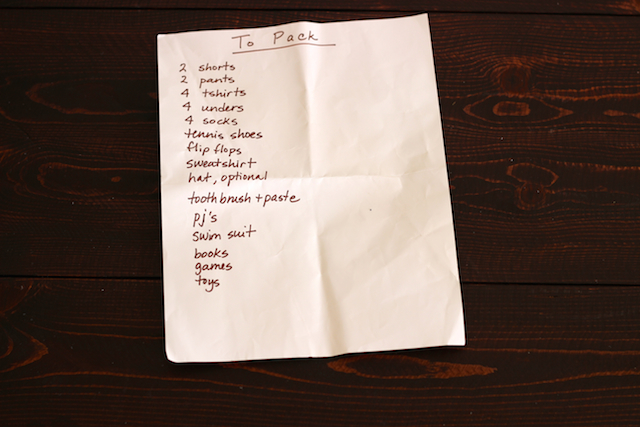 Keep the packing list from trip to trip.
We have the same packing list from several road trips, tucked away safely with the rest of our travel gear. I don't like reinventing the wheel, so keeping the same list takes one thing off my shoulders. I also have this list in my reminders app so that if more than one kid needs the list at a time, we've got several copies.
Obviously, this works well if your children can read and don't mangle lists. You can use drawings or pictures for non-readers. You can laminate your list for manglers.
If you've got littles or folks who can't be counted on (yet) to pack everything they need, have them assemble it on their beds for you to check before the bag gets loaded. Either way, the list helps you delegate.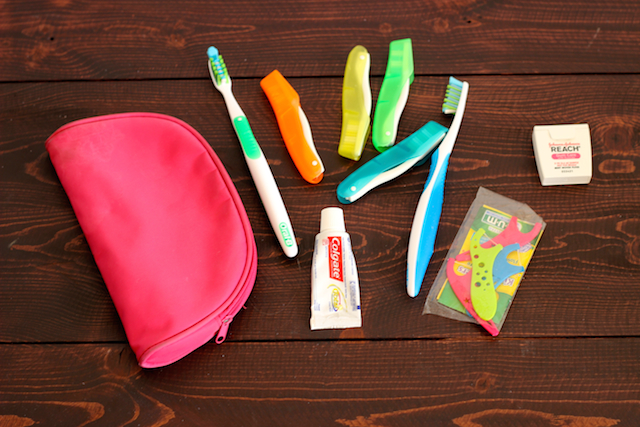 Buy travel toothbrushes.
So many times, we forget to pack a toothbrush because we've left it out to use before leaving. After a few too many times of having to buy NEW toothbrushes when kids forgot to pack them for Gramma's, I finally wizened up! I bought toothbrushes specifically for travel and rounded up a separate storage bag just for said dental care items.
The kids no longer have to pack their regular toothbrushes and we don't forget them. Additionally, since these are cheapos compared to the electric brushes some of the kids have, I don't care (too much) if we lose one.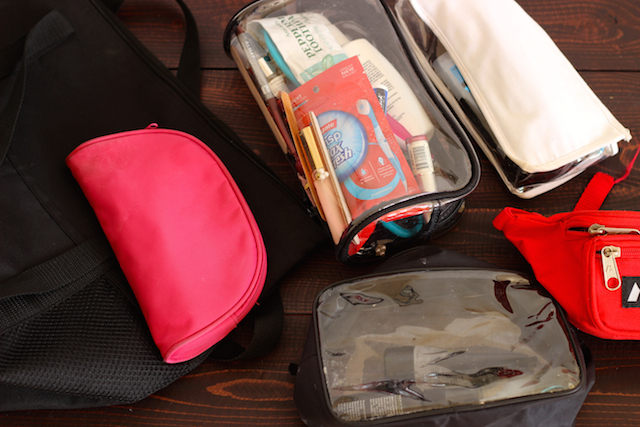 Have separate toiletry bags and keep them packed.
For years I've had a large black tote bag for toiletries. My people just threw things in randomly and we hoped for the best when we got there. Now that we have a dedicated, "kids' teeth" bag, I decided to create other bags, including Mama's Stuff, Papa's stuff, hair stuff, and allergy/emergency reaction stuff. All these bags go into the larger bag and make it easier for everyone to get what he needs when he needs it.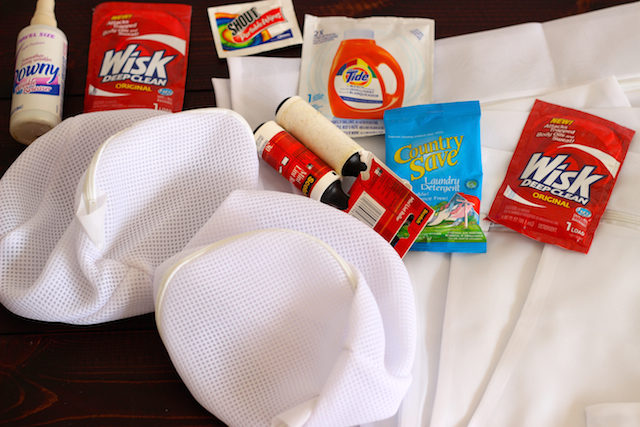 Give everyone his own laundry bag.
At home each of the kids does his own laundry. No more sorting — Hallellujah! However, on road trips, we were tossing laundry into whatever random grocery or trash bag we could find at our destination. Then when we came home I had tons of mixed laundry to deal with. Oy! No thank you.
I ordered this set of laundry/lingerie bags. I'll probably order another set before we go to Europe. Now, each kid can tuck an empty laundry bag into his backpack and fill it with HIS OWN DIRTY CLOTHES. Amen.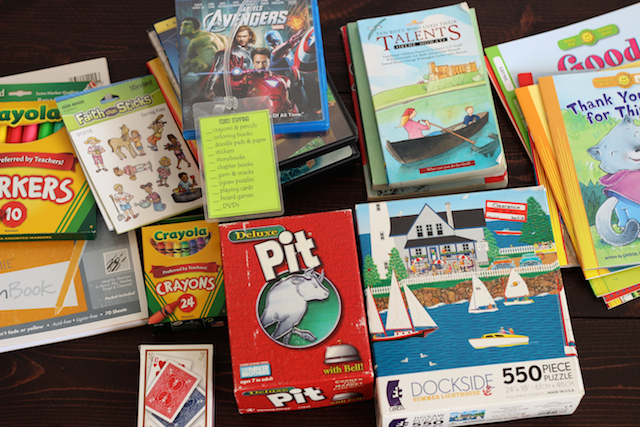 Pack some fun stuff.
Sometimes my kids are really good about packing their own activities and sometimes they're not. I decided to cut boredom and whining off at the pass and packed a back up bag of puzzles, games, movies, art supplies, and books. If they forget or lose their own stuff, I'll have something in reserve.
If you haven't already, read this post about travel and activity bags. There's a free printable of packing lists for all kinds of bags to pack so that you're prepared for anything.
How are things in YOUR travel stuff?
Tell us in the comments and feel free to leave a link if you've blogged, facebooked, or instagrammed your progress. Hashtag #zonedefense if you like.
Read the Zone Defense archives if you're just now joining us. Come back next week for the June assignment.