12 Ways to Save on Vacation
As an Amazon Associate I earn from qualifying purchases. For more details, please see our disclosure policy.
Vacations are a wonderful opportunity to reconnect as a family, relax, and reenergize. And if you can save on vacation? So much the better!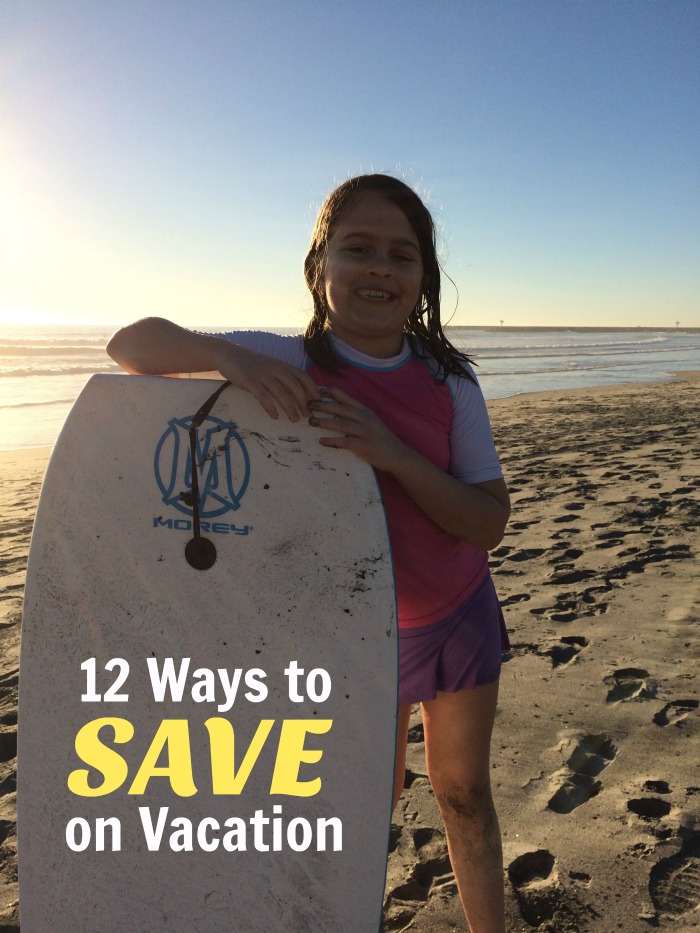 Vacation season is upon us! I know this because we went to the beach last week for date night. The place was packed, even after 6 pm. Summer and vacation season are well under way.
For years we had to forego true vacations due to finances. In past years we were too broke to make them a reality. Now that we are debt free, we have a little more wiggle room to allow for real live vacations (read: those you take just for fun, not to visit family or for work purposes). It was a thrill of a lifetime to be able to take our kids to Europe a couple years ago. It's something that we couldn't have done if we hadn't budgeted and economized, but it was still an amazing experience.
Currently, we've got one staycation in the works for this summer and are also scoping out the right time to head back to Mammoth Lakes, a locale that we are slowly getting to know and claim as our own. The kids really want to go to the snow again soon.
While we can finally take vacations, we still like to do it on a budget. Else, we won't be going on very many. Travel for a family of eight is more expensive than it used to be. To save on vacation is to actually take them!
Here are 12 ways to save on vacation:
1. Plan a staycation.
Who says you have to go anywhere? Depending on where you live, planning vacation days at home can be just as fun and a little less expensive than getting out of Dodge, even if you treat yourself to a few local splurges.
Check out Amy's tips for planning a great staycation, including planning for meals out and unplugging. If you live in San Diego (or plan to visit), you'll definitely want to review all the San Diego fun available. Want to enjoy another city, check out this list of nationwide staycation locations.
A staycation can be as simple or as elaborate as you want it to be. For our anniversary in May, FishPapa and I headed to a local beach town sans kids and lived it up, going to our favorite restaurants, sleeping in, and otherwise taking a vacation in our own backyard.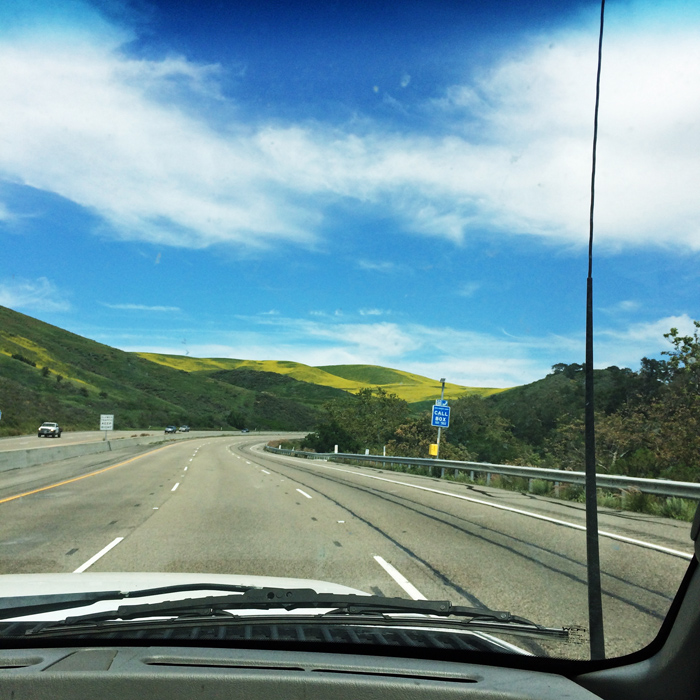 2. Buy, rent, or borrow a GPS or download a good navigational app.
On our last trip to Mammoth, we missed our turn which took us a couple hours and a million miles out of our way. It cost us both time and money in gas. The same kinda happened on our France trip where we had no GPS and a missed turn on a windy French country road is easy to make and quite problematic to remedy.
Be sure you know where you're going and have a great map, or better, great GPS to guide you on your way. Domestically, I love the Google Maps app.
3. Consider the cheapest mode of transportation.
For our family, road trips give us the biggest bang for our buck. Our SUV holds 8 people plus all our stuff. Taking the train or flying would be less convenient and a lot more money, depending on where we want to go. We used all kinds of transportation in Europe, but having a car or "people mover" for most of our miles still penciled out as the best way to save on vacation transport.
Your situation may be different. Maybe you live right by the train station or airport. Maybe you're a party of two or three. Airfare might just be cheaper than gas, so count the cost before you hit the road.
When we do need to book flights, I subscribe to several reliable airlines' newsletters. They regularly send updates on sales and specials so we can get the best rate.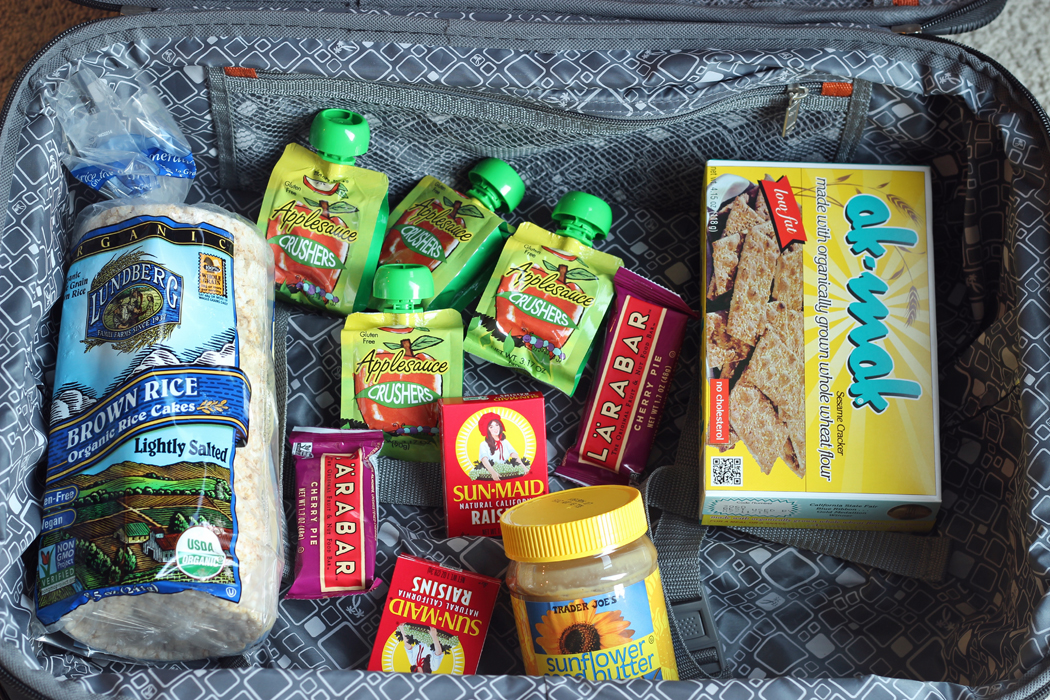 4. Pack your own food and drinks.
Whether we're taking a trip to Disneyland or heading for a week at the lake, bringing our own food allows us a number of perks: money savings, healthier eating, and convenience.
At Disneyland, we've packed plenty of snacks as well as a full lunch for the crowd and bottled water, juices, and chocolate milk. (The security guards saw it all at the checkpoint, so I assume it was cool to bring it in.) We do the same to save money at Legoland as well.
We might buy a few treats on our adventures and maybe splurge on a restaurant meal, but packing our own or grocery shopping in our vacation locally can easily save us hundreds of dollars in food as well as allows us to eat when we want and accommodate my daughter's nut allergy.
For longer trips, I usually pack a number of freezer meals to take on vacation as well as some pantry stable items that come together for quick meals. Not only does this save me time on meal prep, but it saves us a ton of money. This savings allows us to enjoy a meal or two out or to upgrade our accommodations.
5. Take an emergency bag of OTC meds and be sure to pack toiletries.
It wouldn't be a vacation without someone getting sick or forgetting their toothbrush. A few too many times we've paid through the nose for OTC meds or replacement toiletries while on vacation. Now, I pack extras as well as an emergency kit so that we are prepared for the unexpected.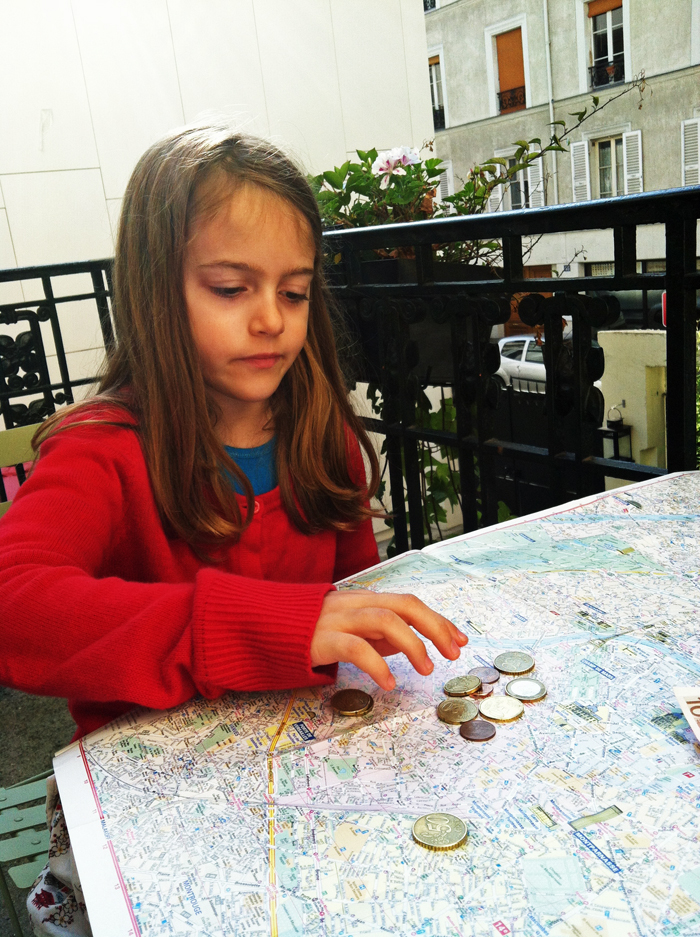 6. Check for online deals.
If you plan to do site seeing on your trip or visiting a local attraction, be sure to check their website before you go. Often you can find good deals directly through the attraction's website. For instance, Colonial Williamsburg gives a discount on their 3-day pass if you buy it online. Legoland California offers you 5 days for the price of one!
When I was planning our trip to Europe, I used the internet extensively to research our trip, find the best hotels, and help us save on vacation fun.
7. Buy group coupon deals.
If you're heading out of town or just staying home, consider buying group coupon deals that reflect your family's interests and tastes in food. I've since lost track of how many of these sites are out there. I've purchased some Groupons (head's up! referral link there) that have worked really well for us on vacation.
Keep your eyes open for something that you were already planning on doing or buying. Do not buy it unless you're sure you will use it. If it's not your town, you may be stuck with something you can't use once you go home.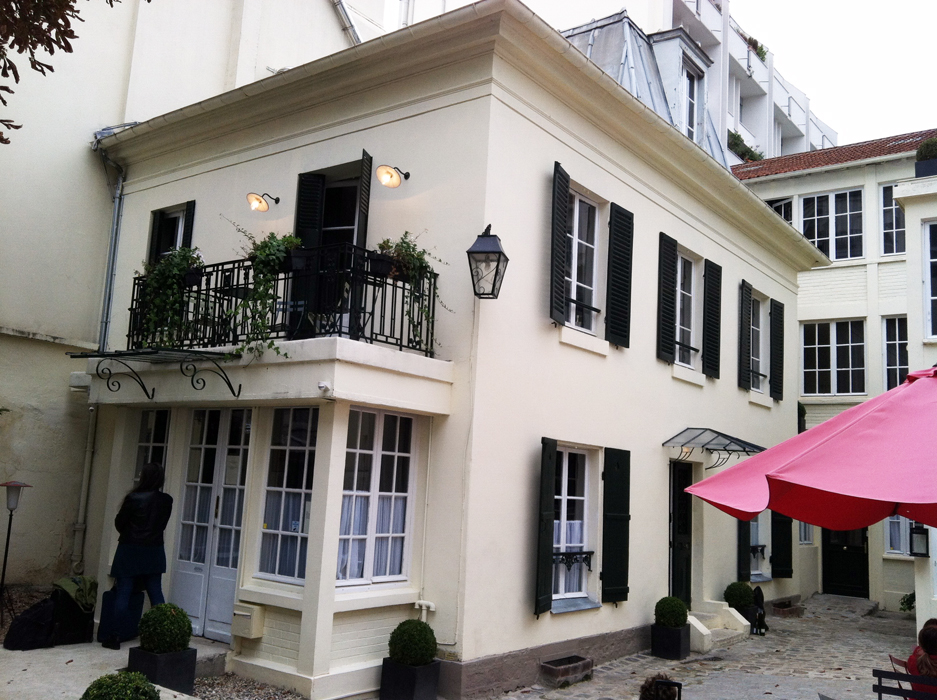 8. Book your hotel online.
We've always made online reservations for hotels and been quite pleased. Many times we've found out about deals. While we still need to call the hotel about the fine details (connecting rooms, no feathers, etc), we've had great success.
My current process is to research accommodations on Trip Advisor, read reviews extensively there, and then hop on over to Booking.com where I can book for a party of 8. Many online agencies don't allow reservations for 8. Thankfully, one does.
Be sure to check out my friend Amy's great tips for saving money by booking your hotel online. She is an expert globe trotter.
9. Go in the off season.
Even though summer just beckons you to go someplace else, often the off-season is a better time to go to get the best deals. Hotels will dramatically reduce their rates if the alternative is to have a host of empty rooms. This is our general MO. We rarely travel in the summer or over Christmas, preferring to travel in shoulder season where the conditions are still nice, but the prices are lower than in full season.
Think outside the box. Visit a ski area or the desert in the summer time; head to the beach in winter. If you're flexible about your travel times, you can save a boatload of money.
10. Rent a condo instead of a hotel room.
Since we are such a large party, we have a choice between renting two rooms or finding a condo. We've found the condo to be more beneficial in many ways. We save money – a condo is typically less money per night than two rooms. We have more space – condos include living space and kitchen areas. We eat better – we can more easily cook our own meals in a condo.
I highly recommend renting an apartment or condo for your next family vacation.Many time share resorts will rent empty units to regular folk. You can get great deals this way with all the amenities.
Now, one caveat, we typically find such accomodations via hotels, resorts, and time shares that run like hotels, but feel like homes. We've not ventured into AirBNB and the like, because with six kids, I'm not willing to risk it on somebody's home business. Other folks have had great experiences. Do what feels right to you.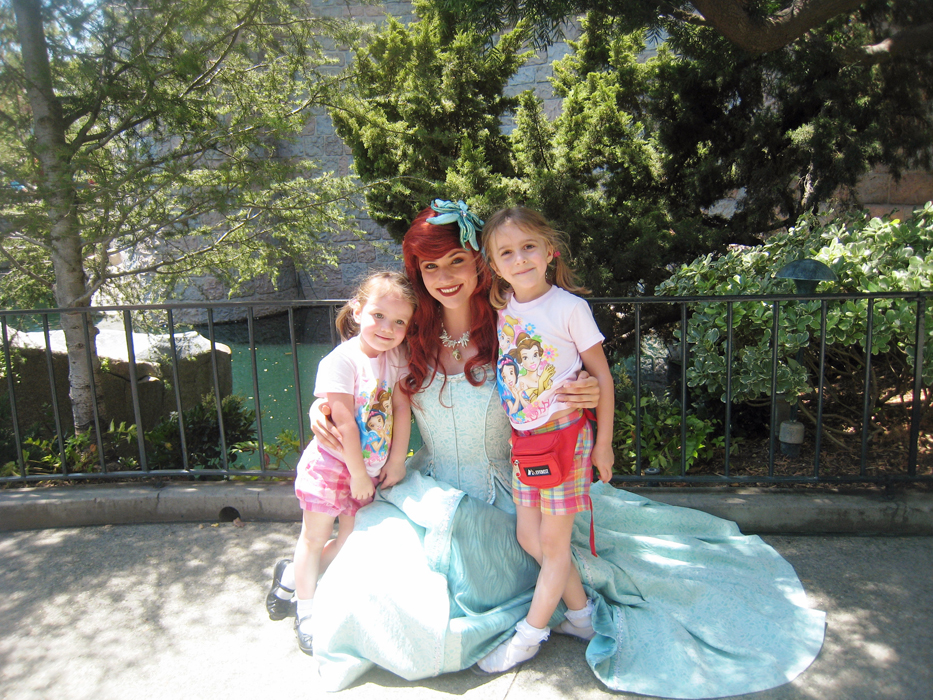 11. Rethink your souvenir purchases.
On a recent trip to an historical site, I came across all kinds of cool things to buy the kids that perfectly suited the time period. They were also cool things that I could buy online for less.
You know you can buy that Disneyland sweatshirt for much cheaper online; why buy it at the park?
Note the princess tshirts on clearance at Walmart for three bucks, bought the day before we went to the Happiest Place on Earth. My girls were happy to have Princess shirts, they didn't care where they were purchased.
Likewise, we've purchased Disney pins off Ebay for super cheap. The kids had fun things to trade without Mama and Papa spending a fortune to make it happen.
We tend to confuse souvenirs with experiences. You don't have to buy the thing while you're having the experience. Buy it before or after and pocket the change. The memory will still be there!
If your kids really want something from the trip, consider those flattened pennies. For $0.51 that's the cheapest souvenir money can buy.
12. Pay cash.
I know, you don't like to hear that. But paying cash is a better way. We feel so good on our vacations knowing that we really are enjoying the fruit of our labor — and not money we don't have. We save for our trips and enjoy it to the fullest, knowing there won't be a big bill to pay when we get home.
Research shows that you spend less if you hand over real money as opposed to swiping a card. You're also more careful to track your purchases if you will eventually run out.
Granted, this does mean you need to be more careful about loss or theft. Using a travel money pouch or RFID wallet can help you store your cash, cards, or traveler's checks more securely.
Vacationing can be a wonderful family adventure. And if you don't bite off more than you can chew — or pay for — you will all have a wonderful time!
Other related vacation ideas:

Using the Internet to Book a Hotel and Save Money
Take Food with You
Making Road Trips More Enjoyable
What are some of YOUR favorite ways to save on vacation?
This post was originally published on May 24, 2012. Updated July 7, 2016.