The Most Important Things
As an Amazon Associate I earn from qualifying purchases. For more details, please see our disclosure policy.
When the time changed last fall, I received a new alarm clock. My two year old daughter who previously woke anytime between 6 and 8 am, began waking at 5 am on the dot. Every. morning.
This had been my normal waking time before Daylight Savings Time. But, although babies had woken me in the night for the previous 13 1/2 years, I had gotten used to the old schedule that allowed me a good hour or two of quiet time to read, journal, and work on writing projects.
I liked have a little waking time before I officially donned my "MOM hat." I cherish my "alone" time. Sometimes a little too much.
All of a sudden that time was gone. After that first week of her waking consistently at five, I was ready for a meltdown. Mine.
Sunday night I cried to my husband that I was at my breaking point. She wasn't going to bed earlier. She wasn't taking longer naps. Yet, she was waking an hour earlier, regardless.
My "on duty" time was draining me. And quite honestly, I didn't like it. I was worried that I would "lose it."
My husband pointed out that the reason I would lose my patience would be because I felt that my toddler was in my way. Sleep wasn't the thing that was at stake. I was getting up at that time before.
My feelings were a result of my not getting to do what I thought was important. He gently reminded me, "She's your most important thing right now."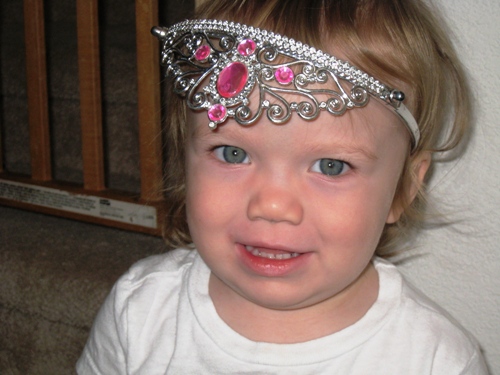 Ah, yes. She is my most important thing right now. And I had lost sight of that.
I'm not generally one who likes being told this kind of stuff. My brave husband ventured forth to tell me the things I needed to hear, probably wondering how I would react.
I slept on it, knowing he was right. And praying that God would help me feel it as well as know it.
I had to laugh the next morning when I heard, "Mama, Mama," at 5:04 Monday morning.
And resisting the urge to turn on Dora at 5:05, we cuddled, got breakfast, and otherwise enjoyed some Mom and "Almost-Not-a-Baby-Anymore" time.
Time changes. Seasons change. But, my girl is still the most important thing.
There is a time for everything,
and a season for every activity under the heavens
How do YOU remember to focus on the most important things?