Decorating Cakes with Playmobil
As an Amazon Associate I earn from qualifying purchases. For more details, please see our disclosure policy.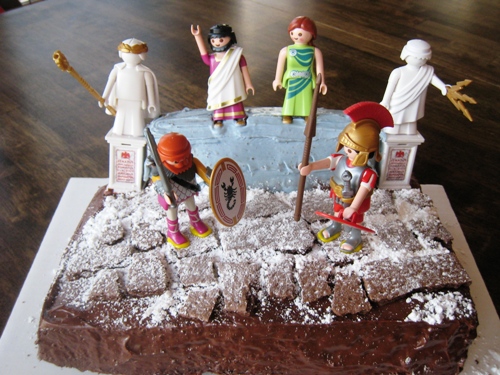 As the new year gets under way and all the pages of the calendar lay out before us, certain people in my family are already thinking about their birthdays. It's been a few months since we celebrated one. But FishPapa's is at the end of the month, so the scheming has begun.
One of the tricks I use to make birthday cakes special is to decorate them with Playmobil toys. They make the cake fun, festive, and fit the theme of whatever your kid is interested in at the moment.
Super Cool Toys
As far as toys go, we love Playmobil. The boys' interest in their collection has been greatly renewed since I downsized their toys and they received some new pieces for Christmas.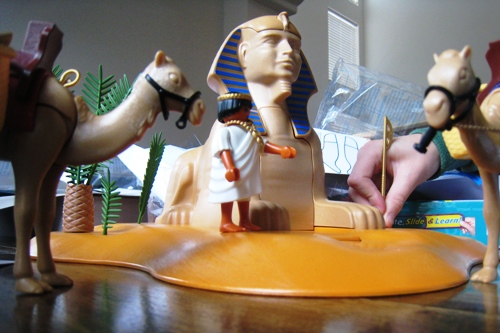 Playmobil fit a myriad of themes that kids love as well as historical moments that we are studying in school. My kids have always been history buffs, so it's been fun to find toys that supported their interests.
And yes, someone really did request a Playmobil Ancient Rome birthday cake!
Super Simple Cake Decorating
Playmobil make great cake toppers. I can't remember when I first started using them for such, but they're a perfect fit. One friend of ours buys a new set for the Birthday Kid and surprises him with it on his cake.
At our house, I usually send one of my minions to go scrounging in the Playmobil box.
"I need a palm tree and a swimmer. Go find those for me."

"I don't know where those are."

"That doesn't matter. Go look in the box."
And then I use my Jedi mind tricks to get them to actually find the items in question.

Frost your cake and then let your child assemble the Playmobil however he wants. Sprinkle on some candy, and you're good to go. You'll be amazed at how easy it is to make great cakes.
Want more instruction?
I'm stunned that our family has eaten as many birthday cakes as we have. Since I've had so much fun making cool cakes, I've compiled them into two ebooks. It really is not hard. I can say this because I'm really not that talented at cake decorating. But, my kids are always pleased.
And that's what matters most.
Pretty Cool Cakes is available for purchase now.
More Cool Cakes is coming soon. Final edits are happening as we speak. Be looking for it next week!
FishMama's Birthday Cake Challenge
As if Ancient Rome wasn't difficult to depict on a birthday cake, I allowed you to challenge me to a new cake theme. Gotta practice my chops before birthday season hits at our house.
You can see in the graph below, survey says, "Narnia."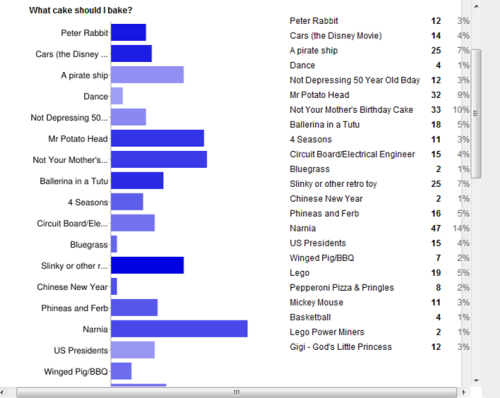 So I'll be working on a Narnia-inspired birthday cake and sharing it at the Birthday Cake Round-Up next week. Mark your calendars for the 27th so that you can come and share the cool cakes you've made for your family — and be inspired to make new and unique designs.
Get a Free Party Planning Page

All my Facebook fans and subscribers will have FREE access to download this planning page during the month of January.

Want to sign up to receive a free daily digest and subscriber perks? Go here to sign up and make sure you verify your subscription shortly afterward. Every day in January, there will be a download link in the footer of the email or feed.

Prefer to follow LifeasMOM on Facebook? Hit the "Like" button over here. Once there, click the Freebie tab to get download instructions.
What do YOU do to make cool cakes at YOUR house?