To Be More Joyful: Read a Good Book
As an Amazon Associate I earn from qualifying purchases. For more details, please see our disclosure policy.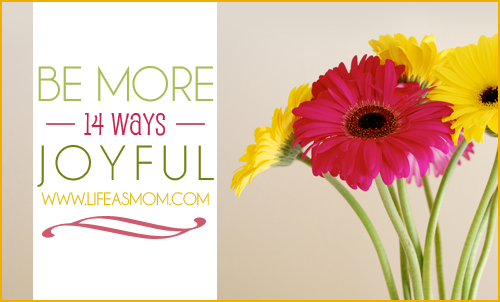 This is a continuing series about ways in which we can become more joyful. If you missed previous posts or find that you're still too crabby, go back to the beginning of 14 Ways to Be More Joyful.
I have always been a book lover. My parents taught me to read when I was still in preschool, and as a result, I almost always had a book in hand. Weekly summer trips to the library produced stacks of books. I'd find a cool-er corner of the house and read all day long.
As a mom, not only do I find that reading is a great form of entertainment, but there are huge benefits that reading provides to "life as MOM."
Gaining knowledge
Learning new ways of doing things can help us be more joyful in our everyday. Perhaps you're being weighed down by all the tasks at hand — and maybe there is a better way of doing it. Maybe you need to round out some of your homemaking knowledge. Maybe you need to just learn to cook!
There's no end of the information we can gain from books that can offer practical help in "life as MOM." Green living, organizing, family fun, cooking, and basic homekeeping helps are just a library trip away. Some of my personal favorites include The Hidden Art of Homemaking, Heart of the Home: Notes from a Vineyard Kitchen, and Home Comforts: The Art and Science of Keeping House.
Encouragement and Self-improvement
Sometimes it's our hearts that need some help. We find that there are areas we need to grow emotionally. Or there are ways that we relate to people (ie husband and kids) that we could improve. Reading good books on communication, parenting, and womanhood can help us over the rough spots.
Some books to consider: Queen of the Castle: 52 Weeks of Encouragement for the Uninspired, Domestically Challenged or Just Plain Tired Homemaker, A Sane Woman's Guide to Raising a large Family, The Mommy Manual, and of course, The Bible.
Photo Source: Moriza
Perspective
It's all too easy to get caught up in our own challenging lives that we forget that there's a whole world out there that is hurting. We think, "Woe is me! I have it sooooo hard."
In reality, we should be counting our blessings. Reading good books can take us "outside ourselves" and show us the real world beyond.
The Guernsey Literary and Potato Peel Pie Society and The Hiding Place are two books that have helped me do that in recent years. Do I really have it that hard? No, I don't. And if I really think about it, I can be so thankful for those who've gone before me and fought for the freedoms that I take for granted.
Diversion
And what's more reading is just plain good old fun. Pride and Prejudice never gets old to me. Rose in Bloom still makes me smile, though I've read it twenty times, and The Sharper Your Knife The Less You Cry was a great walk down a French memory lane.
There are books that are good to get lost (and found) in, books that offer catharsis, books that teach, and books that just make you laugh. And we need them all.
Wondering how to include reading more often into the fabric of your life? Consider the following:
10 Books Necessary to Life
Join our monthly book club here at LifeasMOM. Booking It is a time when we share what we've been reading. We're meeting this Tuesday. Pop on by and share what books have helped you.
Reading good books can make your life more joyful as you grow, learn, look around and laugh.
What's stopping you?