Plastic Boxes Organize Our Stuff
As an Amazon Associate I earn from qualifying purchases. For more details, please see our disclosure policy.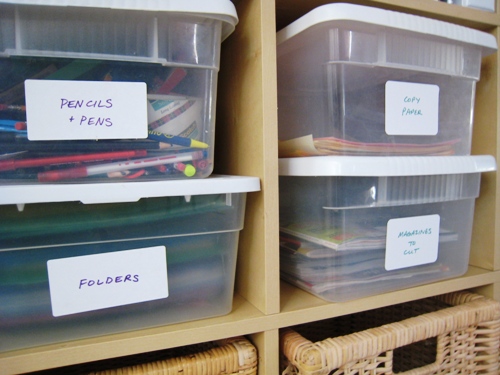 I should have bought shares in the Sterilite company about fifteen years ago. We've kept them in business, I'm sure, over the years as we use these clear plastic boxes to store just about everything.
I love them for a number of reasons:
the clear boxes allow you to see inside of them
the lids secure well enough to keep baby out, but are easy enough to remove quickly
the boxes stack easily one upon another
there is a variety of sizes to choose from
these boxes are fairly affordable
In fact, these boxes are so much a part of our household that when we move, we buy more instead of moving boxes. Sure we use some cardboard, but at the price of moving boxes, it makes sense to buy something durable like Sterilite.
A box for everything
We use our clear boxes to store a number of household items:
toys
school supplies
toiletry stockpile
diapers and wipes for a portable changing station
pantry food that I'm protecting from a possible mouse invasion
Christmas ornaments
We've had to replace some of these over the years, but many have lasted us a very long time. They help containerize our stuff and keep us a little more organized.
What's your Go-To organizing tool?