Home Management: The Power of the 15-Minute Blitz
As an Amazon Associate I earn from qualifying purchases. For more details, please see our disclosure policy.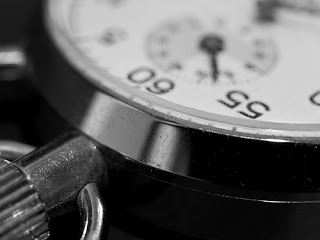 The following is a guest post from Mandi of Organizing Your Way. Her suggestions for a quick, speed clean are so timely. This month has the potential to be utterly crazy, but if you have her suggestions in mind, they may come in handy at the spur of the moment.
Heading into the holiday season, your schedule is probably going to get a little busier and your to-do list is probably going to get a little longer. I know mine is! The busyness of the season doesn't have to be stressful, though, as long as you have a plan ahead of time for how you'll deal with household chores and other have-to's as things get busier. One of the best tools you can use when things get busy is a 15-minute blitz session.
1. Know what's important.
Spend some time thinking about your personal pressure points. What throws you out of whack? What makes you feel like you can face anything that comes your way as long as it's taken care of first? Maybe it's important to you that the beds be made or that the kitchen counter be cleared. Maybe it's that the laundry stays caught up or that the toys don't overrun the main living area. Whatever your pressure points are, identifying those areas that have the biggest impact on your mood and attitude is an important key to handling busy seasons.
2. Ready, set, blitz.
When things start to get out of control and you start to feel overwhelmed, set your timer for 15 minutes and blitz through your home, starting with those areas that have the biggest impact, cleaning up as much as possible within that time limit. Doing this just 2-3 times a day (I prefer to straighten after breakfast, before lunch and after dinner) will help you stay on top of the clutter. If you don't have time to do a deep clean, use your 15-minute blitz session to quickly wipe up the bathroom or dust the main living area. While you might not get to sit back and enjoy the "my whole house is clean" feeling, you'll be able to enjoy the holidays knowing that everything is fairly decent.
3. Get everyone involved.
If you have young children, chances are they'd love nothing more than to help you with your chores, as long as you make it fun. My girls think it's the greatest thing when I give them their own damp dust rags to help me dust. My 2 and 3 year old love to match socks, and my 5 year old is now trying her hand at folding. If you have older kids, make your daily blitz sessions a part of their chore routine. Race the clock with them to see who can get the most done in the designated time.
4. Put on some music.
When we're overwhelmed and need to get moving, we turn on some U2. No matter what your musical preferences are, though, try putting on some upbeat music to help put a bounce in your step and add some fun to your blitz session.
5. Use a laundry basket.
Laundry baskets make great tools for carrying stuff from one room to the next as you straighten and clean. Focus your attention on one room — filling the basket with anything that belongs somewhere else — rather than running back and forth between rooms as you go. While it's important not to let things just sit in the baskets long term, an added bonus is you will have those things contained if your blitz session ends before you've gotten them all put away. Be sure to make emptying the basket a priority, though, so you don't end up with contained clutter that makes you feel overwhelmed anyway!
–Mandi Ehman is a WAHM to 4 spunky little girls. She can be found blogging at Organizing Your Way, where she shares tips for organizing, simplifying and decluttering as well as home management printables.


What is a quick clean trick that YOU use to keep the messes under control?