A Death Star Birthday Cake
As an Amazon Associate I earn from qualifying purchases. For more details, please see our disclosure policy.
My littlest FishBoy turned six last week. And although he was dressed as Indiana Jones by 8 am that morning, he chose not to have an Indian Jones Birthday Cake as he has for the past two years. Two years ago it was an abandoned temple and last year, it had to be snakes. This year, however, he asked for a Death Star Birthday Cake.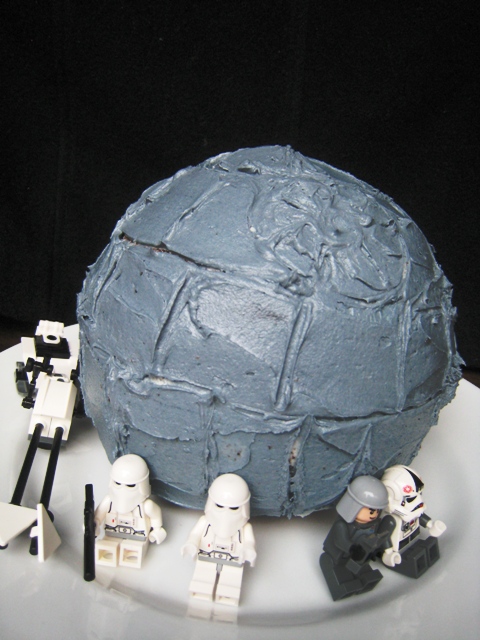 Like other recent cake creations of mine, this isn't the most stellar frosting job, but my six year old thought it was out of this world.
You can do this, too!
This is such a do-it-yourself project. But first you need to tool up:
One necessary item is the Wilton Sports Ball Cake Pan. I am sure you can fudge it with two small, ovensafe bowls, but this pan set is the perfect size for one prepared cake mix. My sister picked one up on clearance years ago and it has served us well as the basis for a Pokeball Birthday Cake as well as a Lego Bionicle Thornax Cake. Keep an eye out for one at garage sales and thrift stores.
Other tools and ingredients:
one cake mix, prepared according to Ball Pan directions – they tell you to use less oil to make the cake a little denser.
one batch buttercream frosting or one can of white frosting tinted gray with black paste food coloring
a toothpick or chopstick
Once you have baked and cooled your cake, place one half on a plate. Frost. Add second half of ball and frost completely. Using toothpick, draw lines to resemble the Death Star, from Star Wars fame. Alternatively, you can frost lines with black frosting. However, my rationale was that drawing lines in the frosting would be more forgiving of mistakes.
Sort of.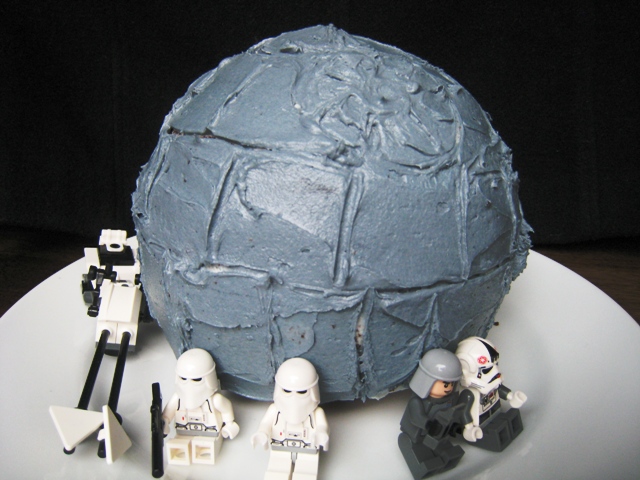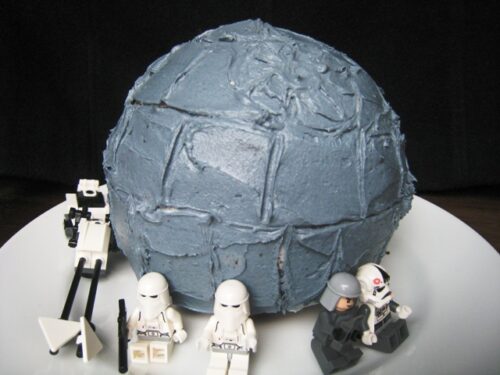 It's not the most perfect rendition of the Death Star, but the Birthday Boy was totally enraptured. He added the Lego guys for effect. Works for me.
Do YOUR kids notice if the frosting's not up to par?