Since my husband is a general contractor, tools have always been a big deal at our house. In our book, tool is defined as "anything that helps you do your job better." They have always been a worthy investment for us, especially if they help do the job quicker and more easily. As a newlywed, I was pleased and surprised that my husband wanted to make sure I had the right "tools." At the time I was a high school teacher, so he insisted that I have a generous clothing allowance, as a nice professional wardrobe would in many ways help me in my position as an educator. How cool is that when your husband says you have to go spend some money on clothes?! (Yes, he is a gem.)
Over the years my responsibilities have changed and so have my tools. One great tool that we love at our house is the Euro-Pro Shark Cordless Sweeper. Lightweight and rechargeable, it does a great job sweeping our tongue-and-groove hardwood floors. (This means there is a thin "gutter" in between the planks, perfect for catching every drip, drop and crumb.) This sweeper is so simple to use, even our littlest children can "shark" the floor. I didn't learn to really use a broom until college, so I want to make it easy for my kids to help me.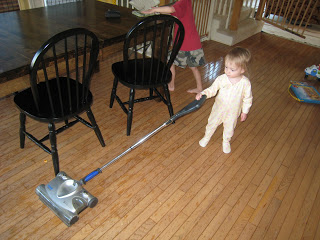 The rolling brushes do a great job at "sweeping" stuff up into the removeable dust pan that my three-year old can empty. It works on carpet as well as hard surfaces, so you can do a quick clean-up after a night of movies and popcorn. (It also came in a very cool box with a little infomercial screen that tells you all about "the Shark Cordless Sweeper." I can still hear the man's voice in my head.)
There are several models available. I recommend
the 13-inch, 3-speed version
as opposed to the "bottom emptying" model. I've watched a 50 year old woman have trouble emptying that one, so if you want the kids to help, I think that's one to avoid.
Now it's your turn. What is a tool you love that helps you do your job better? It doesn't have to be a housekeeping gadget. Write a post about it on your blog and enter the link here. If you don't have a blog, feel free to tell us about it in the comments section.