DIY on a Dime: Build a Feel Better Basket
As an Amazon Associate I earn from qualifying purchases. For more details, please see our disclosure policy.
Know someone feeling under the weather or just having a rough go of it this season? Put together a Feel Better Basket.
We've been fighting the grunge this month, from shingles to cold and flu to raging female hormones. So, it's with great anticipation of gifting it to myself, that I put together this gift basket.
Not only does the Feel Better Basket contain practical things like a cozy blanket, kleenex, and vitamin C, it also provides a few extra touches to help the heart and mind feel better, too, like a good book, a fun pen, and a cute journal.
You can control the budget on this according to the size and quality of the items. The blanket cost me $5 at Walmart. It is amazingly cozy. I found the journal on Amazon. The book is an old favorite, but you can find good books ranging from $5 to 10 new or even less at a used bookstore.
Obviously, customize the basket contents to suit the personality and the needs of the person you're gifting it to.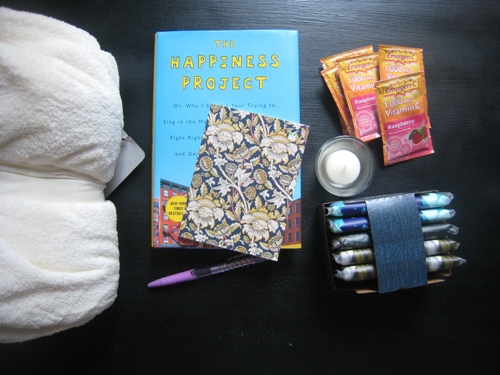 You'll need the following supplies:
cozy blanket
a good book or two (or splurge on an e-reader)
vitamins
candle and holder
pen and journal
Kleenex
other helpful items: favorite beverages, a citrus pomander, a funny movie, a premade meal or snack
Depending on the items you choose, you can create a fun basket starting at $10. Assemble all the items in a fun basket to give to a friend. If you can, spend time visiting when you deliver it. That will be icing on the cake.
More Gift Ideas