Managing Library Resources
As an Amazon Associate I earn from qualifying purchases. For more details, please see our disclosure policy.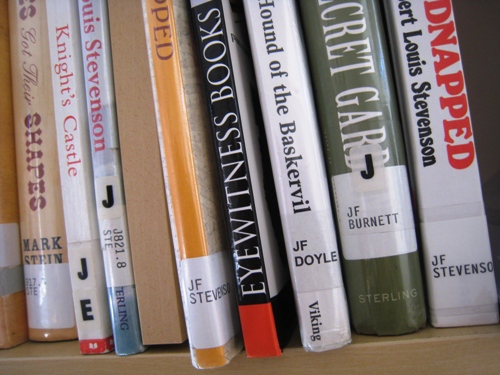 At any given time in our house we can have at least 100 library resources in our possession. Since our kids are voracious readers, the older ones can easily go through 7 books a week as well as flip through numerous other books for their schoolwork. One hundred books can be quite the load to manage, as you can imagine, and I've paid my fair share in library late fees and replacement costs.
We're working to reduce this however. The library is offered as a "free service" and I, for one would like to keep it that way.
Here are some ways that we keep track of our library stuff — and hopefully avoid fines.
One library card
We maintain one library account for the entire family. In this way, I can better track our checkouts online, and it simplifies things immensely. My kids don't experience that rite of passage in getting their own library cards, but everybody seems to be okay with that.
Our library offers both a keychain card and a wallet card for each account, so FishPapa and I each have one. He can pick up our holds on the way home from work without my needing to remember to give him the card.
One storage location
We have a large bookcase on the schoolroom wall that houses the library books. If a book isn't actively being read, it should be shelved here. This doesn't always happen, but we're working on it. I know some families use bins or baskets, but we needed something out of FishChick2's reach, so a high shelf works for us.
Likewise, we keep a bin on a shelf above the TV for library DVDs. Unfortunately, our DVD checkouts have not been free due to lost or broken disks, so we are considering eliminating the whole DVD checkout thing in exchange for Netflix streaming.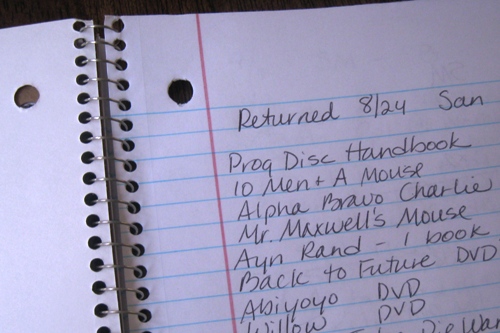 A notebook to track returns
This summer our library system converted to a new checkout system which had quite a few bugs in it. While I'm sure we didn't handle checkouts perfectly, there were several occasions when I was sure we had returned a resource, but they could not find it. And while most of the librarians are quite polite and understanding, I've encountered more than one Library Ninja.
So, to keep track of what I was returning, I started a library notebook. I list the library resources returned and write down the date we returned it and which location we took it to. While it's still my word against the library's, this is much better than a recollection of putting it in the library bag. It takes some time to get things ready for the library trip, but we haven't had a resource go AWOL since we started this method.
What do you do to keep library fines at bay?
Check out Works for Me Wednesday for more ideas to improving your life.