A Whale of A Cake
As an Amazon Associate I earn from qualifying purchases. For more details, please see our disclosure policy.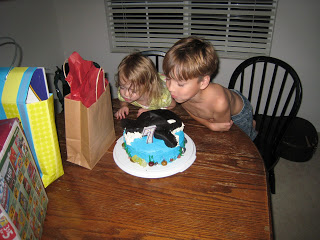 FishBoy7 has a newfound interest in fish. I suppose it could be considered a natural interest, considering our last name. But, ever since the research that went into this post, he's been reading, and drawing and talking about fish. He has learned a ton about the undersea world in his independent reading. And he requested an orca cake for his birthday.
Just so you know, an orca is a dolphin, not really a whale, though it is called a killer whale. It's different. Just so you know.
In case you have a desire for a Shamu cake at your house, here's how we made ours.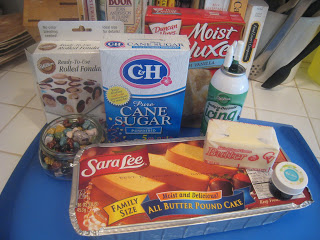 Here are all the ingredients I used, plus eggs, buttermilk, milk and oil.
Start with a layer cake and frost it blue. I made my own buttercream this time instead of opening a can. I was pleasantly surprised at how easy it was.
(whisper) I didn't even measure. I just whipped 1/2 cup softened butter with powdered sugar and then added in some milk and blue paste coloring until it seemed the right texture and color. It was really yummy, too.
I'm finding that for theme cakes like this it doesn't matter if the frosting is smooth. It's about pleasing the birthday kid. So, I let him go to town on the frosting. It helped my sense of propriety that we were putting on "water" so it could look ruffled and still look "right."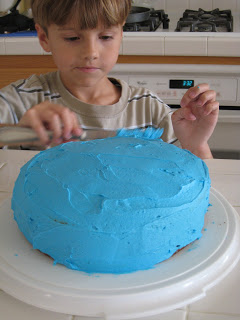 I don't have a picture of the orca in process. Bad FishMama. That's because I didn't really know what I was doing until I had already done it. I used a Sara Lee pound cake and carved it in the shape of a whale. Then I covered it with black fondant. You can make your own, or so I've heard, and you can dye store-bought white fondant whatever color you like. But visions of black food dye all over my kitchen prompted me to buy pre-made, ready-to-go black fondant.
Fondant is wacky stuff. It's basically sugar playdough. I rolled it super thin and then laid it over the lightly frosted, orca-shaped poundcake. I liked using the Sara Lee pound cake for carving because it is super firm and not very crumbly. Perfect for a carved cake. Plus, that was one less thing to bake.
After I placed the orca on the "water", I used a spray can of green frosting to draw seaweed on the sides of the cake. I let the kids place candy rocks and chocolate pebbles around the base. They loved it! Thankfully, the girls were asleep. Three helpers was all I could handle.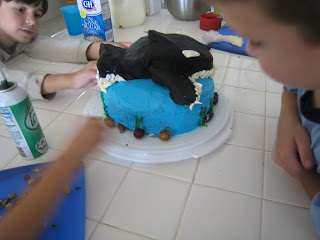 I placed white buttercream in a ziploc bag and snipped the corner. Then I piped white seafoam around the orca. That helped to hide some of its imperfections in the fondant. Roughing it up with the blue frosting helped make it look a little more realistic.
Thar she blows!