Zone Defense: Organizing Your Travel Gear
As an Amazon Associate I earn from qualifying purchases. For more details, please see our disclosure policy.
Time to tackle clutter and disorganization and maybe too much stuff. This month we are organizing our travel gear so we can hit the road with a smile.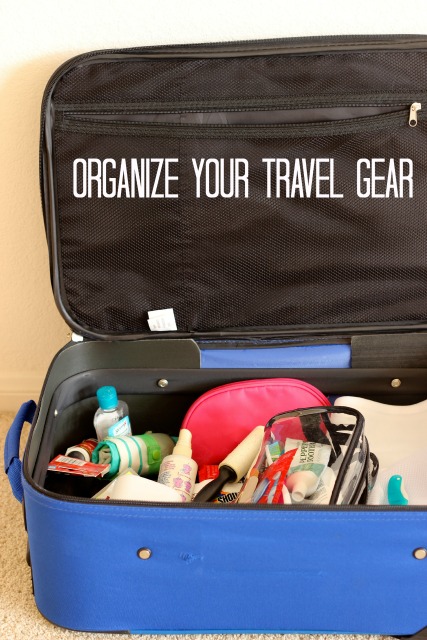 With summer and school vacations just around the corner, now is the perfect time to get a grip on travel gear and other transportation paraphernalia.
Our family did quite a few road trips over the winter months which helped me trouble shoot a few issues when it comes to being prepared for travel. Like how many times will a kid forget to pack his toothbrush for Gramma's before you figure out a solution that does not involve going to the drug store and buying another toothbrush?!
This month on Zone Defense, we're going to get ready to hit the road. Consider these questions to see how ready you are for your next bit of family travel:
Is your car clean and free of clutter?
Has the car been washed in the last month? Vacuumed? Have you cleaned out the science experiments?
Are the coolers clean and sanitized?
Do you know where your maps, GPS, and other road trip equipment are?
Do you have a roadside emergency kit in your car?
Do you have a child emergency kit (aka sick kit) in your vehicle?
Do you have a picnic box or bag ready to go?
What things could you store in your car to make day trips and errands easier?
How grungy are those carseats? Is it time to clean them?
Do you know where the fluids are to refill your car? Do you have extra cans of oil, window wiper fluid, brake fluid, etc?
Has your car been recently serviced?
Is the gas tank full or empty?
Can you walk into your garage without tripping?
Do you know where the camping supplies are?
Do the sleeping bags need to be cleaned?
Do you need to replenish some of your camping supplies? (Propane, matches, fishing bait?)
Do you have firewood available for camping or beach bonfires?
Do you know where your suitcases are?
Do you have a designated place to store all suitcases and travel bags?
Do you have travel-sized toiletries on hand, maybe even already packed in a small bag?
Do you have activity bags packed and ready to go?
Do you have a file to store passports, copies of birth certificates and driver's licenses, and other travel documents?
Do you need to apply for passports or other travel documents?
Does anyone need to get travel shots?
Are all medications up to date? Do you need doctor documentation to travel with them?
Is your auto club membership up to date?
Can you easily locate the boogie boards, sand toys, and other beach paraphernalia?
Where are those portable lawn chairs, anyway?
If you think of something I forgot, let me know in the comments!
If you're just joining us on Zone Defense, check out the travel archives:
Car Repair and Emergency Preparedness
I'm super excited for several road trips we have planned as well as our trip to Europe in the fall. We've got lots of planning to do.
Are YOU ready for summer travel?
I'll be sharing what I accomplish in organizing us for travel at the end of the month. Get to work so you can report back as well.