How I Spent My Birthday at Burghley House
As an Amazon Associate I earn from qualifying purchases. For more details, please see our disclosure policy.
Burghley House is an Elizabethan era estate located in Lincolnshire as well as where I spent my 45th birthday. What a great place to spend a day!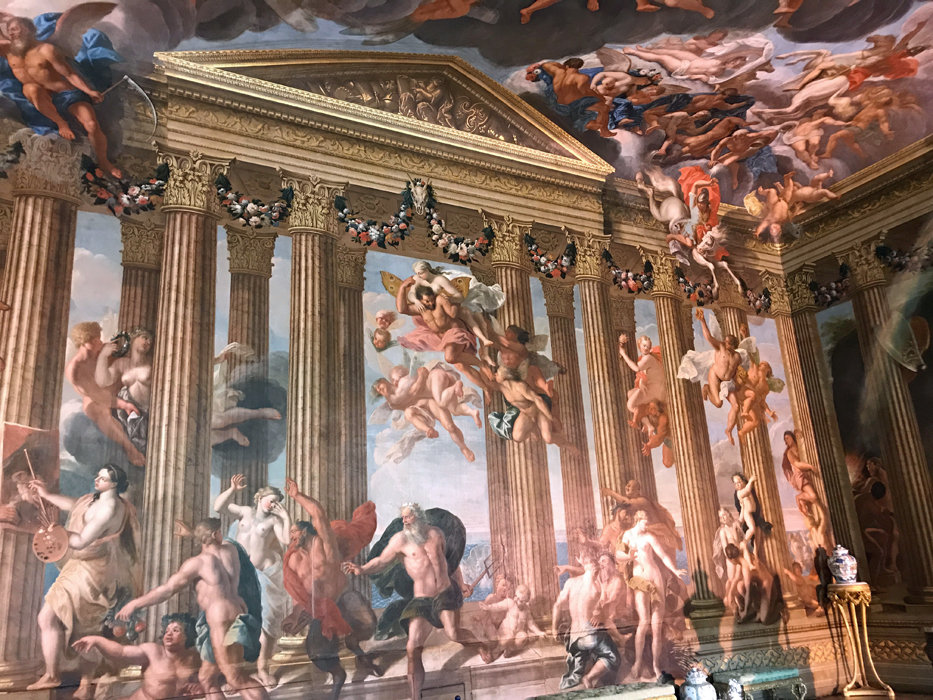 If you've been paying attention here on Ye Olde Blogge, you've been reading along on our epic road trip through Great Britain. We left Los Angeles on May 21st and returned on June 21st. It was an amazing month, during which we celebrated three birthdays, including my own.
While I was planning the journey, I realized that my birthday was going to fall on the day we left Cambridge and were headed to York. Call it selfish if you will, but I didn't really want to spend my 45th birthday in a car for hours on end. And I particularly wanted to do something fun. So I searched on Trip Advisor to see what was halfway between the two cities and landed on Burghley House.
Turns out I hit the jackpot. Burghley House, pronounced like burley, turned out to be one of my favorites in terms of sites to see!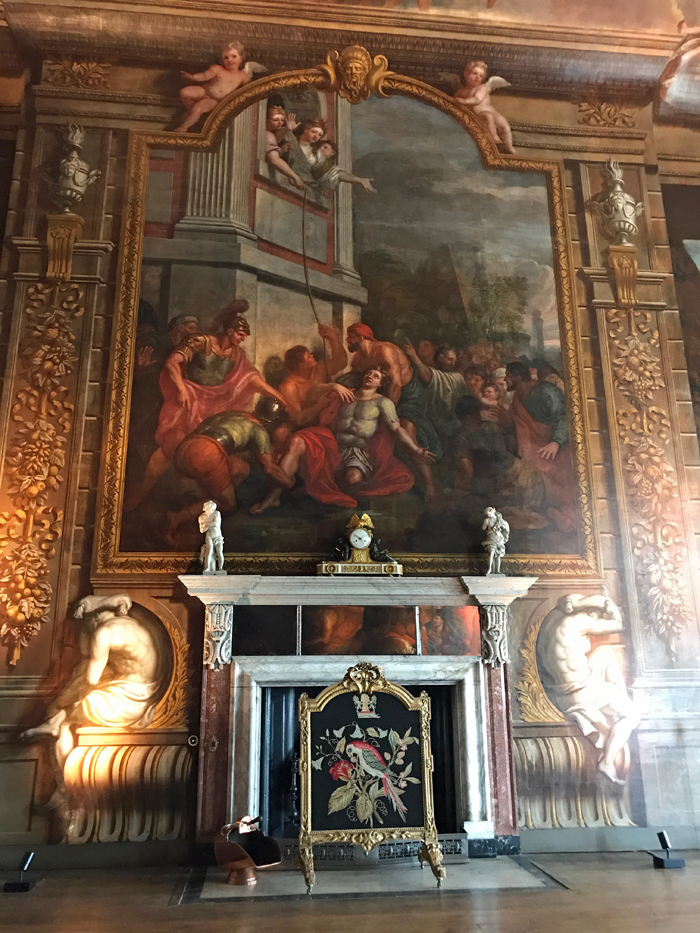 You may already know that Pride and Prejudice is one of my favorite stories. Burley House was a site where the Keira Knightley film version of P&P was filmed. It was Lady Catherine de Bourgh's mansion. Seriously. Click through; you'll recognize the front. (The front that visitors aren't allowed to see. Haha.) The dining room where Lizzie gives Lady Catherine what for is an absolutely gorgeous room, its beauty hidden by the darkness of the film setting. Numerous other films and television programs have been filmed in the home.
As far as real history goes, the home was built by and is still lived in by the Cecil family. Built in the 16th century by Sir William Cecil, the 1st Baron Burghley, who happened to work for Queen Elizabeth 1. Plenty of kings and queens have passed through its doors over the years, including numerous stops by Queen Victoria. We saw the camp bed she was given to sleep in as a visiting princess.
Until 1981, the house was owned by David Cecil, the 6th Marquess of Exeter, a British Olympic runner. His story is featured in Chariots of Fire, albeit inaccurately. There is a small wing of the house dedicated to his running career.
Needless to say, there is lots of history in Burghley House, of which I'm condensing into a few paragraphs.
We spent most of the afternoon at Burghley House where tickets are only available as one-year passes ($110 for 8 of us), so if we go back to England before my birthday next year, we'll go again! Seriously, if you live within day trip distance, the pass is worth it. There are lovely gardens to meander as well as a super fun water garden/splash pad for the kids.
Be sure to get the kids information booklet because it has fascinating information about the rooms that you might not get otherwise!
Ready for a photo tour of Burghley House?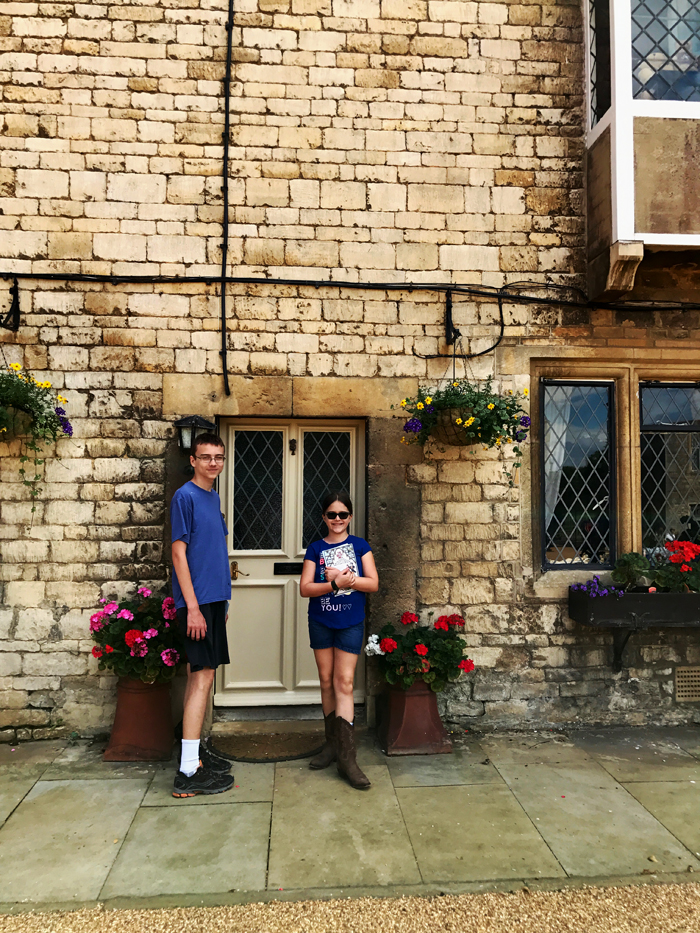 There's a hobbit-sized door going into the servant's quarters. I asked a docent about it. She had never noticed before and didn't know exactly why the door was so small.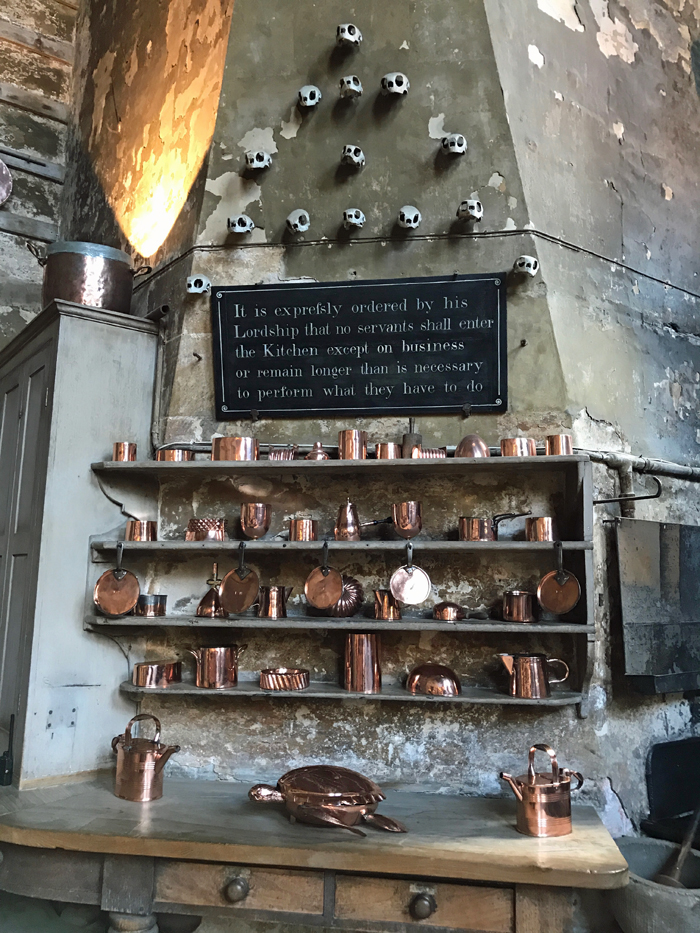 The tour starts in the kitchen where there is a massive collection of copper vessels and turtle skulls. Turtle soup, served in the soup tureen on the counter was a regular in the dinner rotation.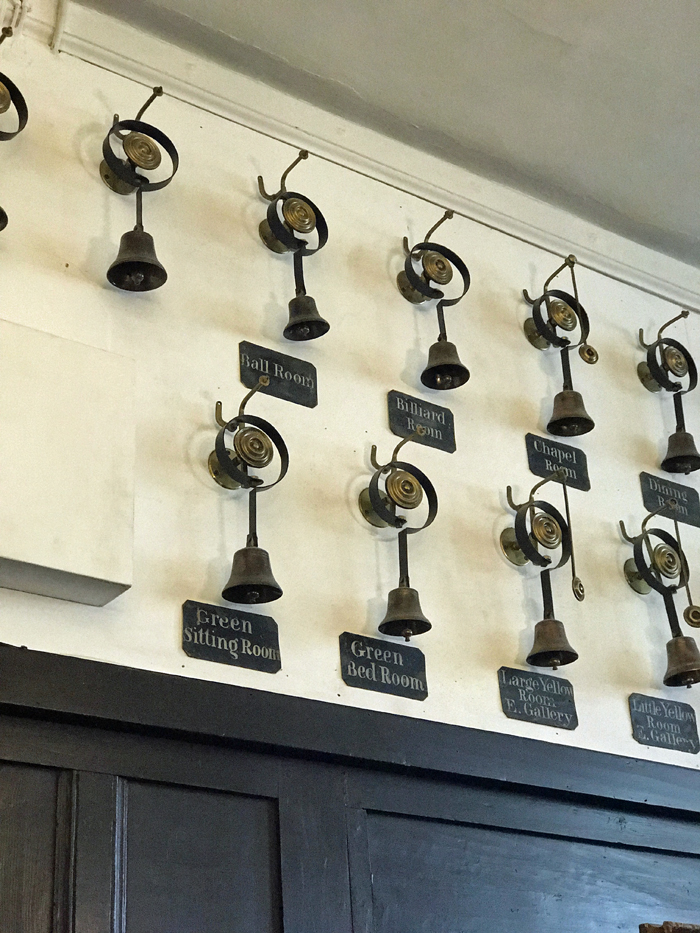 The bell wall lets the servants know which room they're being summoned to. Presumably, if you watch Downtown Abbey you already know this. I never got into that show. People were too mean.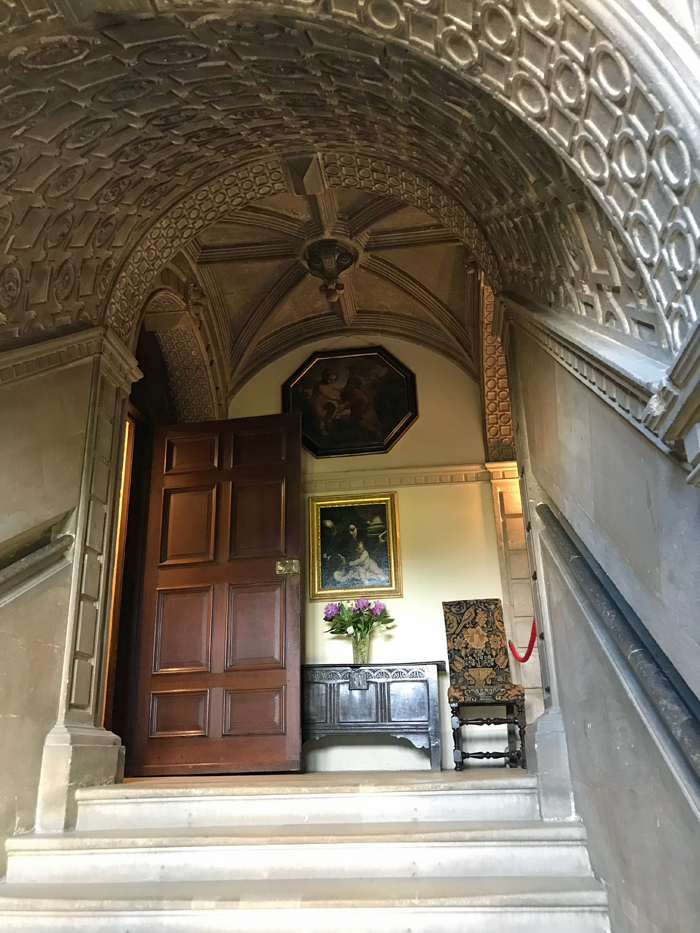 The house is filled with gorgeous architecture and furnishings.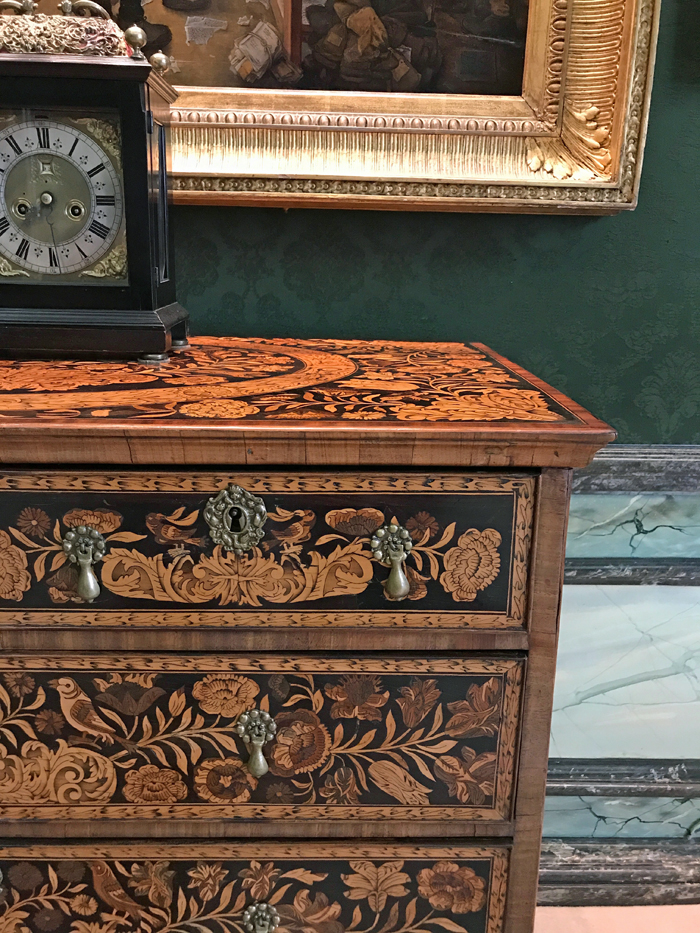 There are several beautiful examples of marquetry in the home. My kids explained to me what it was because it was mentioned in the aforementioned children's guide book.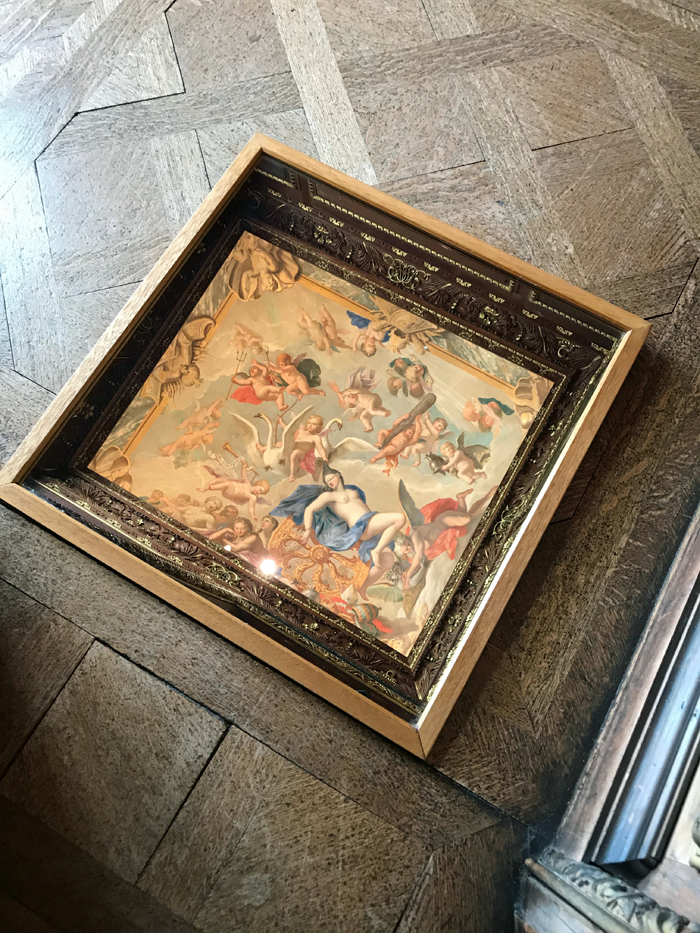 This is a mirror on the floor of a dressing room that you can't walk into. But the ceiling of the dressing room, reflected in the mirror, is amazing! The artist Verrio did many of the wall paintings and Edward Martens did many of the plastic work ceilings.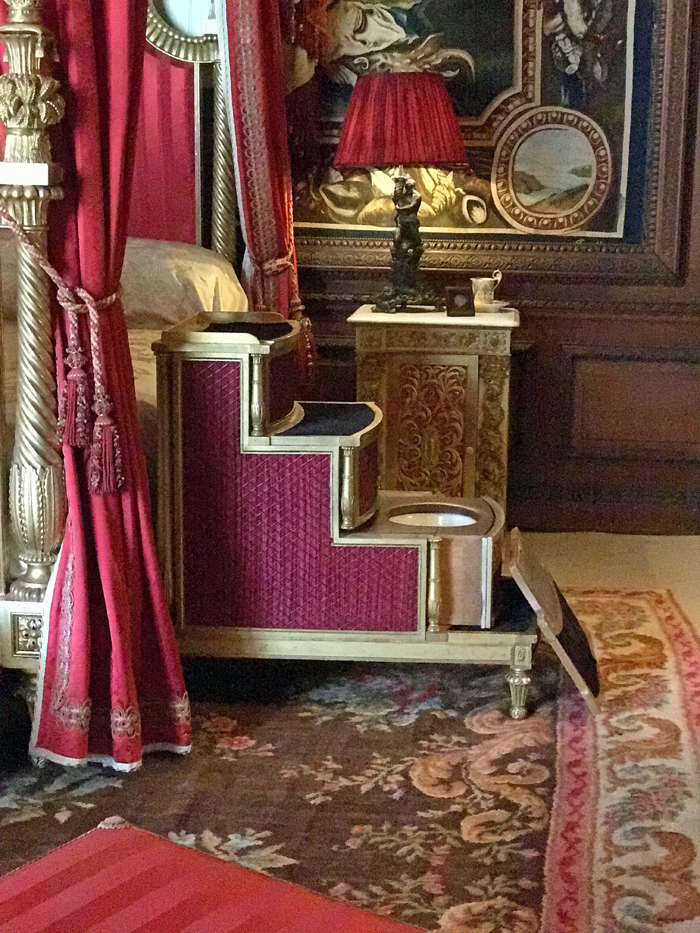 Many of the rooms were seriously furnished for a king. In many of these types of estates, rooms were designated to be used by visiting royalty. I can't particularly remember if this was one of those rooms, but the chamber pot in the bed steps was interesting. One definitely needed to put down the lid in those days!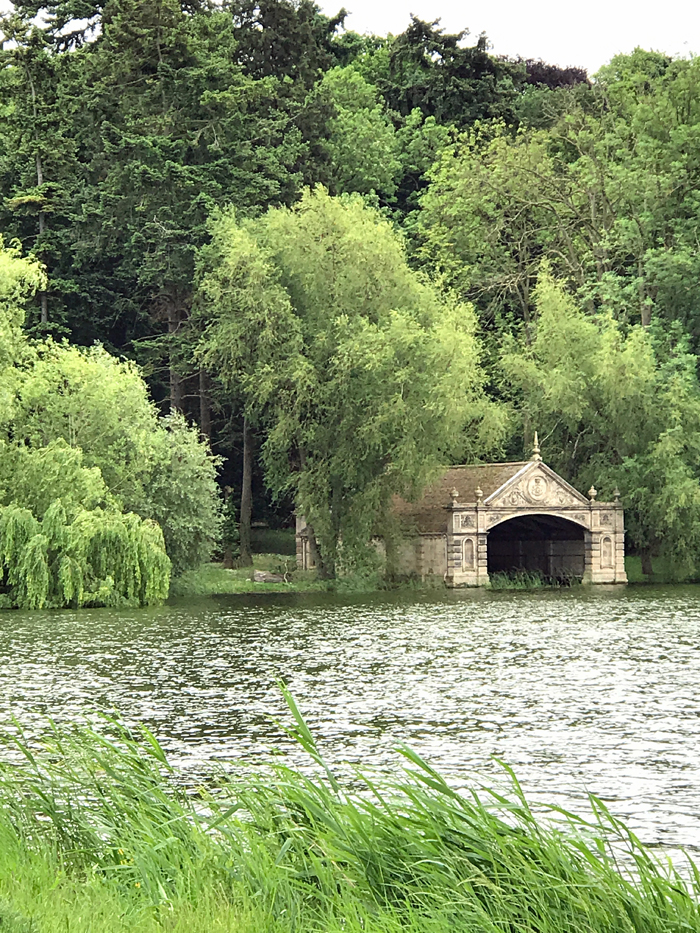 The gardens and deer park are absolutely beautiful! Even on a day when the weather can't decide what to wear.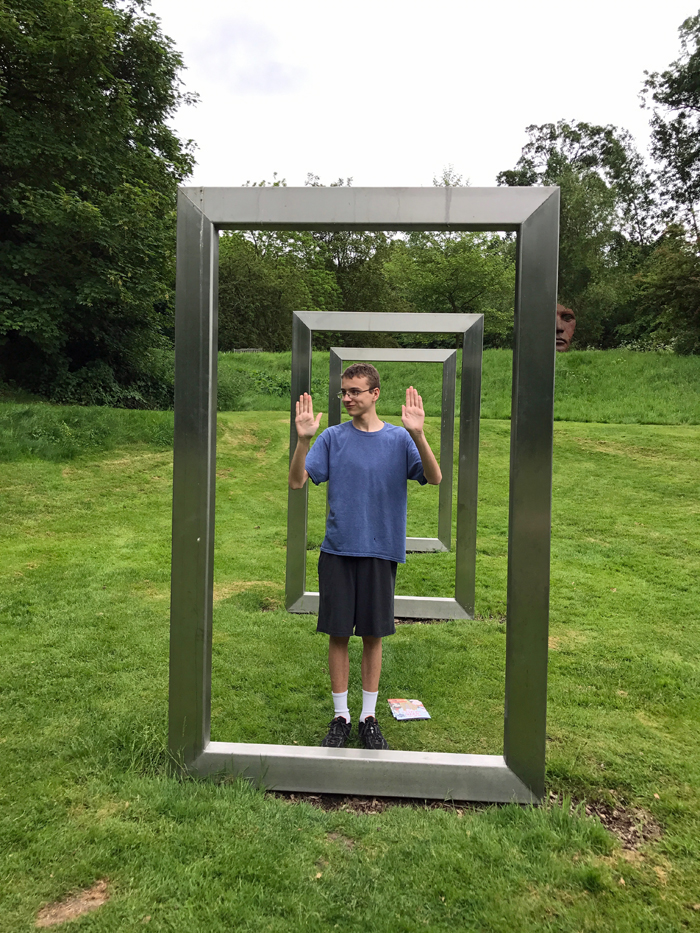 A walk through the gardens is full of surprises; the Sculpture Garden is filled with unique structures.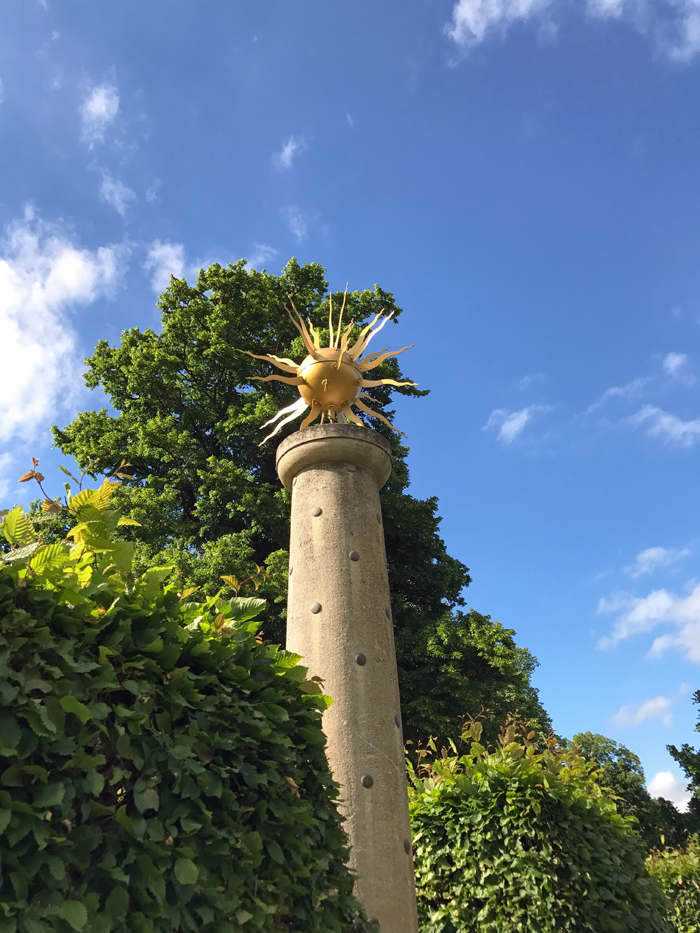 The Garden of Surprises, a modern day splash pad, is inspired by Elizabethan water gardens. Such a fun place to spend an afternoon, particularly once the sun decides to come out!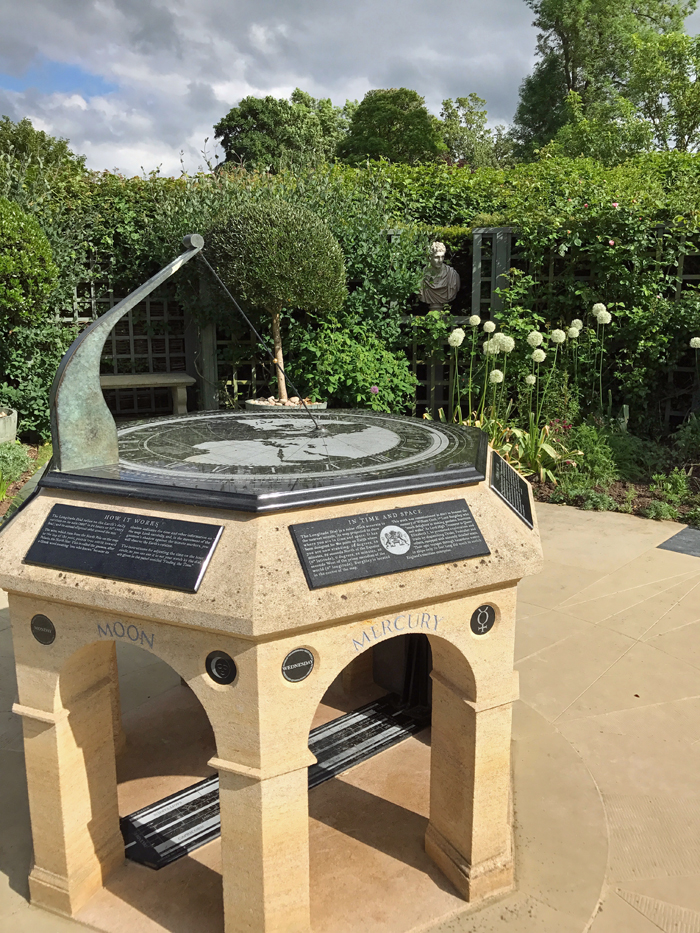 Our afternoon at Burghley House was super fun. If you're ever in Lincolnshire, please add this to your itinerary. And if you're headed north to York, be sure to go to the Staunton Arms for a meal. Seriously, the best birthday meal I've ever had, as it was one of the best meals of my life!