Tips for a Budget Friendly Thanksgiving Dinner (Eat Well, Spend Less)
As an Amazon Associate I earn from qualifying purchases. For more details, please see our disclosure policy.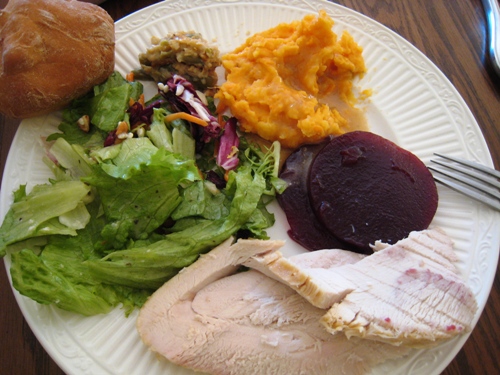 As I mentioned yesterday, Thanksgiving Dinner is an all-time favorite at our house. My kids start dancing and breaking out in song when they see anything remotely resembling mashed potatoes, gravy, cranberry sauce, and oh yeah, the turkey. We have a smaller version of that meal throughout the winter and there are rarely leftovers.
But, having lived through some really tight times, I am aware that hosting a big holiday dinner can pinch the wallet. You want to be hospitable. You want to splurge. But, if you're really serious about sticking to a budget, that can be a tough thing to pull off.
While November is traditionally the month for fantastic stock-up sales, I'm not really seeing that in my local stores. In years past I've seen free turkeys or $5 turkeys abound. This year? Not so much. In fact, one store I went to recently didn't even have turkeys in stock. And many of the "bargain" turkeys that I did find were chock full of solutions and foreign substances.
Likewise, potatoes, onions, baking ingredients, and other traditional ingredients, are not yet low enough in price for me to call them bargains. There's still a week until Turkey Day. I am hoping that tomorrow's food section and the accompanying grocery ads will bear better news, but as I've said before, "I will not go quietly."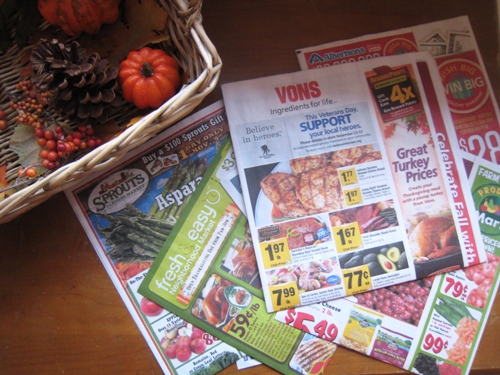 So, what's a girl to do when the prices are a little too high for comfort?
1. Consider your priorities.
Thanksgiving Dinner is a big deal. For some families it's the one time that you get together in the year. For hobbits like mine, it's an occasion for feasting. But, that doesn't mean you have to go all out and make everything. What are non-negotiables on the meal plan and what can you omit without a riot?
The other day on Facebook, I suggested opting out of turkey (due to my aforementioned frustrations of the costs of a quality bird) in favor of a less expensive main dish. Chicken breast is 99 cents/pound in my neck of the wood and still goes with the traditional side dishes. I figure the Pilgrims would have eaten whatever was readily available.
Some folks had no problem with it, others thought it was near blasphemy to lose the turkey. My son, the gourmand, merely shrugged his shoulders. Find out what works for YOUR family.
(If you haven't already, download this FREE booklet designed to help you determine your holiday priorities this year.)
2. Make a menu plan and a grocery list.
Don't think that you can run to the store and just grab whatever. It certainly can be done, but you'll pay more than you should or even want to. So, write a thorough menu plan right down to drinks and appetizers. Double check your list and see if you could serve a lower priced alternative. Consider that maybe two desserts would be just as good as four. Audit yourself so that you are planning a pleasing feast that won't make you a pauper.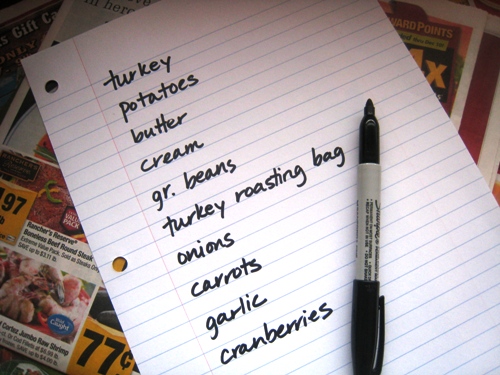 Once you figure out what you want to serve create a grocery list, consulting your pantry and freezer as you go. You may not need to buy as many ingredients as you think if you know you can shop your pantry first.
3. Find the best price — on most things.
Unless you have endless time and gas at your disposal, you realistically can't get every good deal there is. Nonetheless, scan your grocery stores' flyers and narrow down what the best prices are in each store. Then find the store with the best deals for most things. Get the biggest bang for your buck. Don't be afraid to buy a generic equivalent on the things that are lesser in priority.
4. Accept help.
If you are hosting a big dinner with guests who are offering to contribute to the meal, let them! There's no rule that says you have to do it all yourself. The Pilgrims and the Native Americans both contributed food to the feast. Folks love to share food and lighten the load on the hostess.
5. Remember, "Enough is as good as a feast."
I am the first one to admit how easy it is to go overboard at the holidays. This year, however, I'm trying to celebrate a simpler season.
It really doesn't matter if you have three kinds of breads, four different appetizers, and ten desserts. Thanksgiving is not about impressing. Rather, it's about enjoying the bounty you've been blessed with. Some years there is plenty, and some years there isn't.
And that's okay. Enough is as good as a feast.

This post is part of an ongoing series about how to eat well and spend less. Along with some fabulous foodies, organizers, and frugalistas, I've been bringing you suggestions on how to eat like a king without becoming a pauper to do it. This month we're discussing how to celebrate Thanksgiving on a Budget.
Be sure to check out what the other ladies are sharing this week or browse their archives:
How do YOU make Thanksgiving Dinner budget-friendly?