Our Visit to York: Things to See and Do
As an Amazon Associate I earn from qualifying purchases. For more details, please see our disclosure policy.
Planning a trip to the UK? Why don't you visit York? It's a beautiful medieval city with loads of amenities and things to see and do.
I'm back today with another installment of Our Epic Road Trip to Great Britain! And you are in for a treat because we are heading to the lovely city of York! York was one location that was highly recommended to us when I asked you all for travel suggestions, so thank you! We had a lovely time in the city.
York is compact enough that you can easily walk lots of places. With its medieval buildings and neighborhoods, including much of the original wall still in tact, it's a great town for walking, exploring, picnicking, and people watching.
I'm not sure it's entirely big family-friendly, though. As soon as we parked our car the first afternoon, we got some dirty looks and comments about the size of our family from an old man at a cafe. Sigh. I guess it's everywhere, isn't it? Thank the good Lord my children were better behaved than he!
Why Visit York?
York has a little bit of a Disneyland feel to it. So many people flock to this city to experience a little of history, enjoy lovely cafes and tea shops, and check out the museums and exhibits.
Where we stayed in York
We did things a little differently in York as opposed to the preceding destinations; we rented a holiday apartment. Two apartments, actually. It was rare to find affordable accommodations for all 8 of us in the UK, so in York we rented two tw0-bedroom apartments, one for the boys and one for the girls and parents.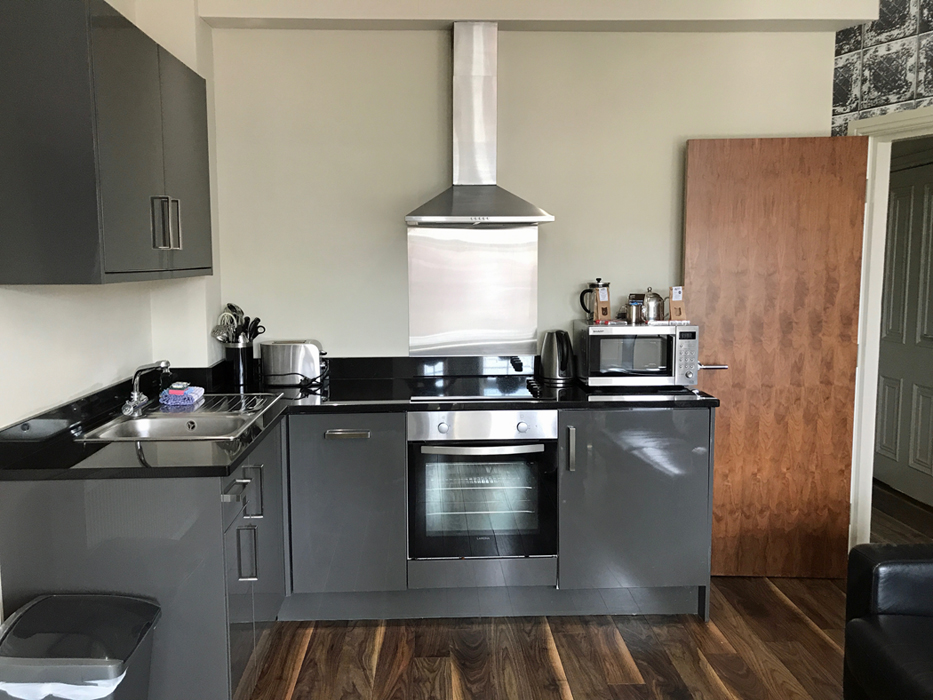 The Clearly Holiday Apartments in Bootham Crescent were a little bit of a stretch for us budget-wise, but we wanted to get a taste of all the different options. So far in the adventure, we'd been to Premier Inns in London and Cambridge as well as an inn in Staunton-in-the Vale.
The units were exactly as we hoped they would be, clean and tidy as well as furnished with everything we needed. The shops were only a few minutes' walk from the building, so we basically parked the car for a few days and walked everywhere we needed to.
Did I mention that walking was a theme of this entire adventure. My activity tracker reported that we AVERAGED five miles a day walking. It was awesome.
What we did in York
We walked a lot!
York is one of the few medieval cities with most of its wall still in tact. It's chopped into a few parts, but you can still roam the ramparts just as they used to do in the very old days. Here's a view of York Minster from the section of the wall closest to our apartment. I think we walked the wall almost every day!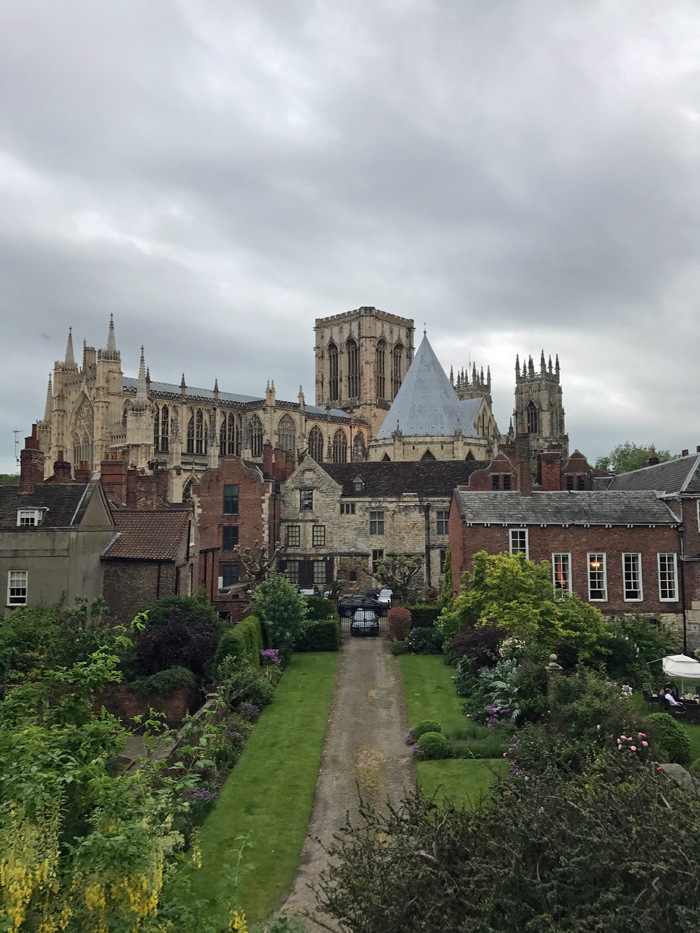 One night we walked the other side of the wall, the moat side. And of course, that would be the night that FishChick8 FELL IN THE MOAT. There are no crocodiles in the moat, no water either. But, there are stinging nettles. And my highly allergic girl would, of course, react immediately. It makes a great story. Now.
We picnicked.
As I've mentioned before we had very un-English weather for our month in the UK. We had rain, yes, but there was never a day when we didn't see sunshine and most days were dry when we wanted to get out and about.
Here we are enjoying Pret a Manger along the River Ouse.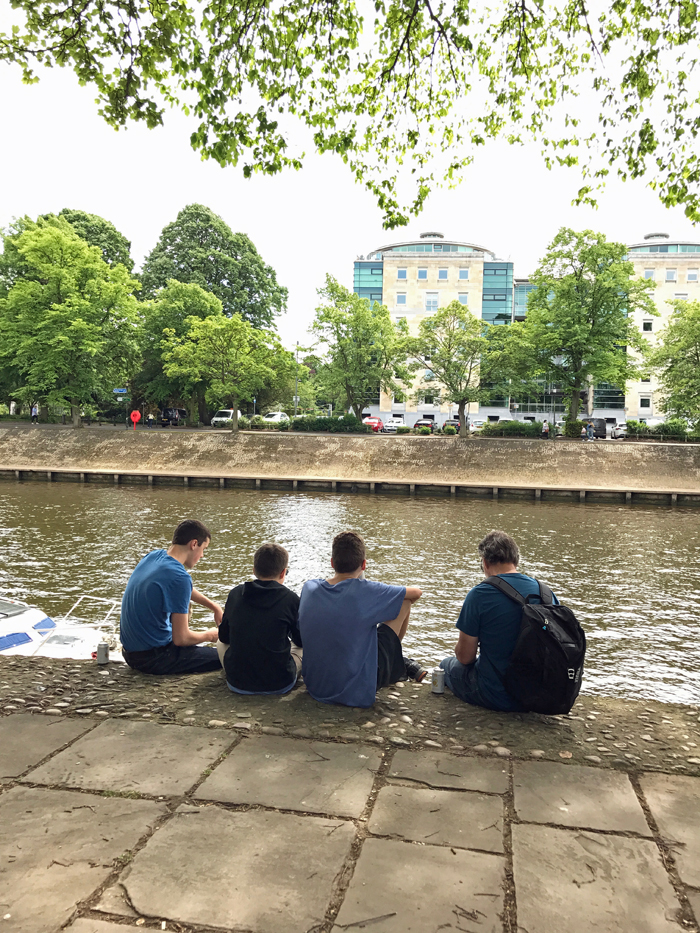 We saw the sites of York
Thanks to the lovely people at Visit York, we received complimentary visitor passes which allowed us to visit a number of attractions and museums as well as take a City Sightseeing Bus Tour. My people LOVE these bus rides. We did one in London back in 2014 to great reviews, and the kids were eager to do it again in York.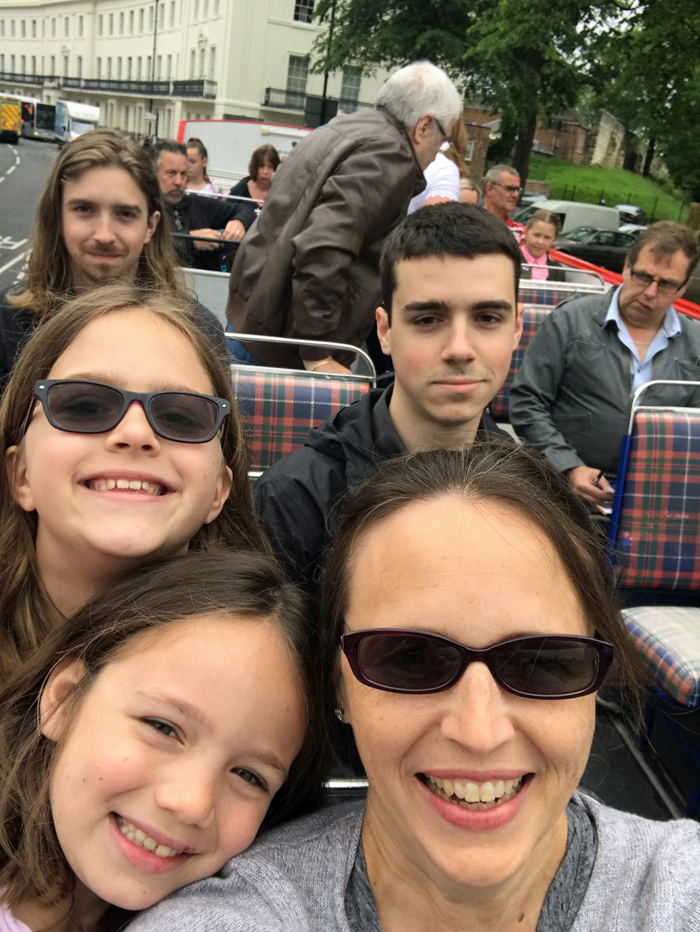 Hoho (hop on, hop off) buses as they're called allow you a tour of city, best from uptop the double decker bus. The bus stops at different sites so you can get out and see them, and then hop on the next bus when you want to move on. We tend to just stay put and get the full tour of the city.
The visitor pass includes entrance to the York Chocolate Story. Many of the candies and chocolates that are famous worldwide, like KitKat and the Chocolate Orange, were born in York. The Chocolate Story teaches you about the history of chocolate making in York, provides free samples, and lets you make a chocolate lolly. The girls and I had a fun time spending an afternoon there.
Warning: the lines are long and the method of securing a reservation is vague at the Chocolate Story. The day we went, we stood in a long line to get a reservation to come back later, and then wait some more. Pack your patience.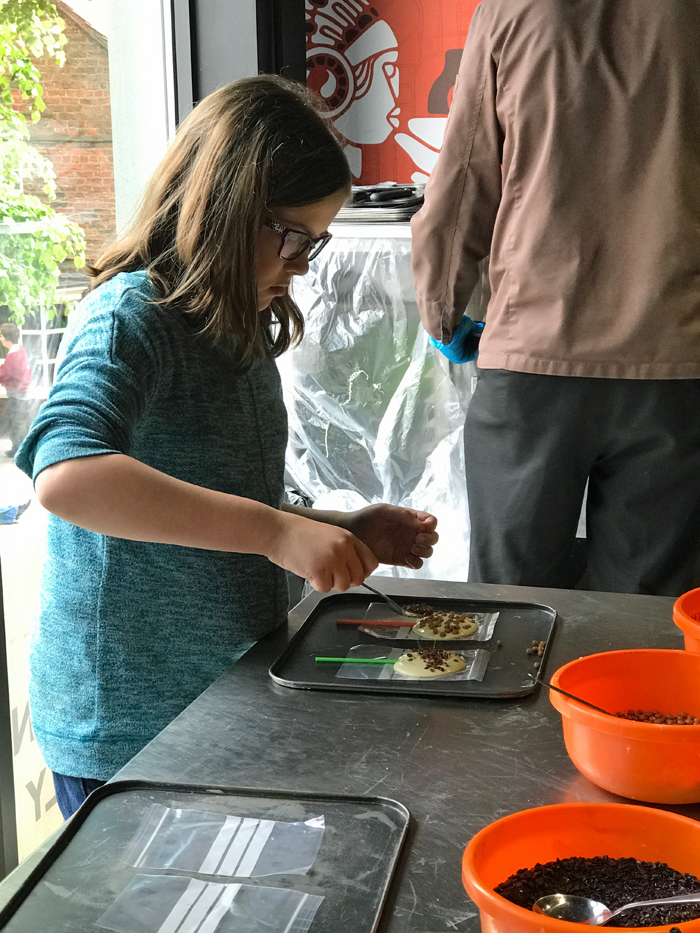 The visitor pass also includes entrance to York Minster, a beautiful medieval cathedral. Our visit was timed perfectly so that we could join a family tour and learn some of the lesser known tidbits that you might not otherwise know in just walking through the minster.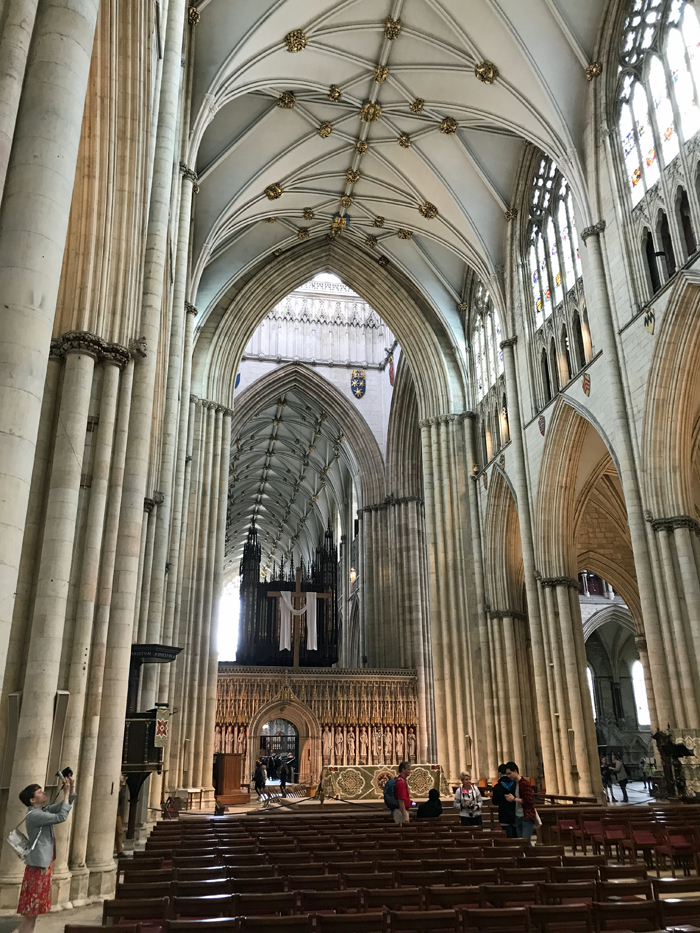 The gardens around the Minster are beautiful as well. One difference between Europe and here is that there are numerous war memorials. Perhaps if we lived there year-round, I'd become immune to them, but I found them to be poignant reminders of those who gave so much.
One free site in York is the National Rail Museum. Again we lucked out with a personal guide. Richard was a volunteer docent who didn't want to sit at a table all day, so he escorted us throughout the museum, explaining the history of all the different trains.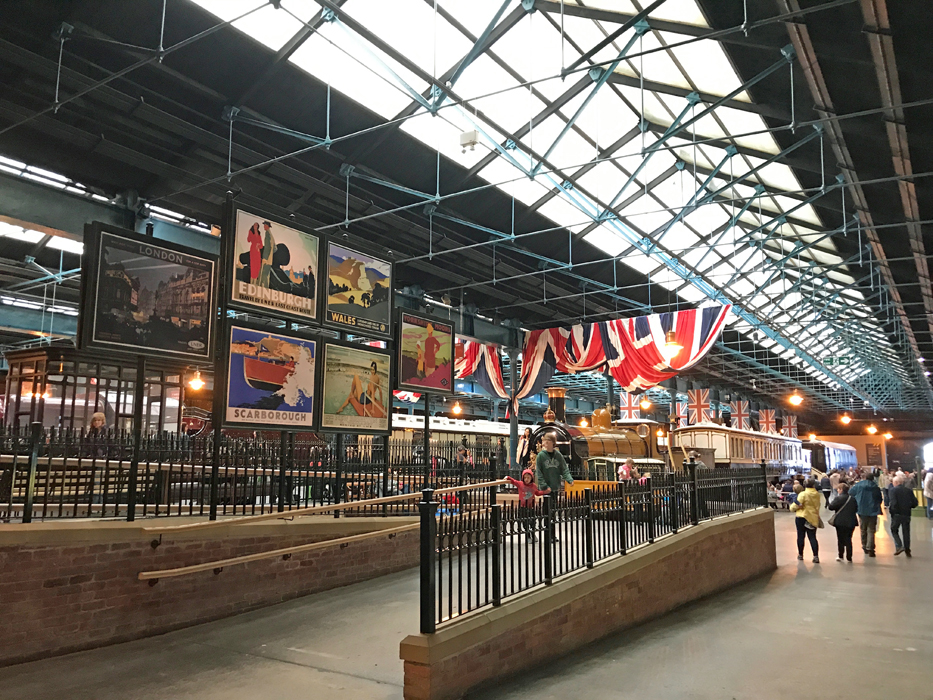 As with many of our other outings, the Rail Museum is one that could easily take a day. Be sure to pack snacks because I promise you will get hungry!
Speaking of which…. it was hunger that led us to one of our best culinary memories! Obviously in York,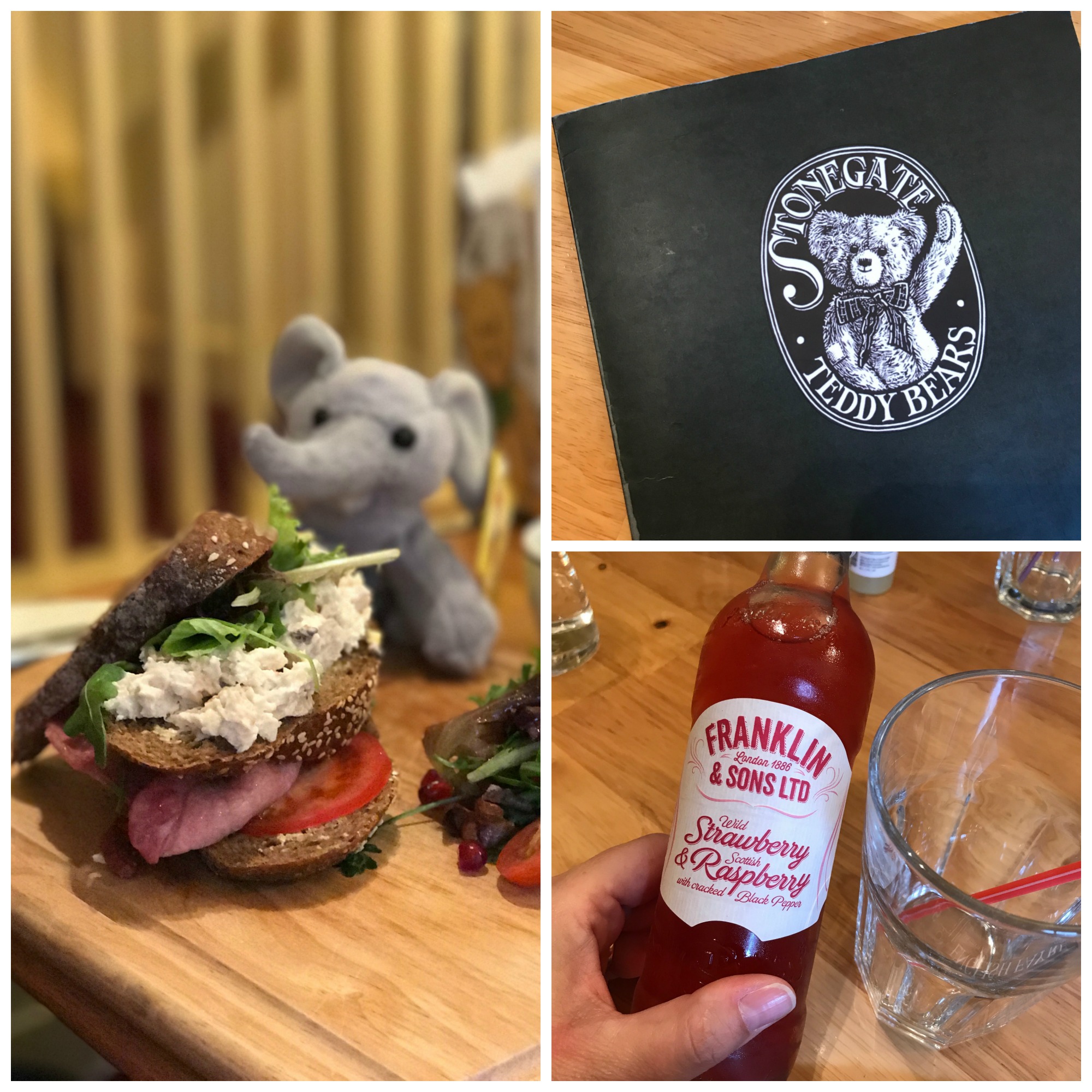 We ate well.
After the rail museum, I scrolled through Trip Advisor looking for a good place for lunch. It led us to the Teddy Bear Tea Room, a wonky little restaurant upstairs a tiny, winding staircase from a teddy bear store. You would have NO IDEA it existed if it weren't for Trip Advisor.
The food is amazing! Even my manly men enjoyed their meals at "the teddy bear place". So much so, some of us went back the next day. I even recreated our favorite Chicken Salad Club at home.
Pret a Manger was awesome in York, as was the local Zizzi.
All in all, we had a great time in York. It's definitely a tourist town. Don't expect quiet, empty streets. There are lots of things to do because there are also lots of people there. But, if you plan well, you can have a great time.
Special thanks again to Visit York for the complimentary visitor passes. Rest assured that all opinions are my own. Our whole family has great memories of our time there.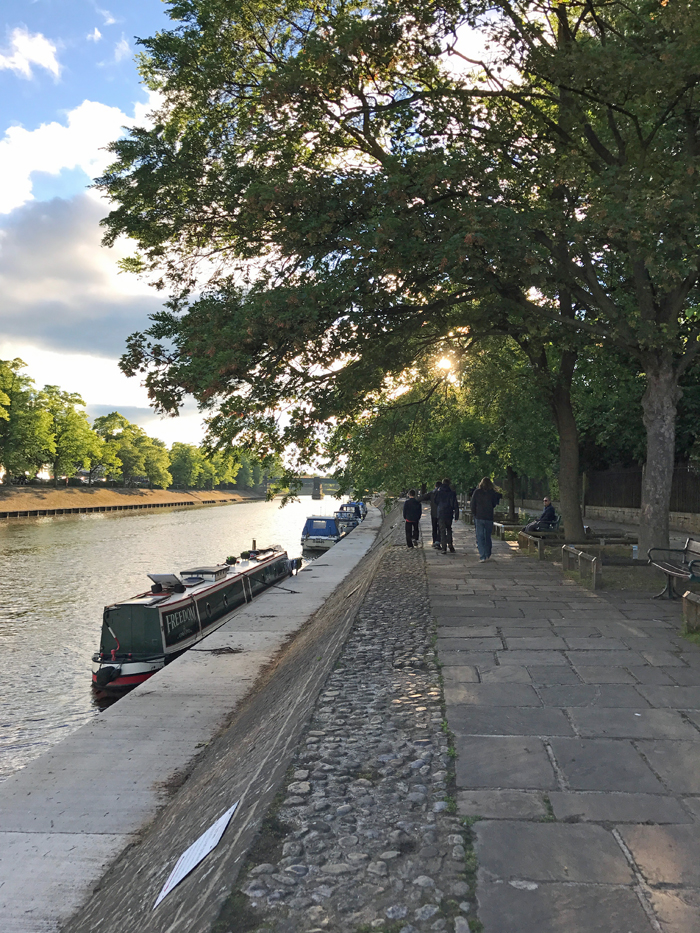 P.S. I am going to try to whip the remainder of my UK posts out in quick succession now that I've got my back against the holiday wall. I don't want these moments to get lost in the shuffle, so you may see more than one a week this month. If you're not into travel posts, you can head here and learn how often to vaccuum. 😉