Clothing Your Kids Without Losing Your Shirt
As an Amazon Associate I earn from qualifying purchases. For more details, please see our disclosure policy.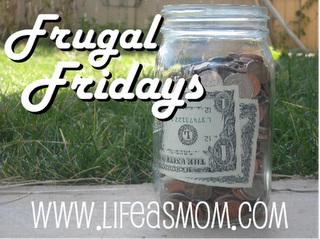 One of my back to school highlights as a child was going "back to school" shopping. Granted this was in the 80's before the internet allowed all sorts of information and online shopping. And I was not frugal unless I wanted to me.
In fact, having grown up in a suburb of Los Angeles, just a stone's throw from Hollywood, I drooled over the Guess jeans and the Swatch watches that I never owned. And, I've lived to tell about.
Thankfully, my boys aren't into too many "status" items, except maybe video game stuff and those they pay for themselves. But, what if I have a daughter like I was?
Heaven help me!
But, seriously, what's a mom to do when a kid wants expensive clothing that simply isn't in the budget?
Here are some ideas I've thought of, and I hope you'll add some in the comments.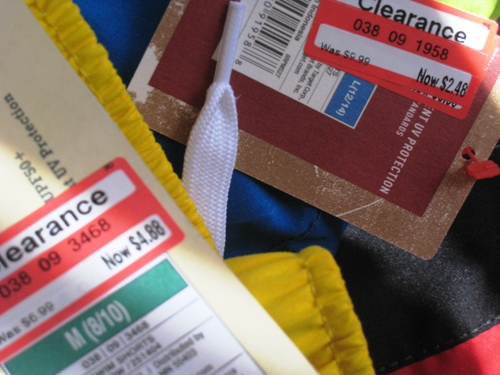 1. Shop clearance.
I do this all the time, brand name or not. My personal favorite is Target, but I know that even more upscale stores offer clearance sections. Recently, I found next year's swim trunks for the boys as low as $2.48. I bought four suits for the price of one at full price.
Make it a regular habit to browse the stores your child likes and find classic pieces (read: those that will last the year, fashion-wise) at low prices.
2. Browse thrift stores and garage sales.
My friend Jen has unbelievable skills when it comes to finding treasures second hand. She is, indeed, a frugal fashionista. I know from her experience that there is a wealth of gently-used clothes waiting just for the taking.
3. Keep up with online deals.
There is no shortage of deals to be had if you follow what's cheap online.
Sign up for Swagbucks and buy clothes for free on Amazon.
Make online purchases via Ebates or ShopatHome and get cash back on internet orders.
4. Make your kids buy their own.
Seriously, people, just because our kids want something, doesn't mean they have a God-given right to have it given to them. As parents, we have a responsibility to clothe our children with clean, decent clothing. But, nowhere in the parenting contract does it say that you have to buy them the latest and greatest, especially if you don't have the funds.
Kids who are old enough to have specific clothing desires are old enough to earn money to make those purchases themselves. And if they have to hand over their own hard earned cash, they may be more likely to see the wisdom of frugality.
What do YOU do to save money?
Share your favorite money-saving ideas today. Leave a link to a post that shares some frugal wisdom. (Please no giveaways or deals posts. Teach us how to fish!)