Family Films that Were Better Than I Expected
As an Amazon Associate I earn from qualifying purchases. For more details, please see our disclosure policy.
Looking for a new movie to watch as a family? Here are some family films that surprised us.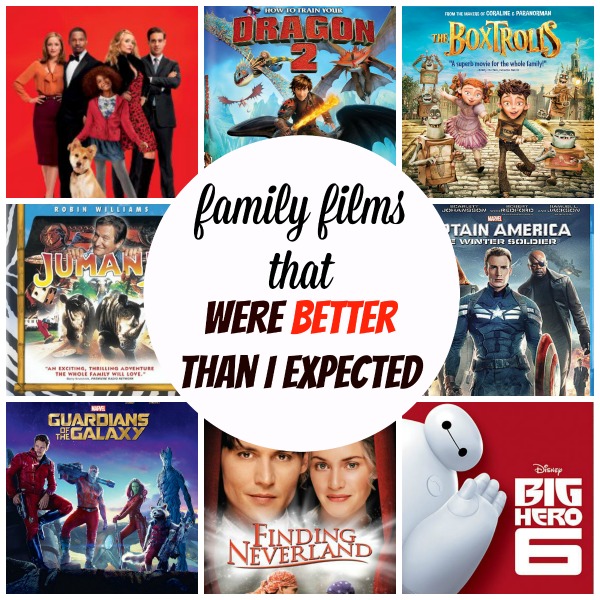 As you know, our family is a movie family. We always have been, probably because we've only had cable for three out of the last 21 years. TV's not our thing, but movies are.
I don't realize how MUCH we are a movie family until I ask for movie recommendations. Typically, we've seen everything new that's out. This week is the first time in awhile when we have several in the queue for future watching, including Night at the Museum: Secret of the Tomb and Penguins of Madagascar.
We have a collection of family films that we love and are happy to rewatch. Last weekend we watched the original Star Wars. Over the years we've relied on classic Disney films a lot. The challenge is that I want everyone to watch the movie together! We're a little hard pressed to find new films that everyone likes, from 6 to 52 with lots of teenage boys thrown in the mix.
I guess that's the season we're in. In ten years, that probably won't be a problem.
Family Films that Were Better than I Expected
That said, here are some films we've watched recently that were better than I expected them to be.
This is an old movie, like ten years old, but I guess we were desperate one night and it was free. Turns out it was really good! Johnny Depp plays J.M.Barrie, British playwright and the creator of the Peter Pan story. I bawled my eyes out at the end, so have kleenex.
Though it is sad in parts, Finding Neverland is also very funny and cheerful.
Robin Williams was a mainstay in my childhood, from Mork to the Genie, his voice is one that brings back a flood of memories. I am saddened at his tragic passing.
For whatever reason I'd never seen Jumanji. The littles were a little creeped out in parts, but no one fled crying. And it kept the men in the household (12 and over) engaged.
So yeah, I'm a little late in the game reporting on Captain America 2 which came out late last spring. We don't own it yet, but I want to. I love it a lot. It's clean but continues that Marvel Universe story in an exciting way.
I was super duper skeptical about Guardians of the Galaxy. It just seemed a little too comic-booky.
It is, but I liked it all the same. In fact, it had us talking about it for days. The soundtrack is amazing. We bought that the first night. It just seems to make us all smile. Weird, I know.
Now when I told my husband about sharing this movie on the list, he said, "But that has bad language in it." Hmmm…. yes, it does. I kinda blanked on that. So, use your judgement, as always, to preview films you might find objectionable or search a website like PluggedIn.com to get more detailed feedback about a movie.
As they say in the commercials, your mileage may vary.
I saw part of How to Train Your Dragon 2 on the plane coming home from England. Part. The plane descended at the most. important. part! Good thing, I didn't have any tissue. It's a tear-jerker, but it's good.
Disney has done a few reboots of classic animated films. Tim Burton's Alice in Wonderland is a great retelling, as is Maleficent. I was sent the blu-ray to review a few months back and was pleased to see it. The kids and I have watched it several times. It's a very well-done retelling of the original story.
It's got some great twists — and the truth behind true love is beautiful. Again, kleenex.
We originally saw Big Hero Six at the movie theater with my parents and sister and her family. It's a good story — grab the tissue box. Again.
It's like Marvel and Disney got married and had a baby. Which is true. Be sure to watch the extra scene, Marvel geeks.
Everyone I know calls this movie Annie, the new one. To differentiate it from the original film based on the Broadway musical. They movie people sent us a copy to review. I had low expectations but I knew the girls wanted to see it. They were thrilled when the Blu-ray arrived.
I was really surprised at how good it is. There are many of the same songs, so if you watched red-headed Annie a million times like I did, you'll be able to sing-along. Cameron Diaz is a great nasty Miz Hannigan. Two thumbs up. It had us singing the songs for a week!
The Box Trolls, really? From the cover, it just looked dumb. But the girls really wanted to see it, and FishPapa is a softy so he picked it up at Redbox when he was taking back a different movie.
Knock me over with a feather. This claymation movie — yes, claymation — is really good. A boy raised by trolls returns to his village that has villanized trolls because of his disappearance. Super interesting. And a little gross.
I took the girls to see the new Cinderella on opening weekend. It's only $6 if you go to the first showing, so it wasn't a bad deal for the three of us for a special outing. As with Alice in Wonderland and Maleficent, Disney's live-action reboot of Cinderella is a good one. Great message, beautiful costumes and sets, and great casting. While it might be too pricey to see it in the theaters, it's worth the rent when it hits disk. I think boys would like it, too.
(Marvel geeks such as myself will be pleased to see a blond Agent Carter/Hayley Atwell play Cinderella's good mother.)
I don't know what it is about me. Now that I've told you about these films, I realize how MUCH I cry at movies! Heavens!
Anyway, these ten films were great to watch with my family. All of them were better than I had hoped they'd be, and I'd watch all of them again sometime.
Since our queue of family films to watch is getting pretty slim, I'd love to hear your recommendations for movies that you've enjoyed with your kids.
What family films have surprised you recently?