Our European Vacation: The Loire Valley
We are a participant in the Amazon Services LLC Associates Program, an affiliate advertising program designed to provide a means for us to earn fees by linking to Amazon.com and affiliated sites. We participate in other affiliate programs as well. For more details, please see our disclosure policy.
Last fall we spent a month abroad where we visited London, Paris, and a handful of cities in Western France. We explored, rested, and learned a ton about ourselves and the world. This is the fifth installment of our European adventure. If you missed it, go to the beginning here.

You didn't think I was done with the vacation saga, did you? Oh no, I think we're only ten days in right now. We've got three weeks left to go!
When last we left you, we were leaving Bretagne and the Mont Saint Michel. It had been a cold, blustery day. By the time we left Fougeres, a little castle town about 45 minutes away from the mont, we were pretty beat. We headed to our next hotel stop in Le Mans.
An Evening in Le Mans
The hotel, interestingly enough was located on a residential street. The history behind that would be  fascinating, I'm sure. The reviews on Trip Advisor and Booking.com said that the reception would be very welcoming. We had two rooms on the "garden level", read: basement. But since the windows were such that you could be doubly secure with shutters, I didn't worry too much about being on the ground floor.
Once we unloaded, we left in search of the bank and dinner. Again, the fact that we had no data service to my phone caused us some great consternation. We kept passing the same lady and her four children in our attempts to find the right street based on Google Maps directions that I downloaded at the hotel.
In order to avoid Bank of America bank fees when we withdrew cash, we only did so at BNP Paribas. We never had trouble locating one when we needed one, but getting there without GPS was sometimes an adventure.
Once we got cash, we should have gone to the nearby grocery store for supper and returned to the hotel. Instead we drove around in circles without a map, looking for a decent restaurant. At some point during the adventure, McDonald's counted as a decent restaurant. Needless to say, parental tension ran high, but the kids were absolute champs. Not once did someone complain.
When we finally made it back to the hotel, we asked the clerk to order a pizza. It seemed like things would be fine. However, when an hour or more had passed and the pizza hadn't arrived, well, another call to the clerk was necessary before dinner came. Several children were still sick at this point and we were all starving. They scarfed down the worst pizzas we ever ate in our lives.
But again, no one complained.
(Yes, I do have great kids.)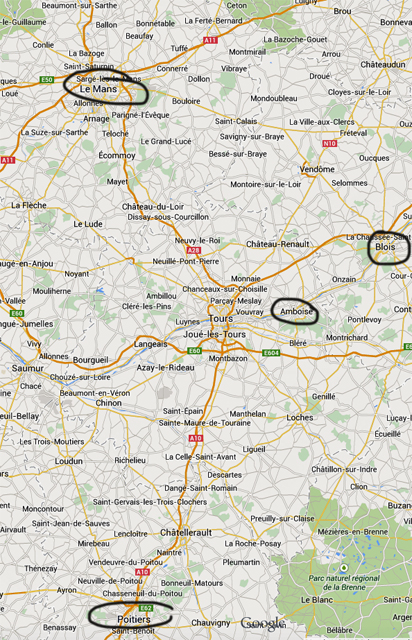 The Beauty of the Autoroute
The next morning we headed to the Loire Valley; I don't even remember what we had for breakfast: cereal bars and fruit, I guess. Our goal of the day was to visit two Loire chateaux: Chateau d'Usse, a Sleeping Beauty castle, and Chateau du Clos Luce, the last home of Leonardo da Vinci. However, the fates of French roads had other plans.
Thanks to a very large truck blocking my view of the exit sign, we missed our exit on the autoroute and spent two hours going the wrong way! Exits on the autoroute can often be few and far between. We learned this the hard way. We ended up in Blois, miles north east of our destination. When I tried to set us onto a scenic route toward our destination, it turned out to be a bike path. Yikes!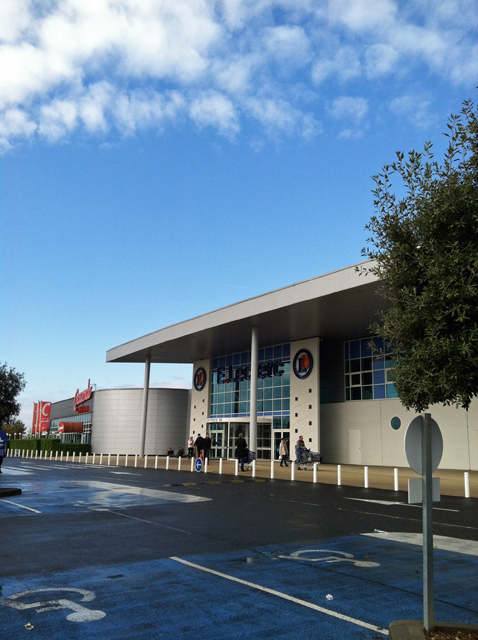 Right about that time it started to pour rain. We saw a LeClerc sign, E.LeClerc being our mecca for hot coffee, food, groceries, and bathrooms, and decided to chase it down. The signs took us on a seeming wild goose chase through Blois.
We found LIDL/ALDI which I don't like in the States, but I made my husband stop anyway. We were very grumpy with each other and running out of fuel. Both literally and figuratively. Crabby and hungry and pouring rain don't make for a great combination.While I thought LIDL would be a "bird in the hand" in terms of food, I didn't like it at all. Sorry Aldi fans.
Finally we found the elusive LeClerc with a gas station and a large shopping area. We stocked up on snacks, but for some reason we didn't grab lunch. For whatever reason, despite the fact that FishPapa hadn't eaten McDonald's in TWO years and never really liked it to begin with, he really had a craving.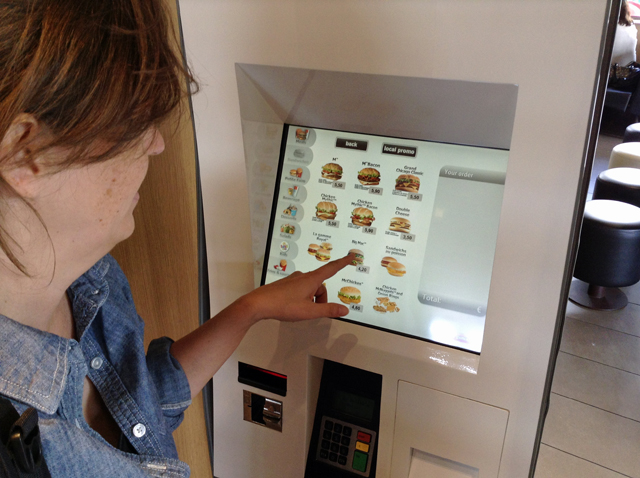 We should have grabbed lunch because a French cafeteria would have been better than the McDonalds in Amboise. But the ATM ordering machine was cool even if the food was not up to French standards.
We ended up ditching the idea of Sleeping Beauty's Castle since we wasted half the morning spinning our wheels on foreign roads.
Il fait beau maintenant.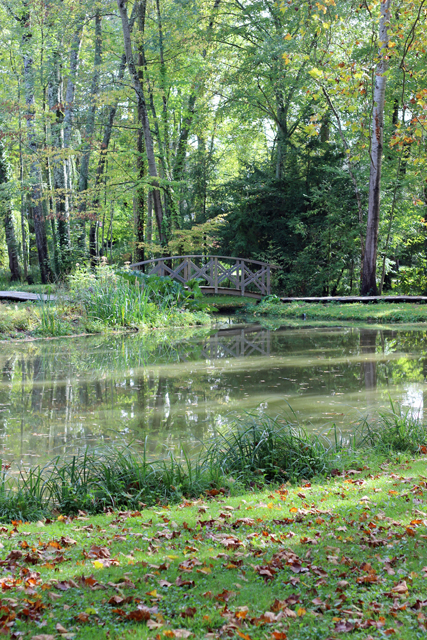 After another few wrong turns, we made our way to the Chateau du Clos Luce. Rain ended just as we arrived at the chateau in Amboise. While FishPapa parked the car down the hill, I sought out tickets. Standard procedure is to view the chateau first and then explore the extensive park with life-size models of Leonardo's inventions.
Since I was so worn out from the rain and the grumpiness of the morning, I asked the attendant if we could tour the garden first and save the chateau for later just in case the weather turned. Both she and the gardener were stunned that I would think that the weather could turn poorly. Ha! It was the best decision I'd made all day.
The park was absolutely beautiful.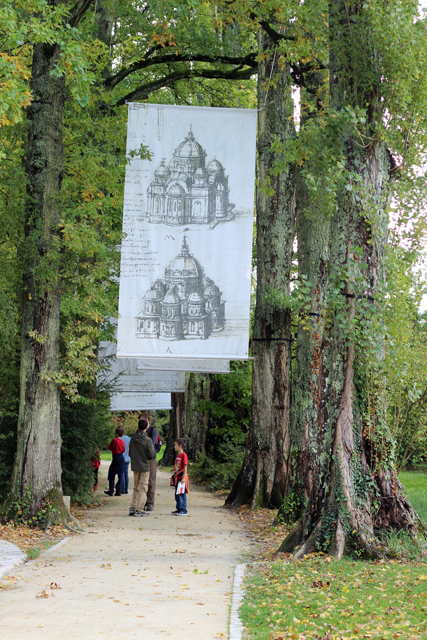 It was stunning to see artwork in a pastoral setting. Really amazing.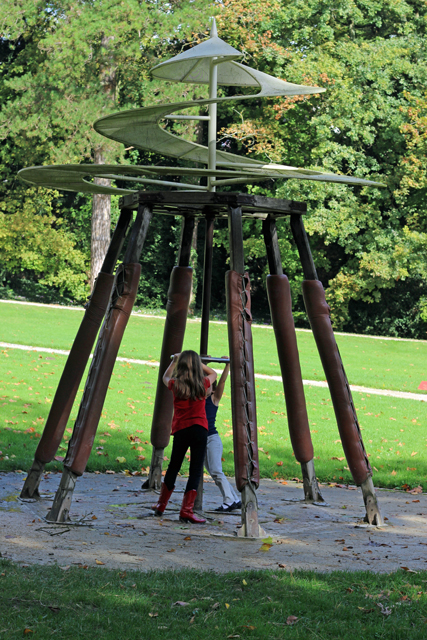 The helicopter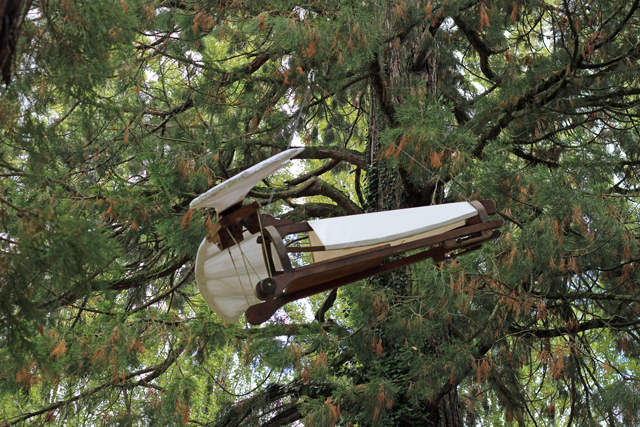 The airplane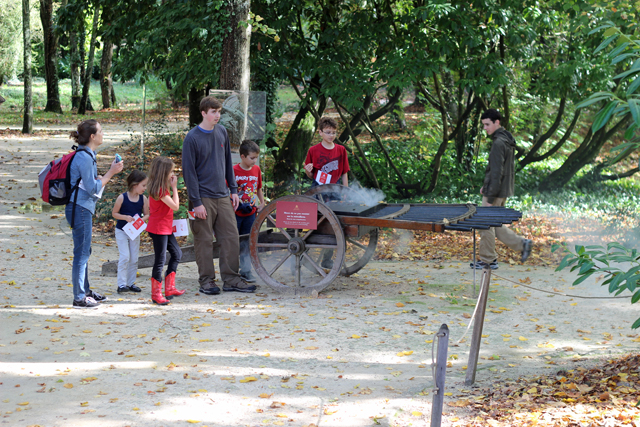 The machine gun
And, yes, I carried all our "necessities" on my back. FishBoy17 often shared the load. Sweet kid.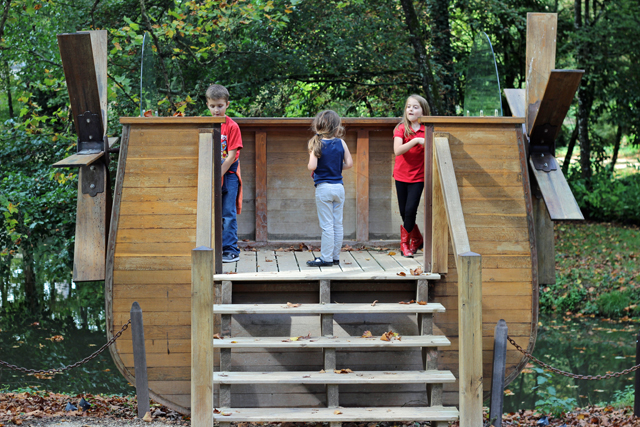 The paddle boat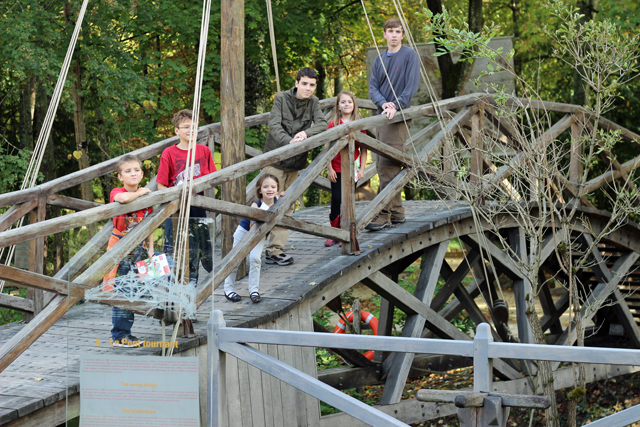 The drawbridge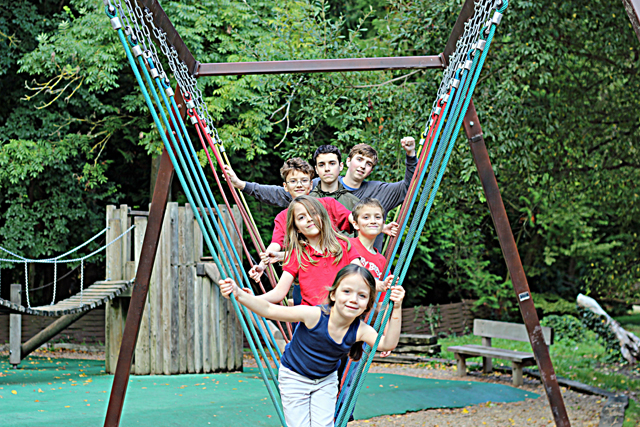 The playground was awesome. All the kids loved the battering ram. They could have stayed there for hours longer. Wish we had!
Clouds returned as we finished in the park. It was such a lovely respite from the chaos of the day. The chateau itself was so-so. da Vinci was not the only person to live here. It had belonged to French royalty. The tour of the home paled in comparison to the garden.
Afterward we headed for the art gallery which we had paid extra for. If you go anytime soon, you can skip the art gallery. It was even less impressive than the house. There were not da Vinci pieces, but pieces inspired by him. The video and tour were only in French, so it was kinda a waste for my family.
Shortly after we entered the gallery we noticed that FishChick8 was lost. Somewhere between the house and the art gallery she had fallen behind. It was a scary ten minutes or so until we found her.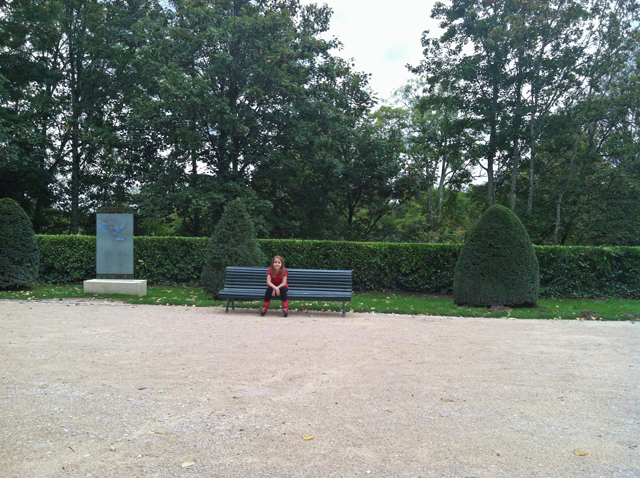 Unfortunately, the experience of being lost has ruined her memories of the chateau. It was a scary time for both of us.
Clearly it was time to go. Rain started again as we left. In fact, pouring. So glad that we didn't wait to see the garden! We hopped in the car and headed for Poitiers. Rain. Rain. Rain. All the way.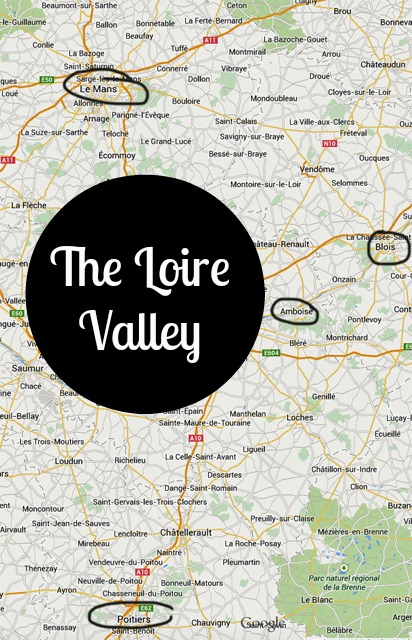 The nitty gritty details of the Loire with kids
Accommodations in Le Mans
We stayed at the Hotel De La Pommeraie in Le Mans. The rooms were clean though very different. One had hard floors, the other carpet. It's nothing fancy, though there is a nice lawn with a play area for kids. It was too cold to play that day. It was fine for our purposes. We had two rooms for one night only.
Total spent: 190 Euros or $244.79 
Transportation
We gassed up in Blois at the E.Clerc.
Total spent: $143.14
Food
Pizza in LeMans – I can't even remember. I paid the delivery guy cash, maybe 20 euros?: $25.77
Groceries in Blois (LIDL and ELeClerc): 36 euros or $46.38
McDonald's in Amboise: $47.81
Total spent: $119.96
Amusements
Tickets for the Chateau du Clos Luce (63 euros with big family discount)
Total spent: $79.30