Stock Rotation and Pantry Organization: A Guest Post
As an Amazon Associate I earn from qualifying purchases. For more details, please see our disclosure policy.
One of the beauties of the blog world is the friendships that are to be had. I'm so amazed at today's guest post. Lynn from Lynn's Kitchen Adventures was one of the first readers and commenters of this blog, almost two years ago. Today we have a long-distance friendship. Here Lynn shares a great tip for helping you organize your pantry and rotate your stock of groceries.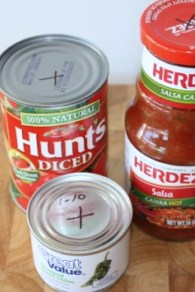 One of the things that I struggle with in my kitchen is keeping my pantry organized and my stock rotated. It seems like a constant battle. My main problem is that I like to stock up on things when they are on sale. If I find tomato sauce on sale for 4/$1.00, I might buy 20 cans. My goal when I get home with my 20 cans of tomato sauce is to put them behind the 4 cans that I still have in my pantry, in order to use the older cans first. But, this does not always happen.
When I come home from grocery shopping, I am often tired and in a hurry. I also have a husband and three kids who sometimes help put groceries away. So, as hard as I have tried, the system of putting the new cans in the back does not usually happen.
I learned an tip from a friend that has simplified stock rotation. Not only is this a frugal thing to do, it is easy. Every few months, or even just twice a year, take a black permanent marker and put an X or a check mark on the top of all the cans and jars in your pantry like this.
You can even go a step farther and date them if you want. Once I mark all my cans, I can easily tell what cans are the older ones. If I have 3 cans of tomatoes, and I buy 2 more cans, I now know which cans I should use first: the ones with the mark on them.
If you have a very big supply of food in your pantry, it can be tedious and time consuming to mark all your cans. My solution is to give this job to my seven and nine year old children. I give them both markers, and they get the job done in no time.
–Lynn is a homeschooling mom of three. She loves to cook and try new recipes. She blogs at Lynn's Kitchen Adventures, sharing recipes, tips, and ideas to help you meld a love of cooking with a busy life.