A Whale Cake You Can Bake!
As an Amazon Associate I earn from qualifying purchases. For more details, please see our disclosure policy.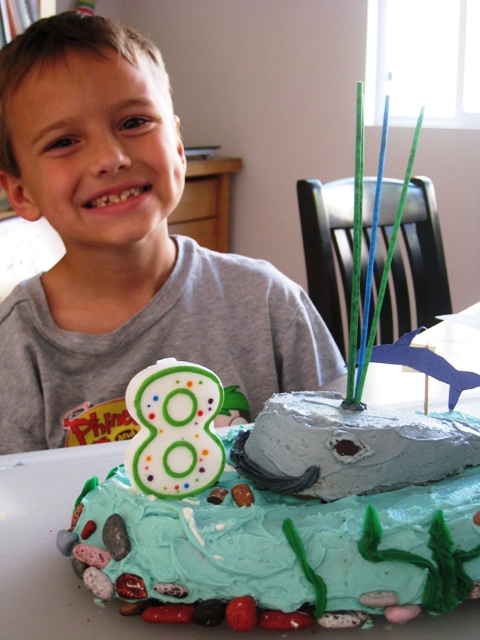 See this guy? He's my resident scientist/archeologist. He loves all things having to do with biology as well as historical artifacts. He devours nonfiction books like some read comic books.
So it was no surprise that he asked for another whale shaped birthday cake last month. Last year he also had a whale cake. And the year before he had a Beach Birthday Cake. I'm thinking I may have an oceanographer or marine biologist on my hands. Glad we live by the beach.
One of his stipulations was that he get a whale cake that was different than last year's. So after putting our heads together, this is what we came up with.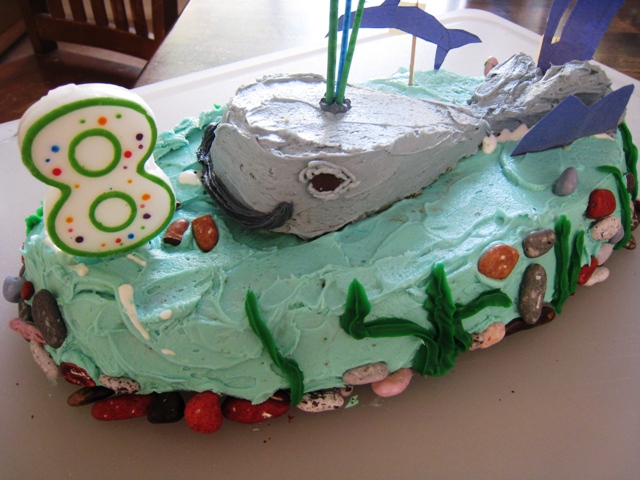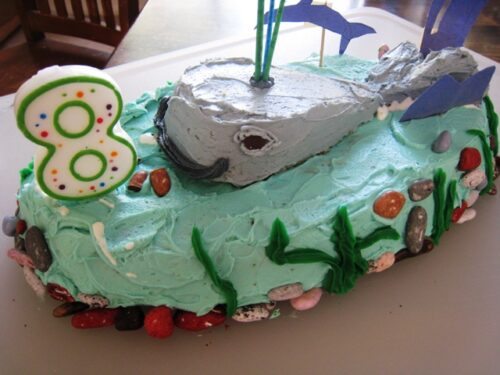 Ready to make a Whale Birthday Cake?
You can totally do this! You will need:
a cake mix, prepared according to package directions
a batch of Homemade Buttercream Frosting
blue, green and black paste food coloring
a large oval or rectangle pan
a small loaf pan
white and green can or tube frosting or extra buttercream and a pastry bag with tip
candy pebbles
blue construction paper waves and a dolphin, taped on toothpicks (FishBoy8's touch)
chocolate chips
tall sparkler candles
a number candle
(Forget the fondant, it just wanted to be in the picture.)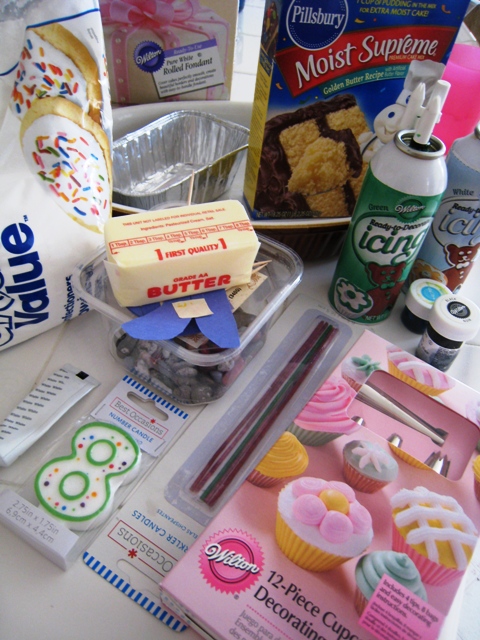 Bake your cakes according to package directions. If you are using odd shaped pans like I did, check every so often for doneness. Cut the small loaf pan to resemble a whale, as shown below. Divide your buttercream into two bowls and tint part of it Grey and the other part Ocean Blue.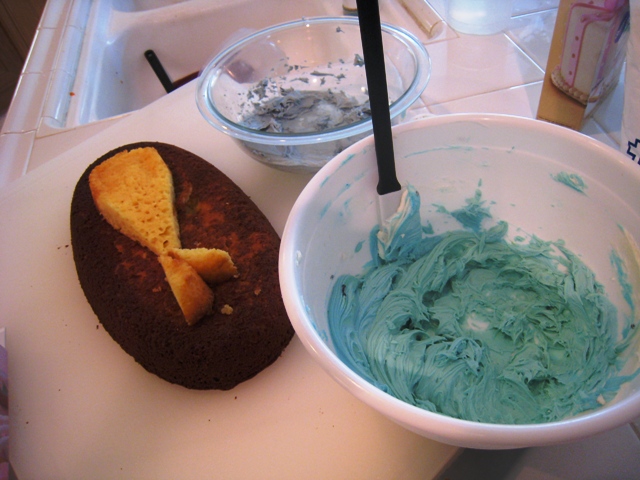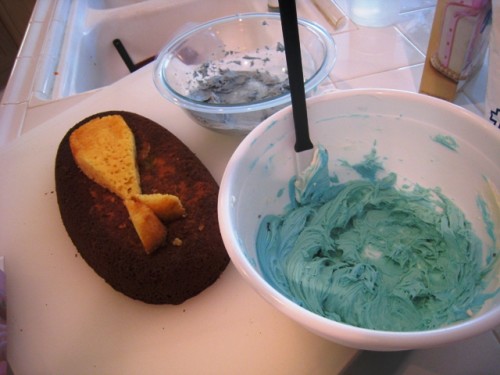 Frost the larger cake with the Ocean Blue. Rough up the frosting a bit to resemble waves.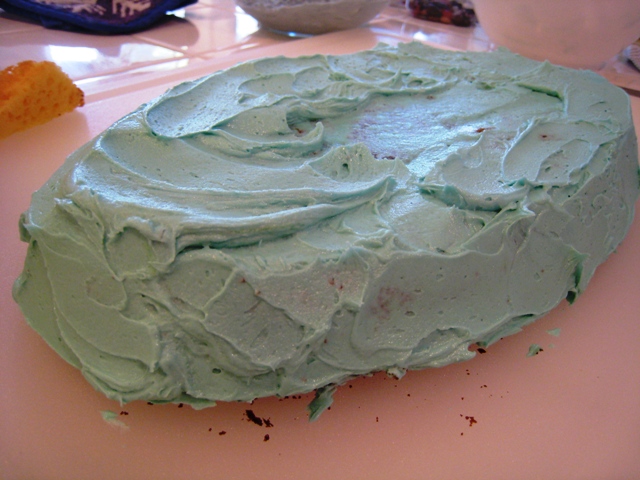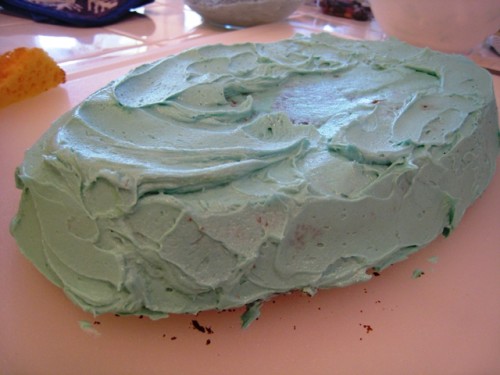 Frost the whale grey and place it atop the ocean. Place candy pebbles here and there. Use white can frosting to make white caps on the waves. Use the green can frosting to make seaweed. Insert construction paper shapes. Place the chocolate chips for eyes. Spoon a small amount of grey frosting into a small plastic bag. Cut off the tip of the bag and pipe eyelids on the chocolate chips. Tint the remaining grey frosting a darker shade of grey. Use this to pipe on a blow hole and a mouth.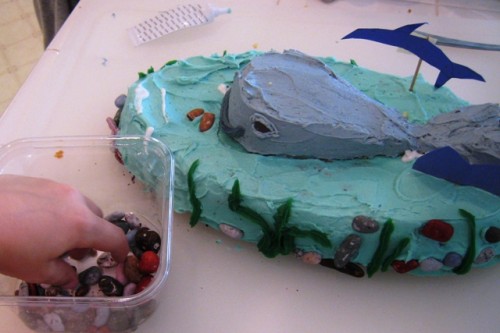 Make sure you let the kids help to place all these embellishments. And taste a few candy pebbles. 'Cuz you're a Yes-MOM.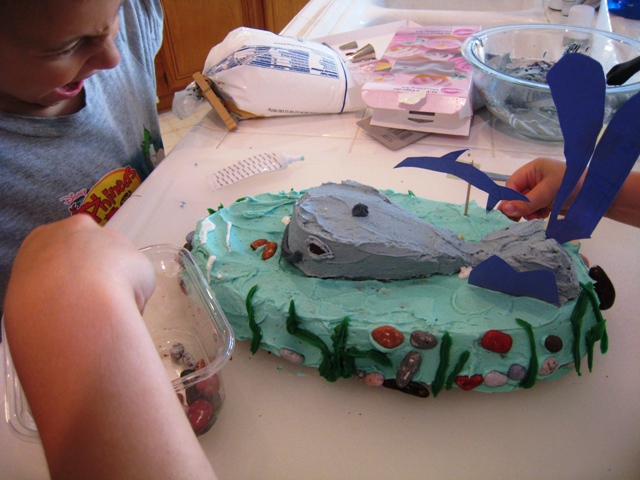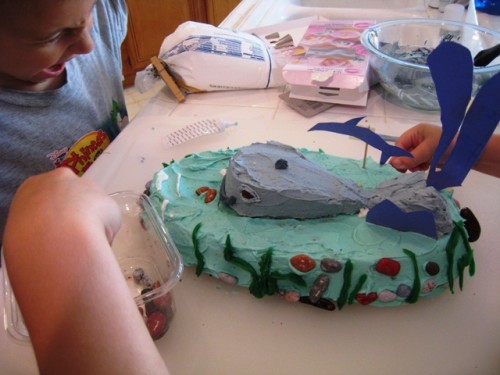 Insert number candle on ocean and place sparkler candles as the water spout. Enjoy the Birthday Kid's smile.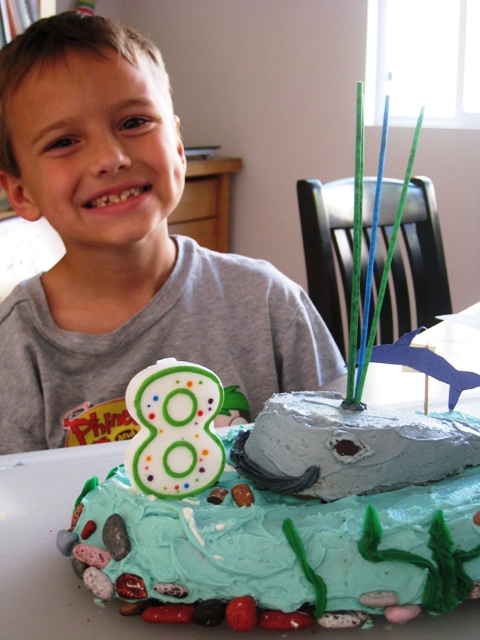 For more cake decorating inspiration, buy my ebook Pretty.Cool.Cakes: A Baker's Dozen of Creative Birthday Cake Ideas.
Check out Tasty Tuesday for other good eating ideas.