A Narnia Cake – The Voyage of the Dawn Treader
As an Amazon Associate I earn from qualifying purchases. For more details, please see our disclosure policy.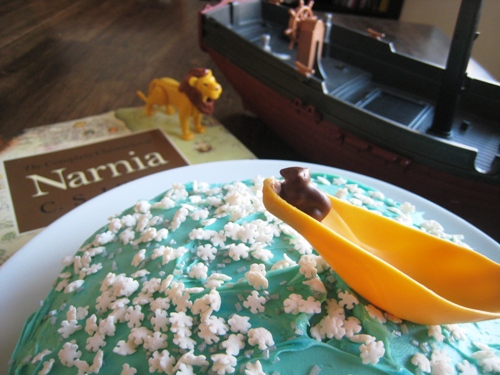 About six times a year, I field cake decorating requests from my children. So far, I've always been able to pull off the crazy theme that they've concocted. There have been whale cakes and Lego cakes and more than one Indiana Jones Birthday Cake.
And about once or twice a year, I field cake decorating requests from you, my readers. And boy! Have there been some doozies! I learned about Fancy Nancy before my first girl knew what pink was. And I found out how to construct the parking lot of a drive-in movie theater. Vital information.
A Narnia Birthday Cake
For this Birthday Cake Round-Up, readers chose a cake theme for me: Narnia. Thankfully, the initial suggestion didn't get more detailed than that. But, somewhere in the discussion was mention of the latest film and the book, The Voyage of the Dawn Treader. So that is what stuck in my brain as I was thinking about cake decorating.
I love the Narnia books. I read them for the first time as an adult and was immediately enraptured with the saga of Aslan, the Christ-figure that CS Lewis created and the adventures of the Pevensie children whose lives are transformed by the Great Lion. We've read them many times as a family read aloud.
So, as I was thinking about the Dawn Treader book — I've not seen the movie — I was struck by the memory one of my favorite scenes.
And while it may not be as swashbucklingly exciting as a pirate ship or as moving as a boy being transformed into a dragon and back again, I chose to put Reepicheep's final scene on a cake.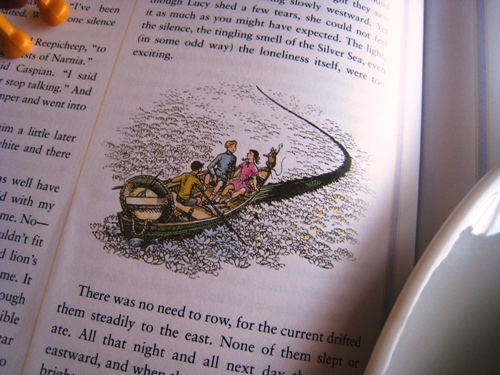 All his life, Reepicheep the mouse, has pined for Aslan's country and that is the reason he sets foot aboard the Dawn Treader. At the end of the adventure, upon the Silver Sea, the mouse sets off on an adventure of his own in a  little coracle.
So, while this cake may not be as awe-inspiring as other adventurer cakes, it is true to the book, and true Narnia fans will understand the details involved. Plus, if you have a heart for Reepicheep and his love for the Great Lion, you'll enjoy it.
Here's how to make it:
Bake a cake.
I like to use a boxed cake mix, but you can use your favorite recipe. I used a single layer round since I wasn't feeding a large crowd. You can make this whatever size you'd like. If you use a larger sheet cake, you could make larger waves and even place a toy ship in the distance.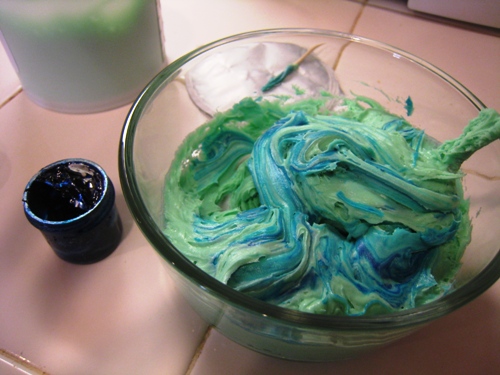 Mix some frosting.
I used a can of green frosting that I swirled with some blue gel food coloring. I wanted ocean. And the swirls turned out really pretty.
Frost a crumb coat.
First I laid strips of waxed paper around the edges of the cake to keep frosting drips off my serving plate. Then I spread a thin layer of frosting all over the cake. By placing the cake in the freezer for a few minutes, I solidified the frosting and trapped the crumbs, preventing them from marring the surface of the cake.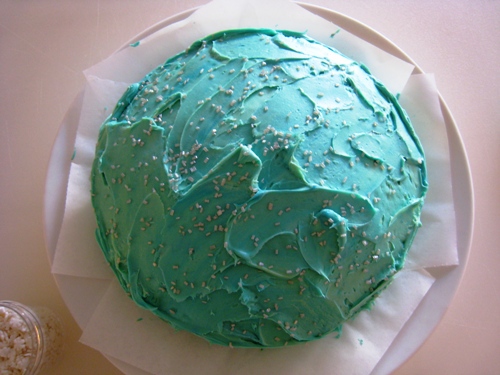 Create an ocean of frosting.
I love ocean cakes because they are so forgiving with the frosting. Don't worry about making it smooth. You want waves. In addition to the frosting, I sprinkled silver sprinkles across the top. This adds texture, sparkle, and a nod to Lewis' Silver Sea.

Add the lilies, the coracle, and Reepicheep.
The novel depicts that the Sea is covered with lilies. I used snowflake sprinkles for lilies. As I love to do, I also used Playmobil to embellish the cake. A Playmobil mouse and the top of a catapult served as Reepicheep and his little boat.
As you can see, creating a themed birthday cake does not need to be complicated. Normal people can make cool cakes.
Coming up shortly: A Birthday Cake Round-Up!
Share your creative birthday cake ideas tonight!