Frugal Friday: Stay Home to Save Money
As an Amazon Associate I earn from qualifying purchases. For more details, please see our disclosure policy.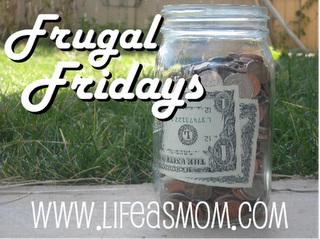 One of the easiest ways that we save money in our family is to stay home. Now, before you roll your eyes and whine, "Boooooring…," hear me out.
Recreational shopping costs money.
Restaurant meals cost money.
Fuel for transportation costs money.
A night at the movies costs money.
'Nuf said?
I'm not saying that you should never going anyplace. But, if you think through your proposed outing, there may be a way to curb some costs. I loved reader Danni's comment the other day,
We were very tempted to go out to eat on Saturday, but didn't want to spend the money. I had half a bag of spinach that needed to be used, so I threw together a spinach and cheese fritatta with toast and fresh fruit on the side. It was very satisfying and we were glad we didn't eat out.
There are often many quick and frugal solutions to that entertainment or meal that you are craving.
Stage a garage sale or do a major ebay-motivated dejunking. Then spend that money on your shopping spree.
Cook your favorite knock-off meals at home. My friend Lynn has some great recipes that mimic restaurant favorites, like Panera's Broccoli Cheese Soup or Chipotle's Lime-Cilantro Rice
Bake your own pizzas on Friday night.
Check out a movie from the library for free, or better yet, create a slide show of your family photos and set it to music. My kids love this.
Walk to a local park. Take bubbles or a kite to fly, weather permitting.
There is no end to fun and good eats — at home.
What do YOU do to save money?
Share your favorite money-saving ideas today. Leave a link to a post that shares some frugal wisdom. (Please no giveaways or deals posts. Teach us how to fish!)