Breastfeeding Expectations Plus My Story of Nursing 6 Babies
As an Amazon Associate I earn from qualifying purchases. For more details, please see our disclosure policy.
Exclusive breastfeeding for the first six months is generally recommended. Today I share my story with breastfeeding as well as what a new mom might expect.
This post was originally posted on May 1, 2012. The comments are so rich with experiences from a wonderful group of ladies who were kind enough to share their stories, I thought it would be good to bump this to the top.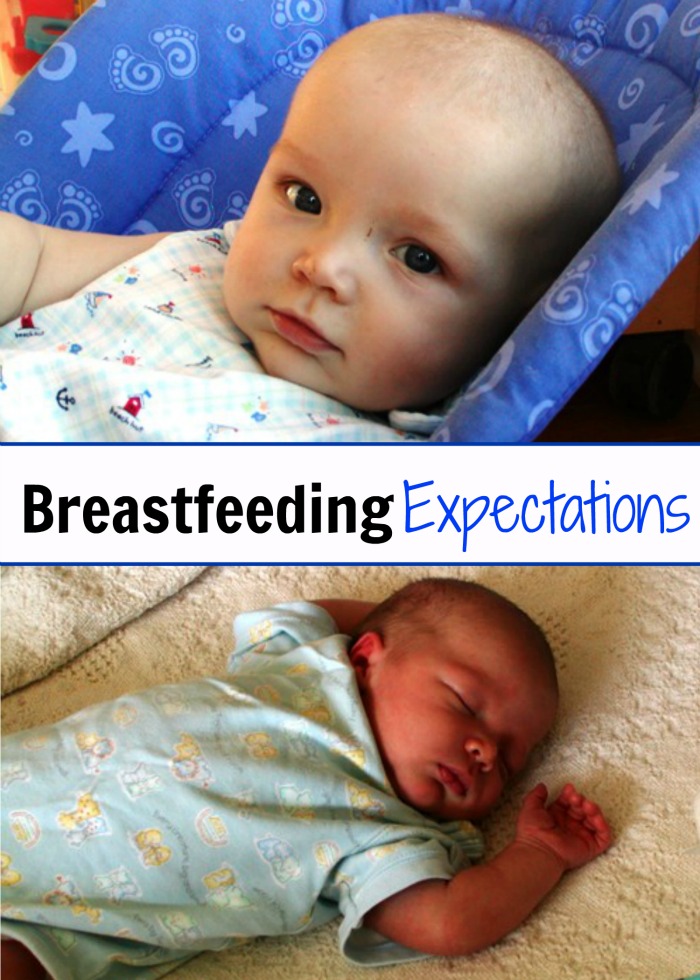 I breastfed all six kids. Exclusively. For the first six months.
I don't say that to brag. I know many, many women who for a variety of reasons are unable to make breastfeeding work for them and their families. And I totally respect that.
The key principle is that your baby is well fed. Methods may differ.
Rather, I share my story because I want to give hope to new moms out there.
I know that I am probably in a minority in how I fed my babies. Recently, I read some statistics that showed me what a small population out there does six months exclusive breastfeeding. Recommended, but not often done.
I didn't set out to do it any "special" way. I was not/am not a militant "breast is best" proponent. I never attended a La Leche League meeting. I only got halfway through the big breastfeeding handbooks, and then I felt like I was doing it all wrong.
But, I was the milk wagon for my babies. And I lived to tell the tale.
For the first six months of their lives, I continued to "eat for two" and be their main, no, their only source of sustenance.
Folks warned us with our first baby that if we didn't give him a bottle in the first six weeks that he would never take one. The implication was that our lives would be ruined. Forever.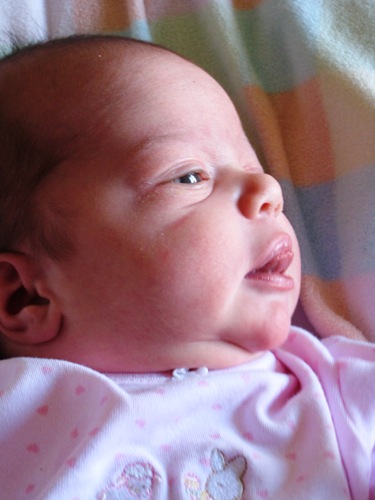 Honestly, it was so difficult and painful in those first few weeks of nursing, there was no way I was going to jeopardize his latch or my milk supply (so hard earned by that point) so that maybe, someday, we might leave him home with a babysitter for longer than two hours.
The first one never got a bottle. Neither did the others. At six months of age, they started some solids and started to learn about sippy cups with water. They nursed until they were a year old.
This isn't the "right" way. This is just the way we did it.
Granted, I was a homebody. And I had chosen to be a stay-at-home mom. My expectations were simply that I would breastfeed my baby. So I did.
Did I go away for the weekend with my girl friends? No, but I never did that before he was born, either. Did I feel annoyed that he wanted to nurse every two to three hours? No, my type-A self needed someone to make me sit and rest before I overdid it. Did I spend lots of money on nursing clothes? No, tshirts and jeans have been my uniform for years.
Breastfeeding felt natural. At least, thank the Lord, after those first three weeks. Once you get through the "bite-your-lip-and-suffer-through-the-pain" stage. Yeah, I know, it's not supposed to be painful. But, it was for a time. Just saying.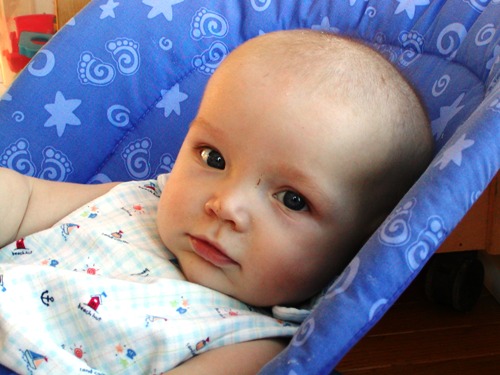 So, if you're a new or expecting mom interested in breastfeeding your baby, here are some things to consider:
1. It probably won't be easy.
Few good things in life are "easy," especially those things that you are just learning. Be prepared for challenges and setbacks.
This applies to breastfeeding, but yes, it basically applies to your entire parenting career, too. Just when you think you've got it figured out, your baby will have a growth spurt, cut a tooth, get sick, or learn to drive.
Be ready to be challenged.
2. Your life won't be your own.
Since I chose exclusive breastfeeding, mostly on demand, and opted out of bottle feeding, my time was not my own. Neither was my diet. I knew that if I went someplace without the baby, I would need to be back within the three hour window. With practice and planning, I was still able to get out and do things, but I was mindful that someone else depended on me.
And that I might get a call on my cell phone that was simply the sound of the baby crying.
I took daily vitamins, ate a balanced diet, avoided much, if any, drinking, and basically took that "eating for two" thing pretty seriously. As such, I probably took better care of myself than I had before children and in some seasons since breastfeeding has ceased.
That said, the fact that someone else depended on me was good for me. And taking care of my physical health, well, that was a pretty good thing, too.
And your life? Well, as a mom, you have a new life, shared with the people you love. It won't be your "own", but it will be good.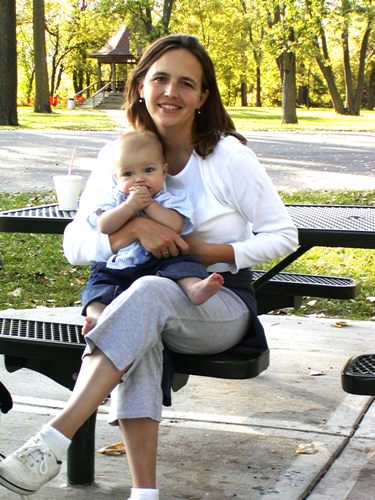 3. It really isn't as long as it seems.
It's so easy to count the days away, waiting for the baby to wean, start solids, sleep through the night. In the middle of it, it does seem like it will go on forever. But, it won't.
That baby there will be eight years old next month. I still wear those pants. See? My Old Navy yoga pants have outlasted three babies breastfeeding. The time goes quickly!
The last nursing session will pass and you may or may not even realize that it's the last. Last things are like that. They flee silently and quickly. And far sooner than you thought you were ready for them.
Life is like that.
4. It's totally worth it.
Breastfeeding certainly wasn't easy. I've had my share of late nights, mastitis, engorgement, blisters, and what-have-you. I probably cried and complained more than I remember. My life wasn't my "own", but despite the demands and the crying baby phone calls, it was good.
I had a closeness with my babies, an understanding of their needs, and a super power — that my husband did not possess — to comfort them when they needed me. It was very right for me to breastfeed, especially in keeping me connected with my kids and not off doing "projects" as I might have been drawn to, instead.
The days have passed all too quickly. I had a nursing baby for a good 12 to 13 years of my life. Yet, my baby-Baby is on her way to 4 years old. That last nursing session is long gone — and I do not remember it.
While I don't believe I won any brownie points for breastfeeding, and I'm not sure that my kids' more-or-less good health is attributed to nursing, I know that I do not regret it. Going without bottles or formula didn't ruin us. I have wonderful memories of my breastfeeding daze. Amnesia? Perhaps. But, I know I would do it all over again.
And if it's something you want, barring medical issues, I think you can do it, too.
Obviously, if you are away from your baby for the day due to work or school, then you'll want to do that bottle thing, but don't think it's too hard to breastfeed exclusively. It really is doable!
It's hard and it's good at the same time.
That's the mystery of motherhood.
If you're a veteran mom, we would love to hear your breastfeeding story. I know that there are many situations where moms wish it had been different or better and many moms for whom breastfeeding did not work, despite their best intentions. I really want this post to be an encouragement to new moms. So, please temper any challenges you might want to share with a heavy dose of encouragement and optimism. Any bashing or absolute horror stories are subject to deletion. Thanks for understanding.
What are your hopes for or experiences with breastfeeding?