Fill a Shoebox for Operation Christmas Child
As an Amazon Associate I earn from qualifying purchases. For more details, please see our disclosure policy.
Christmas is not too far away, less than 60 days by my last reckoning. This next two weeks are a great time to fill a shoebox with love, necessities, and toys to be sent overseas to children in need. Life as MOM reader, Carrie, shares her expertise on how to pull it off.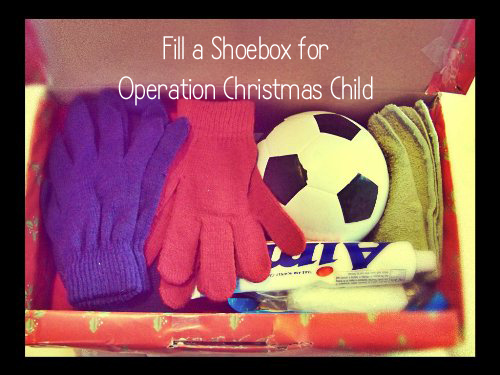 Want to save this post?
Enter your email below and get it sent straight to your inbox. Plus, I'll send you time- and money-saving tips every week!
The following is a guest post from Carrie:
Growing up in the Graham family (yes, the very same), it's not surprising that we jumped on the Shoebox bandwagon the inaugural year. In November of 1993, my mother announced that we would be participating in something called Operation Christmas Child (OCC).
I still remember walking through Wal-Mart, thinking about the 12-year-old girl – my age – who would receive the shoebox. As I selected items that I would like to receive, including my favorite color of hair accessories and socks, I wondered if she would like them. While my mom paid for the filler, I handed over a month's allowance ($5) to ship one box.
Packing that shoebox was a life-changing experience.
Ever since – nineteen years and counting – I have been involved with OCC. I keep my eyes peeled for sales & deals throughout the year, and have come up with creative ways to pack larger items, like backpacks and full-size soccer balls. Just ask my husband – I get downright giddy when it's shoebox time!
During the early years of our marriage, when money was tight, I still found creative ways to fill a box or two. As the Lord blessed us and we became better stewards of His resources, I learned how to utilize sales, clearances, coupons, and dollar stores to fill more and more boxes.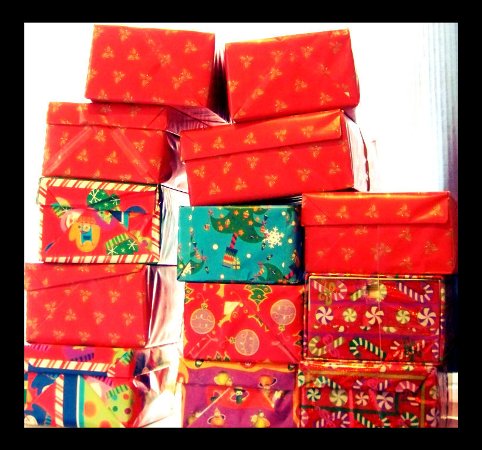 This year, while sorting through my shoebox goodies, I pondered the time and effort I have spent in 2012 to purge and simplify our house and lives. The amount of money wasted on items that ended up in a yard sale, could have filled a lot of shoeboxes for kids who needn't worry about having "too much" stuff. I was sobered…and challenged!
During our years overseas as missionaries, I saw first hand the needs and wants of the shoebox-eligible kids. I now pack soccer balls because of all the times and places where I witnessed boys using anything as a makeshift ball. I include a cup or sports bottle after watching children carry water in whatever would work as a container. I buy flip-flops for bare feet, modest dresses for girls who are horribly misused, and uniform shirts for kids who can't attend school without them.
Most of us know the words of Christ, "It is more blessed to give than to receive", but as a parent, have you ever struggled to find a practical way to teach that to your children? Take it from this materialistic girl, who included a canopy bed and name-brand dolls on her Christmas wish list:
I'm thankful that my mother used shoeboxes as an object lesson to help me understand how blessed I was.
Nineteen years later, I can honestly say that I get more excited about finding deals and filling shoeboxes, than I do about opening gifts in our comfortable home on Christmas morning. I love working with Samaritan's Purse, because I'm not just helping provide earthly comforts, I am taking part in spreading the Gospel of Christ around the world.
Want to join me? Collection Week for 2012 is November 12-19 (find your closest drop off location), so there's plenty of time to fill a box — or 10!
Here are some of the ways that I pack my shoeboxes on a budget, and what I include…
Check the clearance end caps and keep your eyes open for those red stickers – they are your friends when it comes to making the most of a budget.
Look for the end-of-season clothing sales, and keep sizes and modesty in mind – many of these children are smaller due to illness and malnutrition.
Pack for cold-weather climates – DollarTree has hats, gloves, mittens, and socks for $1 each!
Look in the dollar sections at Michael's and Target – this year I found inflatable soccer balls for $1, and cars and trucks for the younger boys. Even the dollar sections have 50% off sales!
Don't assume that DollarTree will beat out Wal-Mart or Target on price – AIM toothpaste was only $0.87 at my local Target.
Include something that makes noise – a train whistle, kazoo, drum, or recorder.
Sunglasses and hats are always a big hit.
I still have the stuffed animals from my childhood – always include something warm and soft that they can hold to when life gets a little scary.
Don't have time to shop for a shoebox or even the $20 to fill it? Make a donation to help ship the boxes overseas! Just $7 will ship a shoebox around the world.
Finally, and most importantly, pray. Pray before you step foot in the store. Pray as you shop, that God will direct you to the perfect items for the shoeboxes and the children who will receive them.
I encourage you to visit the OCC website and read some of the stories about children who received their box and found the exact item that they had been praying for – nothing is too small or unimportant for God to care about. Even what goes into a shoebox.
What's YOUR shoebox story?

— Carrie has been married to her best friend, Peter, for twelve years. After working in missionary aviation throughout Africa, southeast Asia, and Alaska, they now reside in the beautiful Appalachian mountains. Carrie works as a social media specialist and editor, while blogging about financial goals and favorite things at Carrie's Busy Nothings, sharing book reviews at What's On My Nightstand, and promoting the children's book her husband wrote, at Little Brother Stories. Look for her under all three names on Facebook and Twitter as well!